Read Ba Dong Ka Donk- Part 1 of 3: Are We There Yet? first!
The next morning we showered and dressed like most do, and crossed our fingers that Katie's bike would work. We paid for the night, I think to the tune of $8, and got our health card & driver's license in return. Putting the keys into her ignition the engine turned over and we were soon on the road- but only for a minute. The bike died in front of a mechanic, which seemed to be a wonderful running theme. He pulled the bike in, took off the gas cap and pointed to an empty tank, turning around he got his laugh on at our expense, then pointed to a petrol station a hundred meters up the road.
The rest of the trip was as straightforward as Dien said. All the arrows pointed to Ba Dong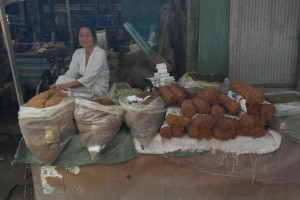 Beach, which legitimized that we weren't crazy, and that Vietnamese suck at local geography. Yeah that's right- generalization baby. Being of the breakfast hour, my eyes darted as we made headway. Upon the descent of a small bridge, I noticed a riverside market full of produce and photographs alike. We parked and navigated the weaving wards of the market to gawking eyes and incredulous sales people. We passed through veggie alley, then a woman on a mound of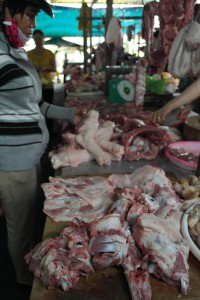 freshly picked tobacco and presumably within arms reach of rolling papers, past the chopping blocks of hacked skulls and stubborn limbs of the meat market, then onto the livestock which ran along the shore into the fish and quite-lively skinless & headless frog market and eventually into a backstreet fruit department which led to a coffee shop where we sat down and enjoyed an ice coffee along (ca phe da) with our purchases of grapes, lychees and a baguette.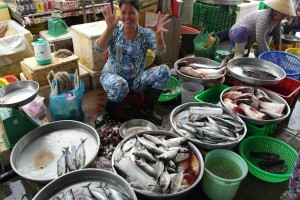 After a while the owner came and sat at our table and ate a few grapes at our offering, and brought his shy son along to ultimately practice his English. The four of us shared a bunch of laughs, which is to say that we understood what the other was saying to some extent, but who says that communication is only linguistically deep. We finished our coffees, said our farewell's and returned to our bikes, which were parked in front of yet another mechanic. Having the limited vision of but one mirror, the mechanic fixed my bike with a set of new mirrors for $1.50. From there it was a straight shot.
Pulling into the Ba Dong Beach parking lot we were greeted by a single toothed lot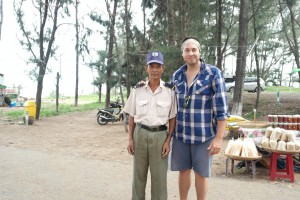 attendant and a dull looking beach in the framework. The man was sweet as pie and pointed to the bungalows on the beach where we could get a room, so we walked on over. We followed a winding path with sprouting grass in between the concrete slabs towards the front desk. Looking around, garbage littered the area, and a large concrete embankment separated us from the beach, that at one time might have been nice, but had been reduced to rubble. On the far side of the bungalows, a handful of towering cranes were being manned, and it is hard to tell if they were building or destroying- and I left the beach wondering the same thing, although the question left my thoughts until the recount of this story.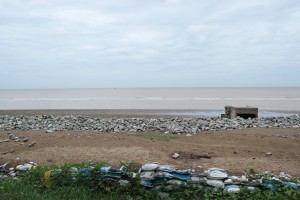 Behind a comically pregnant woman was a posted sign. It read the nightly charges for the different rooms, of which I correctly assumed that the cheapest rooms would not be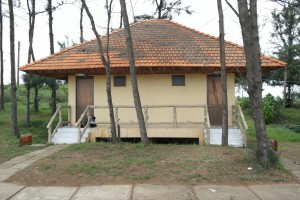 available. After settling on a price point at this barren wasteland of a beach, she would mutter one word that would soon replace itself as the most loathsome word that has ever blessed my ears. Out of all hateful words that have been spelled against me, out of all the words that have been cast down in the form of racism or overweight remarks- this word will be the demarcation of my sanity. What is the word you ask? It is difficult for me to bring the words to print, ahhh, but alas, I will for stories sake, the word, the despicable word, spit, is passport.
Having not thought to bring our passports along our travels, assuming they would be much more secure locked up in our room's safe box, we had seeded the birth of our downfall. Throwing money, ID's, and motorbike registrations had no affect on this stubborn bursting woman- she just kept repeating the word passport, spit! Knowing my passport number, I gave it to her alongside all my other information, but it was no use. We begged and pleaded and more, and yet she kept repeating her one word, with a sadistic grin on her face.
Explaining to her that we were not leaving, I asked her to call the owner/manager anyone above her head to please quell this cookie cutter problem. After a sea of rolling eyes, clenched fists and ill wishes- she finally called someone and they agreed to let us stay. Yippee-fucking-yay!
She brought us to our shithole and we unpacked our bags and walked to the lackluster beach. We swam, strolled, prodded jellyfish and were ignored by coastal canines…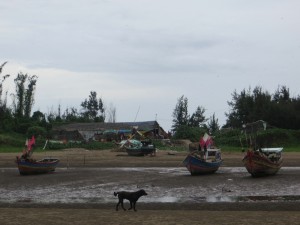 you know, took in the sites. When we returned they were at our door within a few minutes escorting us to another room for some reason- this one though was connected to the only other bungalow that was rented for the day, out of the ten bungalows lined up in a row. Which is just plain ign'ant and something that escapes me entirely, whoever trained the staff, or perhaps the owner him/herself has no clue about the concept of privacy, nor romance, nor simple addition, nor that their country is trying to create a friendly image of travel and tourism. Bahhh! Anyways, I went for an afternoon nap, which is not like me at all, no joke, and woke up to knocking on the door. Katie opened the door to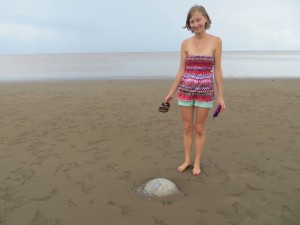 a sheep of a man running commands from head office. "Motorcycle phone number."  Now what the fuck? We had already given them our passport numbers, along with our ID's and now they want a motorcycle phone number. After playing dumb, he left. Katie looked over at me and we just shook our heads. No more than one minute went by before we got another set of knocks on our door. It was another guy this time. "Motorcycle phone number" he said in broken English. "No… No number… Go away. You have passport number." We said without accepting him as a human. He walked off without achieving his goal.
I know why they wanted our motorcycle phone number. Our names weren't on our bike registration we handed to them-which I accidentally threw at them in a fit trying to assure us the room. We bought our bikes off a couple of travelers in town, who had their motorcycle papers handed down to them, and so on. The original names on our unregistered bikes were of a couple of Vietnamese people who we know nothing about. So after she read that- I wasn't sure if she wanted to call in our bikes to see if they were stolen or not- so it was best for us to just play dumb. That was the last knock of the night and I ended up going back to sleep.
I am fully aware this all sounds like a shit-storm of complaints, while I'm vacationing the countryside of Vietnam on my leisure, without a job or a care in the world. Its kind of like complaining about a free meal, or something of that sort, but I honestly don't care at this point- these people need a harsh realization of their ign'ant actions and the only way for me to vent is through writing… it's therapeutic. I'm feeling better already…. Breathe!
We woke up, which is always pleasant, dressed & packed and went over to the restaurant to grab a quick bite of french fries with a side of butter and sugar. Sitting in a couple of reclining Muskoka chairs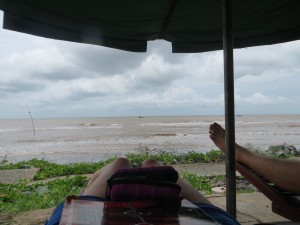 we ate, read and relaxed before reaching a quick swim. Under a roof of torn sheet metal, rested a wiry cage that was erected with the sloppiest of craftsmanship- something you wouldn't even consider putting your tools in back home out of fear of scratching the shit out of them. Inside sat a monkey on a little blanky, beside a couple of torn plastic bottles. He was picking something from his fur without fully acknowledging me. It appeared that, aside from his horrible living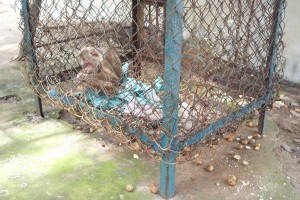 conditions, he was fed well and regularly by the busses of tourists whom exploit the beach for the hour or weekend. I grabbed the remaining grapes and lychees and rolled them one by one under his cage, where his little arm would reach through a triangle of caged steel, grip them with his human-like fingers, and peel them before bringing it to his mouth. The monkey was my last sight. We jumped on our bikes and said peace to this Oprah-sized-shit-stain-of-a-beach.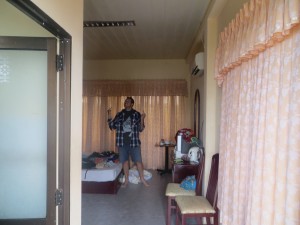 The ride leaving the beach was nice. We knew the route. The sun was shining and we had lots of it left. We had no destination except in the direction of home. And the ferry ride we'd be able to visibly enjoy this time around. Well, it didn't take me long to make a wrong turn at a fork in the road and instead of skirting a city we entered it and it threw us off track. At least that was how it was dressed. After chatting with a few laid-back locals and scouring Katie's GPS we were once again enroute, and it turned out that my mistake turned out to be a blessing, for the night before when we drove along the Mekong and palm trees it was solely lit up by our headlights. And thanks to my shotty directions, we had once again discovered the back road dreams are made of. KT Edit: Little did we know that before the day was over I would shed tears & be contemplating sleeping on the street… Part 3 coming soon!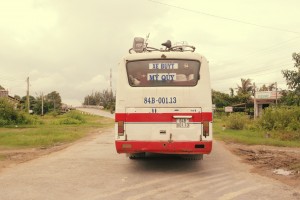 Read Ba Dong Ka Donk- Part 3 of 3: Love/Hate Relationship here!