Google Maps said it would take three and a half hours on the TP Ho Chi Minh (AH1) ,
a highway we were dreadfully trying to avoid after hearing nightmare stories of traffic, pollution and just pure chaos. The alternate route ran at about four and a half, cutting through the countryside and small towns; Vietnam's take on small towns that is. Having nothing but time on our hands and brand new motorbikes for our butts, we obviously chose the latter- perhaps the small town in us had a little play in it as well.
Our destination was a beach called Ba Dong, a landmark we would soon find out didn't register on anyone's radar. It doesn't even register on Google maps, because a connecting bridge had not been erected when the eye-in-the-sky snapped this shot, so the directions stop about ten minutes short of the South China Sea, where our beach happens to reside. So with a hand sketched map, a genuine map, our pack strapped to my bike, and two full tanks of gas we set out on an adventure- looking to get lost and to see another side of Vietnam, one that didn't consist of concrete.
Let's just say that it took us a good hour or two to get out of the city after battling foreign street signs, the on and off bouts of rain, and a variety of mechanical problems. After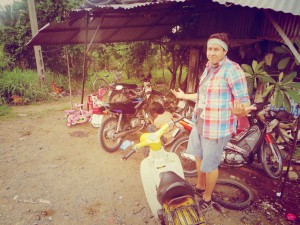 breaking down the first time in front of a mechanic, I had to switch from my automatic start to using the kick-start, which eventually proved to be a huge fucking pain in the ass, because every time I came to a stop the bike would need to be restarted, and the worst part was that if I held in the clutch to coast the bike would also die- try kick starting a bike 30-40 times in the matter of an hour when you're trying to enjoy the ride… you get the picture so I'll stop bitchin'. I obviously knew it needed a new battery, so when I broke down in front of another mechanic I had it replaced while Katie and I ordered a couple of beers and Banh Mi sandwiches.  A crusty baguette filled with shredded carrots and some suspicious meat that turned out to be unbelievable- probably dog or cat or something domestic.
With a new battery that ran me $13 that included labour, full bellies, and knowledge that we currently were on the AH1, we continued on our journey that we'd already put in 3 hours of travel time. Unfortunately, minutes later we were lost again and were on the side of the road looking at the GPS on Katie's tablet, which came to our savior countless times along our trip.
So far the countryside had been nothing spectacular, we swapped paved roads for a mix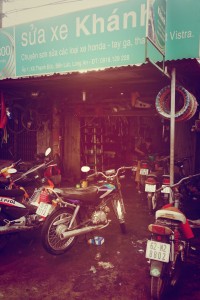 of dirt and gravel and then back again, high rises for low rises, and each district we drove through housed the same shops, in what seemed to be, in the same order. And as much as I am a lover of adventure, I was looking forward to getting out of this area and off the newly found AH1. KT Edit: The huge trucks and speeding busses were making the NEW motorbike rider in me tremble as I gripped my handlebars with one hand while constantly trying to dig the dirt out of my eyes with the other…in the rain. 
In a stretch of luck and constant countryside inquiries we ended up swapping our current mode of direction to one that would make the trip run a lot smoother. Since no one had heard of Ba Dong, we began asking people about the town Tra Vinh that sat beside it, and taking one step even further back, we started looking for the town of Ben Tre that connected to Tra Vinh. Now that we had gained a sense of direction by being able to follow road signs, not only did it boost our energy, but it also succeeded in creating a flow to our journey rather than having to pull up every few miles and re-check the map.
We cruised through the town of My Tho and over its brand new bridge that connected it to its neighbour Ben Tre, and then across another bridge that eventually led us to a ferry that crossed over into Tra Vinh.
By now it was dark and we had been on the road for at least five hours, thanks to being lost, although the traffic definitely came into play, but when we pulled up to the port, the ferry was pulling in at the exact time and saved us a good 30 minutes from having to cross, unload and come back.
The ferry, much like everything else in Vietnam, was cheap. Each ticket cost 7500 Dong,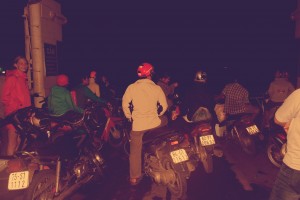 so for a pair it rang in at 70 cents. They packed the ship with trucks and cars either full of loads, or empty from hauling loads to the mainland, and then they crammed motorbikes into all the nooks and crannies that remained. We got a spot amongst 30+ bikes at the front and set off for a flicker that shone from the other side of the river.
Whilst snapping photos, a guy who introduced himself as Dien asked us where we were heading. Being a native of Tra Vinh, and the sole person that had heard of Ba Dong Beach, he said that we could follow him as far as he was going and then we could carry on up the road for 40-60 km towards the beach. With the sun long asleep, we just wanted to end this journey, so we delightfully accepted his offer and turned off our thinking caps.
When the boat docked we all herded off the ship and past the gate and caught up to Dien who had slowed down for us. Cruising up next to him, I pointed to my empty tank and he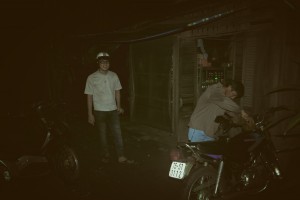 motioned his understanding. We followed him to a random shanty house on a random dirt road. It had to be around 10 at night, and Dien is outside yelling in at them, something to the effect of "I've got a couple of foreigners who need a fill- charge them whatever you like, it's late and an inconvenience." I could care less at the cost of a litre of gas when that litre is our salvation. He filled our tanks at a little over double the pump price and we carried on along the dirt road. KT Edit: Louis so lovingly left out the part where I almost rear ended him & Dien when they stopped to pull over while I was trailing behind, lost in my own world. 
The glaze of our headlights lit up palm trees along the sides of the roads and blips of water through breaks in the tropical brush- it was the Mekong Delta. Having put away our maps, we hadn't a clue which direction we were heading, he could have driven us down a dark alley and sodomized and robbed us- we're happy he didn't. After crossing a rickety bridge, then down furthering dirt roads, we eventually reached a town, and then we drove right through it.
Back on a quiet country road with nothing but our headlights glued to the dotted line and tropical wind slapping our dopey grins, the three of us were cruising along. With Dien leading the way and myself trailing a handful of meters behind, I looked in my mirror and saw Katie's lights growing further and further distant until it was dark as The Delta. Shouting up to Dien, I spun my bike around and started cooking until I spotted flickering lights that eventually hadn't the strength to shine bright.  Dien caught up and pointed out a random hotel about ¼ of a km down the road. We thanked him and he sped off in pursuit of his own bed. KT Edit: I'd like to add that as the boys kept speeding down the road while my bike sputtered and died at the side of the street, I had a mini panic over the fact that it was pitch black, I was alone, & I could only assume alligators and snakes were coming to consume me. 
With the moon hidden, we pushed on for the hotel when three bikes pulled up to our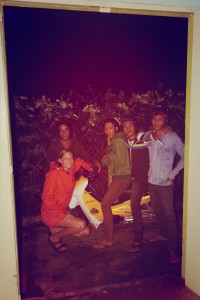 haunches. I think four guys all together, all in their 20's, jumped off their bikes to lend a hand. Insisting Katie sit on her bike instead of pushing, she climbed on and the guy saddled his bike with his foot on her back peg and the six of us cruised down the road and into the hotel, where we parked our bikes indoors. KT Edit: I laughed the whole way. 
We greeted the owners as they swung in hammocks chilling out; the bikers passed on a few words about how they found us broken down on the side of the road, and after passing on our ID's the guys left and we were guided to a perfectly simple room.  All ten channels on the TV flickered or spouted nonsense, the bed was hard, and gecko's screamed us to sleep- a perfect end to a long day on the road.