Mmmmmmm I'm day-dreaming of the banana pancake smothered in chocolate sauce as I write this. Traveling through Vietnam, Santa Cafe ended up being Louis & my favourite breakfast joint when we got bored of our home-cooked egg breakfasts in Ho Chi Minh City/Saigon. Imagine: a thin crepe (they called it a pancake, but it was more the thickness of a crepe), folded over an entire chopped up fresh banana, with a side dish of creamy chocolate sauce. Now pour that chocolate sauce all over the banana crepe goodness, and consume! But slowly, savour every bite. Mmmm…
We indulged in a few of their meals, them all being relatively cheap and tasty. Their veggies and tofu in sauce with a side of rice is delectable, healthy (a backpackers diet isn't always veggie-filled), and cheap. With the average 12,000VND for a Saigon Green, Santa Cafe is the best choice if you're looking for some munchies with your beer all at a great price. This is coming from cheap backpackers who are budgeting for a year…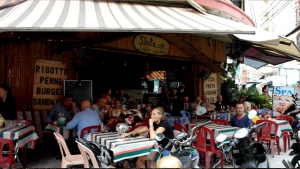 If you're planning on indulging in more than the one beer, I'd suggest opting for the large Tiger bottle, as it's twice the size of the Saigon Green, and only 22,000VND. Vietnamese Rhum on ice is 16,000VND for a "shot" (it's pretty much a double shot…they fill that little measuring glass right up to the brim). And boy do I ever recommend the rhum. It's like a spiced rum with hints of caramel. If you're a non-drinker, their shakes are to die for. I can personally recommend both the strawberry and the banana.
During the morning, lunchtime, and night, there will always be at least one older expat gentleman that includes Santa Cafe in their daily routine. Oftentimes, there will be a gathering of them, chatting and/or bellowing away. Some of them are very friendly and have some great Vietnam tips.
Santa Cafe has a second floor with a balcony overlooking the street which is neat if you want to get off the main floor, but we always enjoyed the street level seats more. The staff is all very pleasant. If you joke around with them they love it and totally play along and joke right back.
Santa Cafe is on Bui Vien, part of the backpackers district, so expect to be asked to buy a bunch of nonsensical and unnecessary items. Shoe-shiner boys are ever-present. This is nothing new to wandering around Ho Chi Minh City, so try to let it slide off your back. Eye contact, a smile, shake of the head, and firm "No thank you", usually does the trick. I noticed the same few vendor ladies always smiling and being respectful of our personal space, so when I decided I DID want to buy a few bracelets or a book, I waited until I saw them again and bought from them.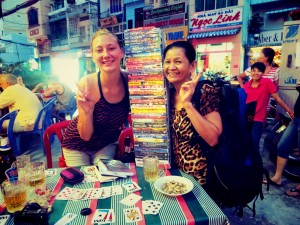 The one thing I didn't particularly love was the Ca Phe Da at Santa Cafe. It got the job done, but didn't have the same bursting flavour as many of the other cafe's.
Santa Cafe has reliable WiFi and a decent bathroom WITH toilet paper (if there isn't any, just ask staff, they'll grab you a roll from the nook in the stairs). Overall, it was a great place to go for a quick, tasty breakfast, a leisurely lunch sandwich, or a late night snack, brewski, and some card playing.
Santa Cafe gets the Twisted Footsteps stamp of approval ;) So please, check out the Santa Cafe at the corner of Bui Vien and Do Quang Dau in District 1!
Have you been to Santa Cafe? What were your thoughts on it? Where is your favourite spot along Bui Vien, if any?