Just make it stop. The rain. It wasn't going to stop. So on we went…out of Buon Ma Thuot and onwards toward Pleiku. We had gone about 30KM when the potholes started getting bigger and bigger. And then bigger and closer together. Louis, in front of me, went through a pothole, and I followed thinking if his bike can make it so can mine. Nope, I was wrong.
My bike didn't make it, and I fell. It suuuuuucked. I had a hard time getting up, and a super nice guy behind me quickly stopped and pulled me and my bike up. Louis realized what had happened and sped back. Inspecting my wounds, I knew I was lucky. Just a couple scraped palms and a torn poncho (my poncho was garbage anyways), but one largely bruised ego. I think the shock of the fall hurt more than anything else and I'd be lying if I said I didn't shed a few tears. I already wasn't thrilled about driving, and falling just made it that much harder for me. I caught my breath, wiped my tears, gave Lou a big hug, and kept going. We kept on for a while, with the plan being to pull over soon at a cafe to get a coffee and wash my palms.
We ended up playing a few games of cards at a cafe while we waited for the rain to slow down. It didn't. When the roads started flooding I made the executive decision to stop driving for the day. It wasn't the most economical idea as we hadn't even driven that far, and we still had a long way to go, but this wasn't how we wanted to road trip. I didn't want to be nervous while driving, and I sure as hell didn't want to be constantly soaked to the bone. Our Visa's allowed us five more weeks in Vietnam, why waste our days not enjoying ourselves?
All this was marshmallows and puppies compared to what we experienced the next day though…
It legitimately did not stop raining all day and all night, but in the morning we really did need to carry on. Buon Ho was in the middle of a rain storm and it wasn't going to stop any time soon. We left Buon Ho with "Ok. Let's just take it easy and go slow" because of the weather and the roads. That's until I hit another pot hole and ripped my palms open…again!
AGAIN! This time it wasn't just a little scrape. A rock lodged itself into my left palm while another made itself comfy in my left thumb. Dirt and gravel pockmarked my hands and my foot was stuck under my bike. All this happened in front of one of the friendliest mechanics I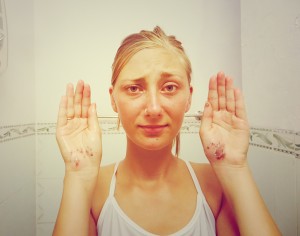 ever did meet, and he ran over to lift me and my bike up. After setting my bike off to the side, he helped me hobble over to his shop/house. My hands were completely immobile and my foot was throbbing, but I was much more calm than the previous day. Other than the odd swear, I was mostly muttering about my own stupidity. Mr. Mechanic pulled over a chair for me while his daughter got to work pulling the rocks out of my hands with my tweezers. She was incredibly delicate and something told me she had done this before. Mr. Mechanic knelt in front of me, icing my knee and scolding his daughter to be more gentle any time he saw me wince. I was too nervous about the state of my foot to call attention to it, but since it was slowly regaining movement I figured it wasn't broken.
This all happened very quickly, and my homemade First Aid Kit finally came in handy for something other than shaving cuts. They applied some sort of magical-smelling green potion, and a fizzing topical disinfectant before wrapping my hands in the jumbo sized bandaids I had with me. They were a wonderful family and we had to plead with them to accept the few dollars we were offering in great thanks. Before allowing me to bike off into the gloomy, pothole-ridden day, Mr. Mechanic checked my bike over. He gave me the go-ahead after popping a few pieces back into place. That night we finally reached Pleiku. I'll admit it, I wasn't loving Vietnam that day. I was in pain, soaked to my core, and feeling mildly homesick.
I'm writing this 8 days later. I only told my family 2 days ago about the fall, showed my mom
via Skype, and she knew instantly that it was infected. Jeez Mom! I had never even fallen off my bicycle as a kid! And now here I was, on the other side of the world, with an infected hand. Fuck. I spent the night after telling my mom tossing and turning from the pain. It wasn't getting better, it was getting worse. I found a doctor in Hoi An (the town we're currently in) and Louis and I walked over. He spoke fantastic English and everything was very clean. It was a private practice, seemingly with his home above (very Vietnamese). The consultation was over fairly quickly as he knew immediately that it was infected and after checking my temperature and such, he knew the infection hadn't spread. With a quick peak down my shirt as he checked my lungs (no joke), and a look up my nose, he also concluded that my cold was just in my head and not bacterial. Fantastic!
My bill was 650,000VND (~$30) in total for anti-inflammatory pills, amoxicillin, a tube of Silvirin, 3 gauze bandages, and the peep show. Louis called this the package deal "The Works" since it included the brief and unnecessary feel up. You should've seen us biting back our laughter after Doc got a peek at my goodies – I'm just disappointed I wore my bra with the rip in it!
PS: It is about two weeks later, and my hand is totally healed. I have some light scarring, but other than that I'm great :)