Nong Khiaw – Luang Prabang, Laos
October 26, 2013 – October 29, 2013
DAY 4
We woke up early with efforts to climb Nong Khiaw's mountain before catching a bus to Luang Prabang. So everything had to come down to timing. The day prior the manager for
a trekking agency had bet me that I couldn't beat his time up the mountain. The going rate is an hour and fifteen minutes up. But his best was 36 minutes. The placard outside the mountain read "______2 km". But that 2 km was straight up with no shortcuts about it. He said that if I beat him that he would pay for my ticket. I accepted since I had nothing to lose. After a banana crepe and masala chai we took off for the entrance. We paid and I took a picture of my watch. It read 9:24:00. We took off and within a minute Katie sensed my haste and as the awesome loving girlfriend she is, said "just go" . So I went.
KT: haha! I knew I couldn't keep up with his "packhorse on steroids" way of hiking a mountain, especially if there was some form of competition.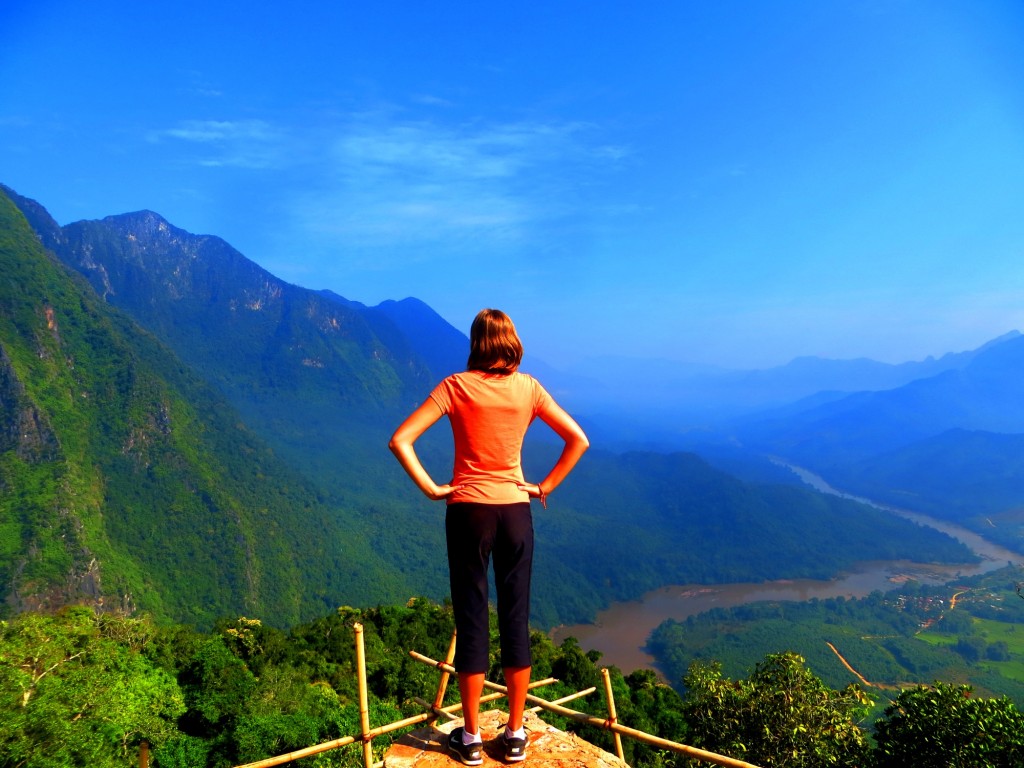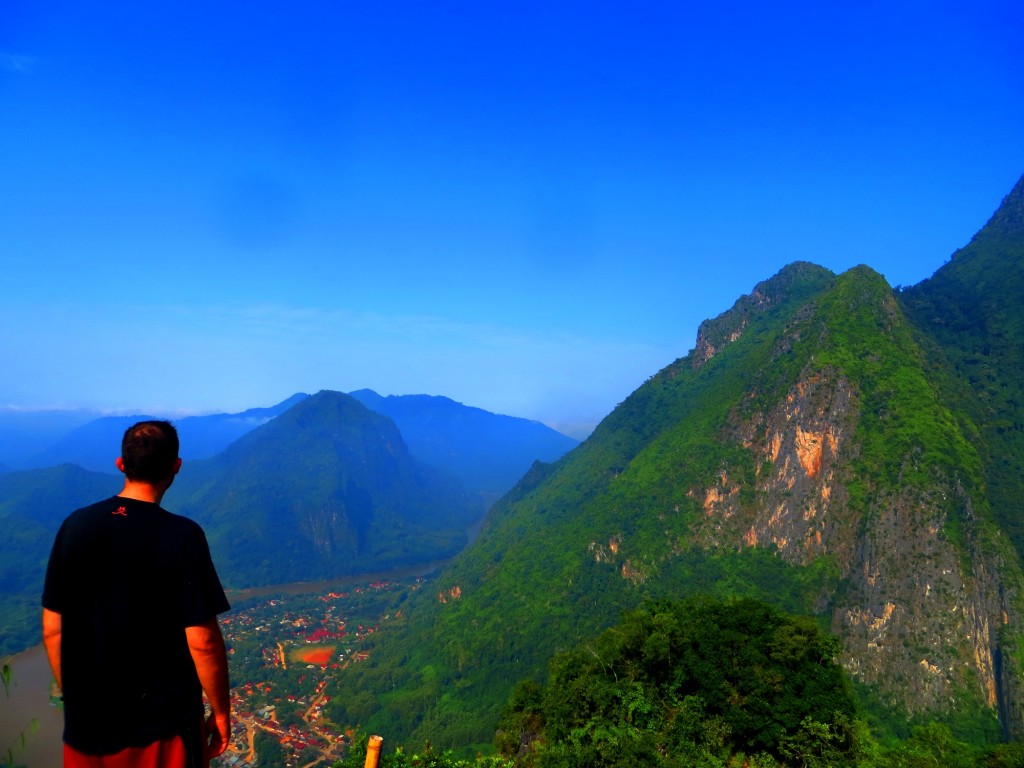 To cut the story short I got to the peak the second my watch beeped 10:00:00. Yah! I couldn't believe it…36 minutes on the dot! It was a good thing I had a mountain to curse off of. Katie made her way up 13 minutes later which was still almost 30 minutes below the average. Fist bumps ensued and then we busted ass down the mountain to shower and catch a bus.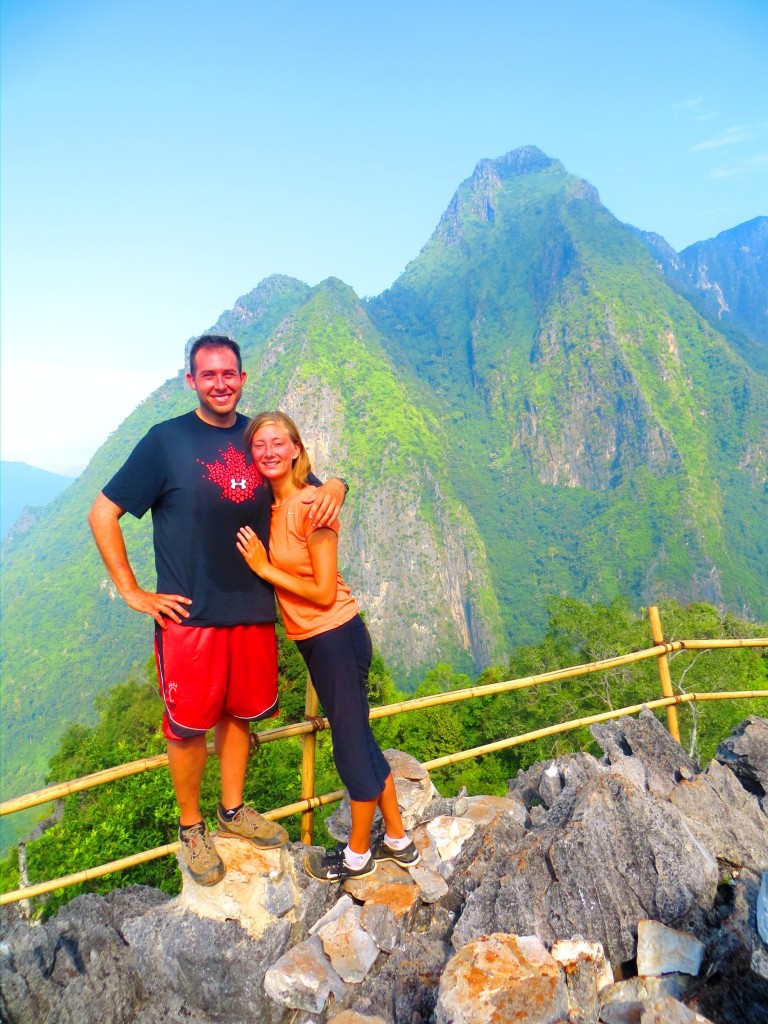 After waiting two and a half hours for the next bus we made it to Luang Prabang in the evening only to have a Gravol overdose onto my plate of rice and veggies.
Apparently two Gravol is too many. This was a first for me. I was so gone off Gravol that I was struggling picking up my chopsticks and nearly quit when I needed two hands to pick up the hot sauce. Katie carried me home and I slept for 14 hours like a body at a crime scene.
KT: Poor Lou! While he was unconscious I walked around the town and along the river, seeing what Luang Prabang had to offer. The night market was really beautiful, and while I was scoping out a store in search of Lou's favourite M&M's I found this…
Day 5
Luang Prabang runs on banana/Nutella crepes, baguette sandwiches and oreo coffee shakes. And each morning a row of a dozen vendors all open their pop-up shops selling the same thing back to back to back. We threw caution to the wind and walked up to Mama, though I had the feeling they all answered to Mama. We ordered a couple crepes and went for a walk to a temple.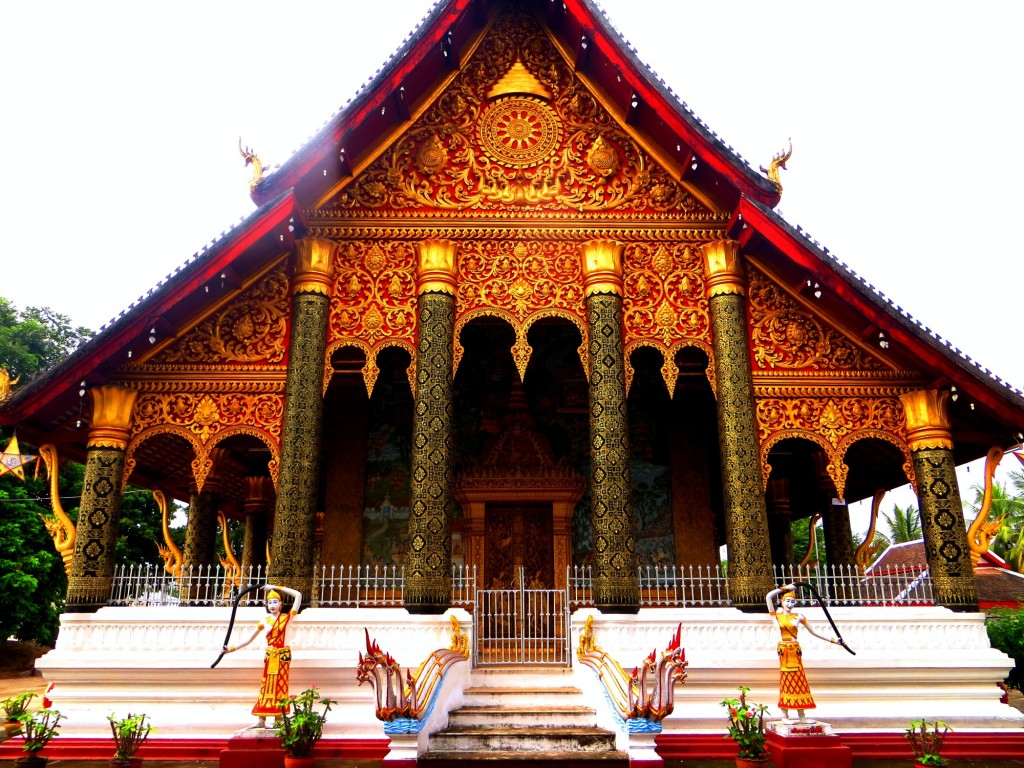 The town of LP has an exotic mix of ancient meets archaic with the blending of two cultures. Amidst the ageless temples, flamboyant statues and orange flowing robes lies a wonderfully old world French colonial vibe that saunters in the air like the perfume of a fresh baked croissant. We dipped across the city. Mostly noshing here and there.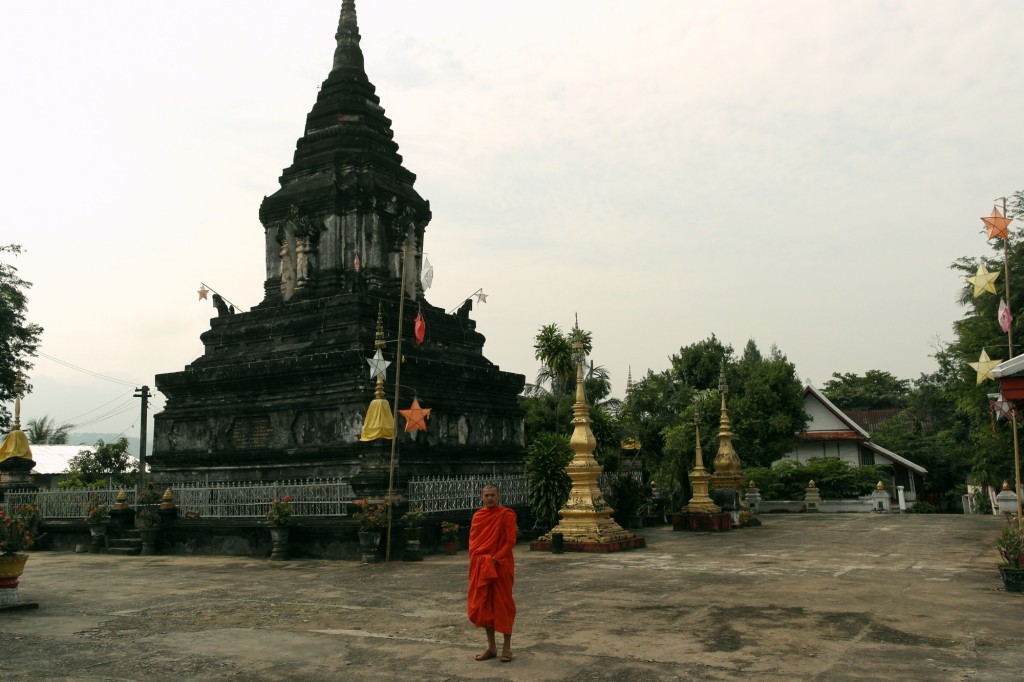 DAY 5
We sat. We Ate. We drank coffee. We worked on our blog. We did this all for you. You're welcome.
KT: Like Lou said, Luang Prabang has quite the exotic mix. In addition to the French vs Laos cultures, the tourist vs monk mix is interesting in itself. Every morning at dawn the almsgiving takes place, much like other towns that have a monk population. As much as I wanted to see and perhaps take part in the almsgiving, we opted to not go after all, as what we had heard is that the monks do not appreciate the presence of non-participating tourists. For them, almsgiving is a spiritual connection, and our presence at it is not worth making them uncomfortable.
DAY 6
The food in LP had created a routine for us: wake, eat crepes, café, baguettes, walk, café, dinner. So we instinctively woke up and went right to Mama. Afterwards we decided to climb a hill in the middle of town with a lookout over the city. There were 190 steps up and 130 steps down. This is where I found out there was a back side to the city. We climbed the 190 steps then took a couple hundred more exploring the top. Coming down along the rear we found a bunch Buddha statues with days of the week written underneath or to the side.
KT: The "hill" that Louis is describing is Mount Phou Si.
"Tuesday Buddha?" I said. "Who knew?"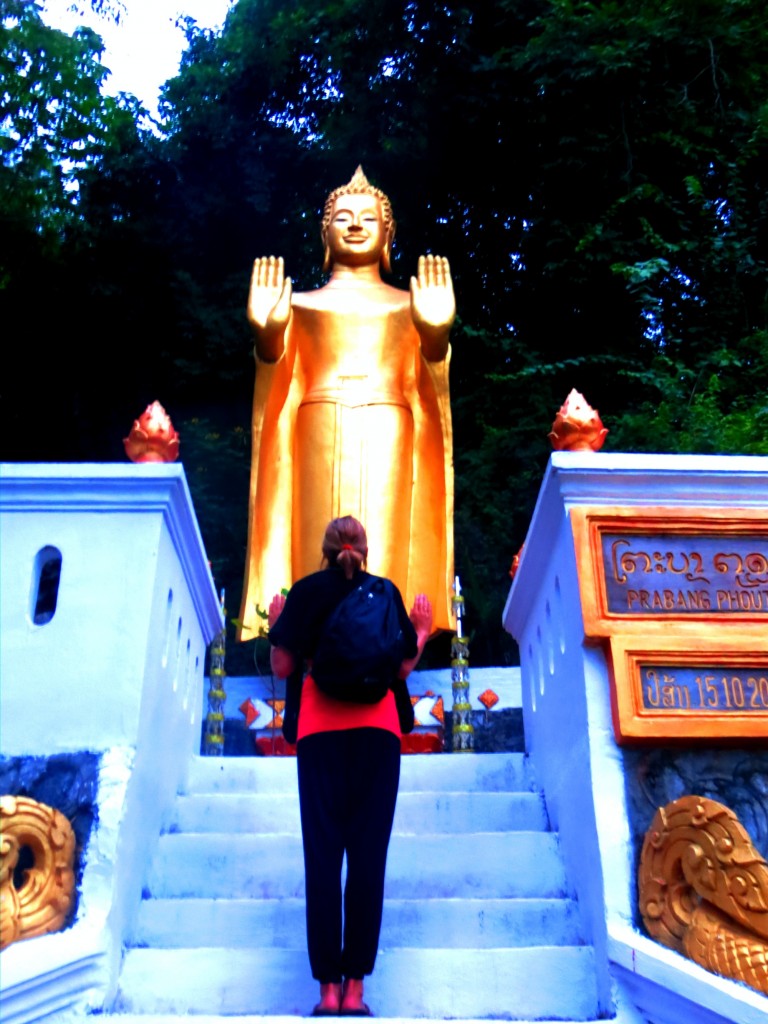 Shit I wish I had a Tuesday Louis cause Thursday Louis is bushed. We made our way past the Buddha statues and into a dark hole that apparently had a preserved footprint from Buddha. I mean, it could have been anyone's footprint. You really have to put your initials beside it to hold any clout. Back in Dundas I've got a prime cement block with Louis '99 written in it- All Buddha had to do was throw down a B or even Bud. I wasn't impressed. My friend drew a I heart (symbol) cock in fresh cement in front of a new bank back home.
We passed monks chanting and an eight year old smoking a cigarette on some steps before hitting the street. We couldn't believe it. We had spent two days in this city and a whole new world just opened up to us. We walked along the river front until it led us into a party district. A row of restaurant-cum-bars hidden behind a jungle canopy with drooping vines swaying to music and signs like "don't feed the tiger". We ended up at a Dr. Fish.
Dr. Fish is an unlicensed, non-practicing, un-medical clinic where a minimum wage employee wipes your feet down before you place them into a giant aquarium with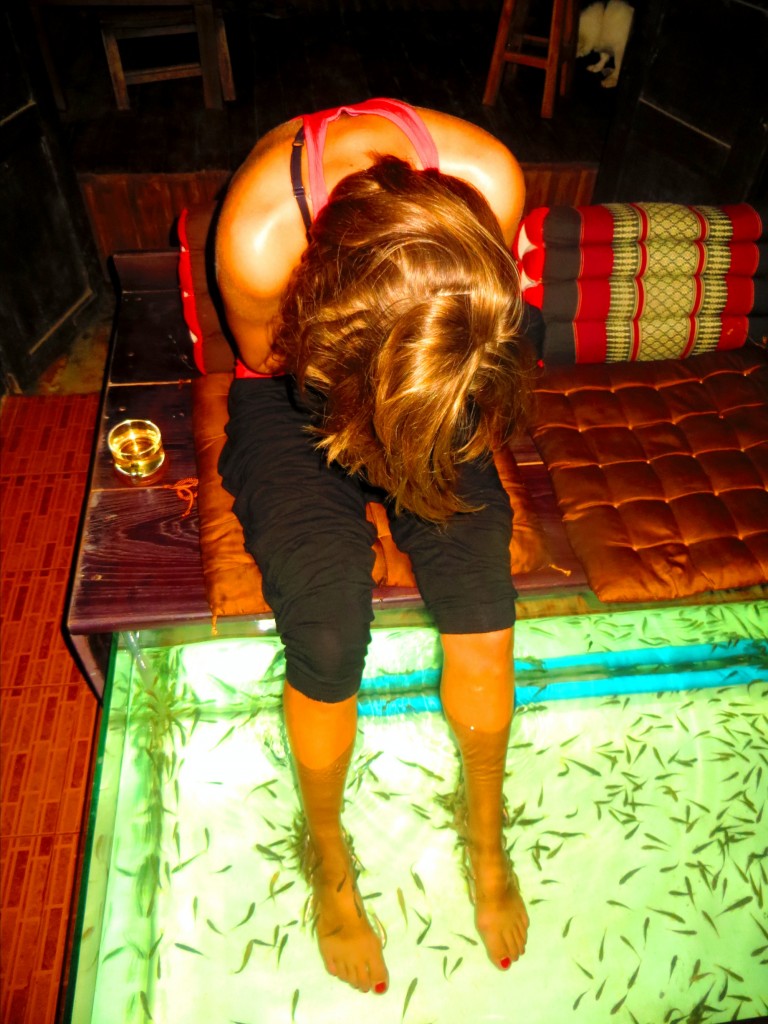 hundreds of tiny fishes with the intent of eating all your dead skin. Katie flipped her shit. She paid for 10 minutes because she didn't know if she could handle it. And she couldn't. Well that is until about 2 minutes left. Katie's feet flopped around more than the fishes. Seeing all the fun, I decided to deal with my fear of ticklishness head on and pony up for 10 minutes as well. And I'll be honest- it was creepy. Tiny fishes swimming between your toes. By the end of the 10 minutes my legs from toes to calf were covered in a good hundred plus fishes nibbling away on my flesh. A few more of these treatments and I should be down to my goal weight.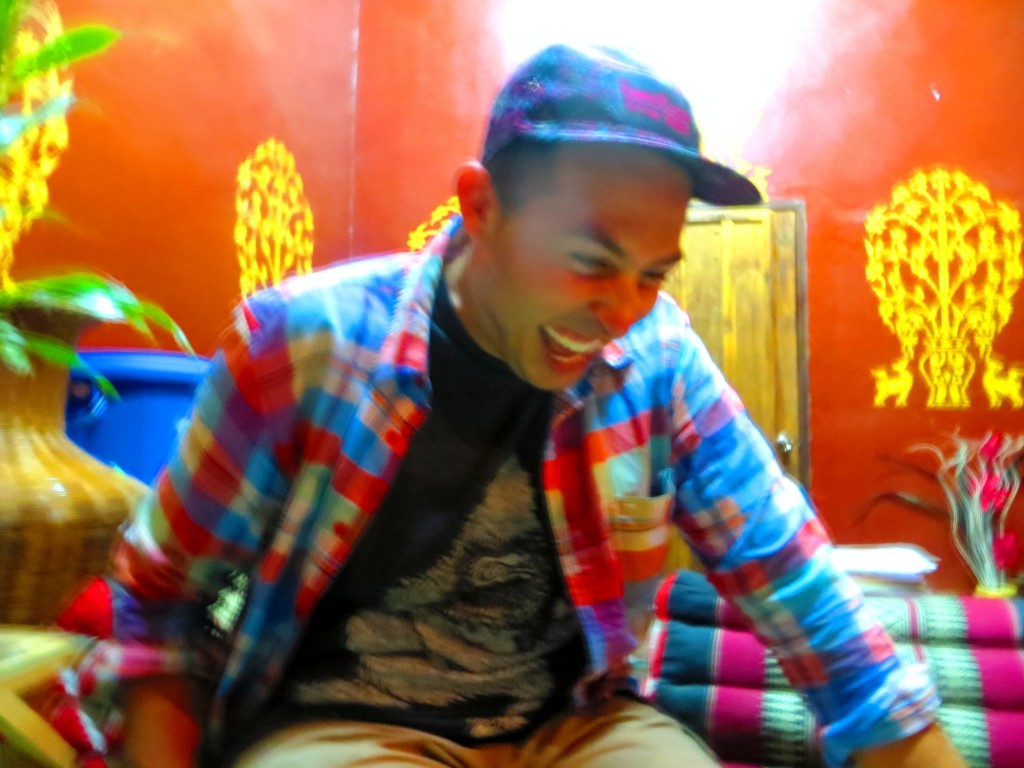 DAY 7
Since we found the other side of town we decided to stay for one more day. So after our morning routine we ended up at a café on the other side catching up on our blog. That ran into lunch time where we shot back to the other side for my habitual tuna avocado and cheese baguette and then we popped back into another café and then back to the other side for a date night dinner. Today was just a big write-off for relaxation and gluttony. Hell we deserve it- tomorrow we have a bus to Vang Vieng-a hippy town notorious for mushroom shakes, happy pizzas and intoxicated river rafting. We needed all the rest we could get.