Ban Na – Paksan – Pakse, Laos
November 5 – November 7, 2013
Katie woke up sick again but we felt like we had over stayed our welcome. So we slowly packed and got ready to leave. Before we could leave, the husband of the house (our father) ran out and came back with a loaf of bread. We had turned down breakfast to get on the road and Katie's stomach couldn't handle food anyways. It was the sweetest thing that man had ever done for anyone. I'll miss him.
The walk out of the village was brutally hot, but we eventually made it to the highway where I made a few attempts of thumbing a ride. One attempt was yielded at a military officer who stopped, but not to pick me up, instead someone handed him a baby and off he went. I believed it to be some form of protection payment.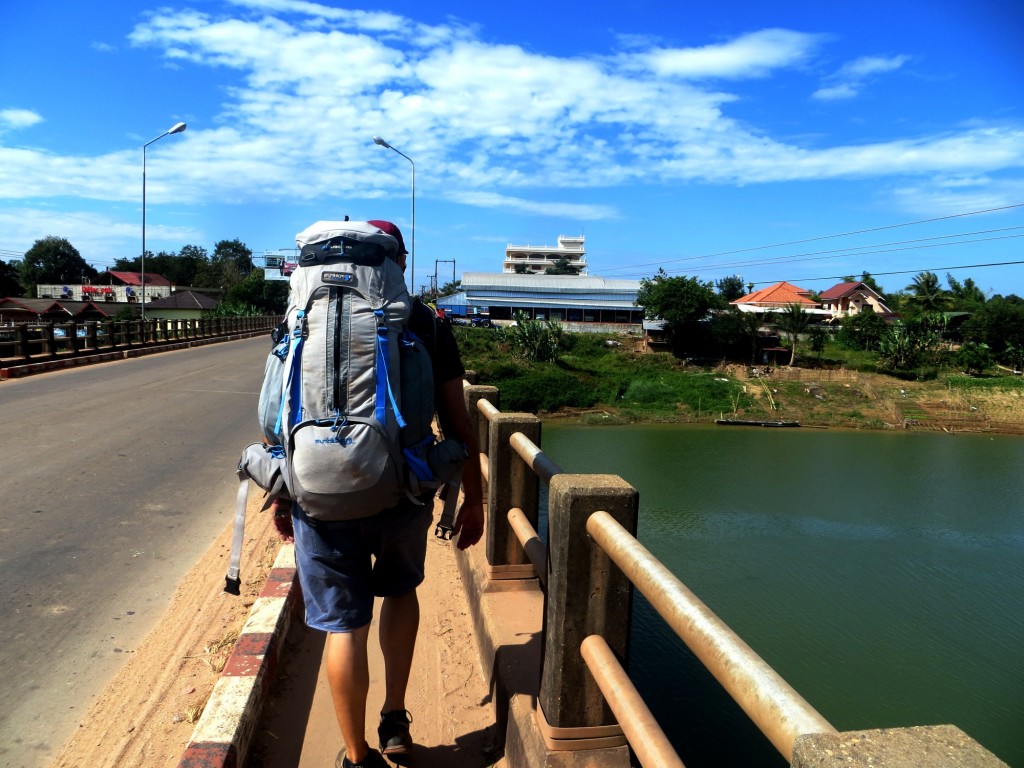 Two minutes later a tuk-tuk to Paksan showed up and we boarded. We got dropped off at the station and walked five minutes up the road in search of a cushy hotel we had read about where Katie could lounge about, recoup and feel better. We found it and I went for a walk for Pepsi and regular chips.  That was about the extent of our night. Well that and a dose of Dumb & Dumber. A get better quick remedy I've been prescribing since 1994.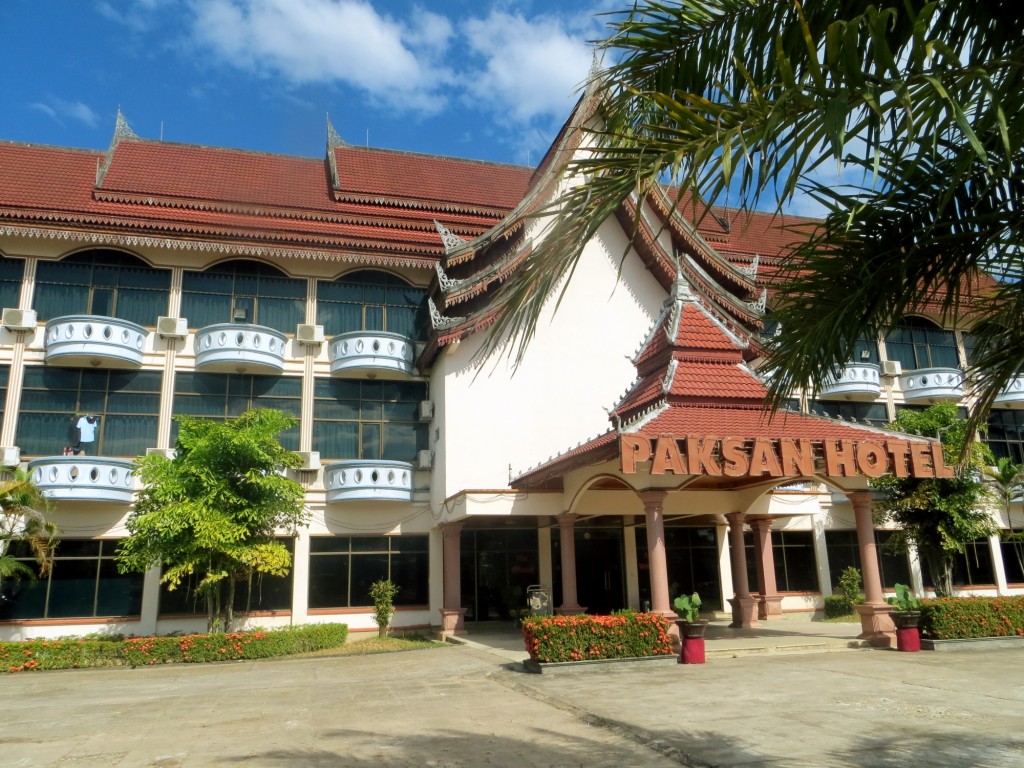 KT: The 2KM hike from our homestay to the main road seemed never-ending. And it was all I could do to keep myself in order on the tuk tuk. Paksan wasn't exactly where we wanted to end up, but I needed to lay down again and just couldn't stomach the ride to Pakse. I checked us into the fanciest hotel I could find – $14 a night, ice cold AC, hot water shower, flushing toilet, and cushy bed. It was necessary. Sometimes, while travelling, you just need to splurge and spoil yourself. It was one of those times.
Day 15- Paksan
The decision came to us the night prior to skip central Laos. Although when we first boarded the bus south to Pakse we didn't know that we'd be en route for the next 14 hours.
With only two weeks left in Laos we wanted to spend it lounging on the 4000 islands along the Mekong. And from what we have read Central Laos doesn't have much to offer aside from breathtaking landscape. I know ehh…how trite.
Fast forward fourteen hours into midnight in Pakse and the two of us unloaded the bus alongside two Dutchmen. And much like the rest of Laos, the town had shut down two hours ago- so we took to foot and walked through the deserted streets in search of a guesthouse.
It turns out that we confused the bridge entering the city for another bridge which threw off our bearings from the Lonely Planet maps in our hands and after twenty minutes we were standing aloof in the middle of an intersection when a Lexus pulled up.
"Guesthouse?" the man in a pimp style gold necklace asked.
"Yes…yes…guesthouse" the four of us chimed.
He got out of the car and popped the trunk and the four of us threw our bags in before snuggling up in the back seat. He turned around and rode off to the exact guesthouse we had all been searching for.
The gold chained man and his wife clad in braces got out to escort us and our bags inside but it turned out to be full. Next door we had better luck. But there was a catch. There was only one room left. Since it was nearly 1am the four us climbed the stairs and piled into our separate beds; Katie and I in one & Dutchman and Dutchman in the other. The beds were made of 3-ply cardboard but we had such a wonderful sleep.
Day 16- Pakse
We woke up before the Dutchmen and packed our bags to duck out and find a new spread. They woke up when we were leaving and we extended our farewells and nice knowing you's before we slid out the door with guffaw looks on our face that said I can't believe we just bunked with 40 year old Dutchmen. You would know the face if you saw it.
In the daylight we got our bearings and found a nice and cheap guesthouse along the Mekong. After unpacking, would you guess who strolled on through? Yep, the two travelling Dutchmen. This time they stayed two doors down. Which was nice of them. We left our courtyard to explore the town. But with three Indian restaurants and a proper coffee shop we pretty much had our sights in store.
I honestly don't think we did anything other than eat Indian food and hang out at the coffee shop. Although I do have to say that both Katie and I are spoiled when it comes to Indian. I don't know if we will ever be able to pay the exorbitant Canadian prices ever again. All
throughout Laos, Indian joints have popped up serving mixed vegetable curry and mattar paneer for 10,000 kip, the equivalent to $1.30, and plain naan for 5,000 kip, and sticky rice…and masala chai to wash it all down for $1.00. Ah, what wretched affairs have been cast on us. One month of bargain Indian for a lifetime of sorrow. But alas, I have one last thing to say. At Bolaven Coffee Shop we were served a real treat. After battling with the quality of baked goods country wide, we had found this gem that served up real brownies and cookies and pies and cheesecakes and if you bought one you got a free cup of coffee. I mean real coffee. Fresh roasted. Real beans. To the brim, cup of coffee. So if you ever end up in Pakse somehow you have a couple things to look forward to. Well, that is if you enjoy the finer things in life.