Read Ba Dong Ka Donk – Part 1 of 3: Are We There Yet? and Ba Dong Ka Donk- Part 2 of 3: gettin' our hate on first!

Cast in lime tones, giant paddies had sewn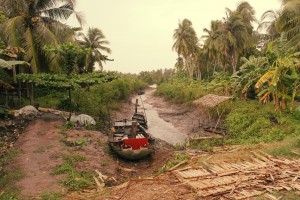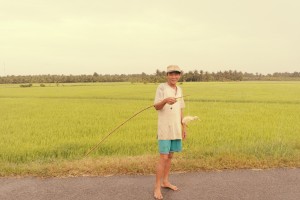 their wild oats amongst the coconuts and palms, all crafted with Mother Nature's erotic precision. Along a winding dirt road, where gravel gets chewed and spit with the spin of the tire, we passed timeless homes that each backed out onto the coffee-tinted Mekong Delta. Each home giving birth to a floating vessel, you could just imagine the pruned fingers. As we passed at a snails pace to capture it all, we had peeped a lady of leisure on her front porch, waving & giggling her little gum tooth smiling head off, as well as a man with a furry sun kissed baby duck on a makeshift fishing pole. Clueless as to what kind of catch he was fixing to hook. Amazed by the flow of life…we carried on our journey and reached the ferry.
The ferry ride was peaceful thanks to the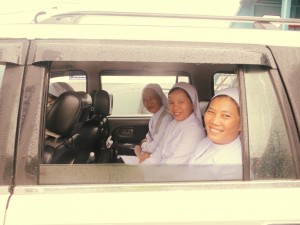 bus full of nuns (perhaps you are more familiar with the term, nun-truck) that was perched perfectly at the front, almost by the hand of GOD…or perhaps just by coincidence. Anyways, we didn't sink- so some of you would consider the ride uneventful. When we exited the other side we carried on to the bustling town of Ben Tre. A city famed for its coconut candies.
We pulled into Ben Tre around nine pm, it had just started to sprinkle outside, we had been riding all day, we didn't have a room booked for the night…and to poop on us when were down, it just sank in that it was annoyingly difficult to get a room without our passports. We pulled into a hotel, walked in, and just as quickly walked out, loathing that cursed word and the receptionist's smug look. She shoo'd us in the direction of another hotel- saying they would take us. I doubted it.
Along the Delta, we tried a new hotel. It was big and classy, just how I like my women. And it came with an American breakfast buffet- so the fatty in me was praying. We told them from the start we didn't have our passports, but that we had ID and we knew our passport numbers. It didn't work. Beside the front desk was a computer. We thought we were saved! In each of our emails we have our visa documents stating we are welcome in the country until October 23rd, 2013. The receptionist seemed on board so we dug up the visa's and printed them. So far so good…then, not so much. They said they wanted our pictures on the visa documentation, which isn't part of the visa they e-mail you. The official visa is glued to the inside of our passport á la safe box. There was nothing the receptionists could do, so they said. With Katie almost in tears (KT Edit: I just kept thinking, imagine my father was here, seeing these horrid creatures turn his youngest daughter out into the cold, wet, dark, foreign night, with no where to sleep! The tears were also my way of trying to guilt the receptionists. It didn't work…) we flipped through our copy of Lonely Planet: Vietnam and found a cheap motel that would hopefully not ask any questions. We drove over, slapped on a couple of the darndest fucking smiles you could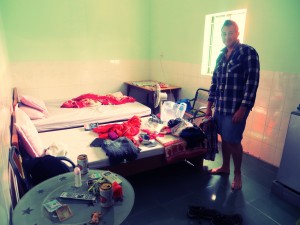 ever imagine with attempts to butter the owner up as much as possible and get ourselves a bed for the night. I'll cut out all the details, but we were standing in the room and I was forking over money and giving her the ol' I bet you were something before electricity line, before she could even get the word "passport" out. But, then she did. Oh that trifling word. We explained we only have our driver's license to give her, and she could NOT have cared less in the world. We thanked her so much. She will never know the weight of her acceptance. I think we even cried a little, I faintly remember being moist.
Anyways it was nighttime. We were hungry. We'd been on our bikes around eight hours and we finally landed a room. We found a restaurant to celebrate- we think it was pork, but I swear it looked like chicken. KT Edit: It was also the ONLY place open to eat in Ben Tre. 
That night we planned to wake up early and find a boat to go for a cruise up The Delta, since I highly doubt we'll be back to this part of the earth, it was something that basically had to be done. After looking in The Lonely Planet, it read that you could purchase tickets at the tourist office, which happened to be just up the street from our hotel. We grabbed a coffee, Vietnamese style (KT Edit: which meant we sat at a cafe facing the street for 10 minutes while our coffee dripped, before we could carry on), and biked over to where the office was located on the map. Not one building had English, so with our heads darting back and forth I did a U-E the same time a guy shouted over at us "Boat ride?". I suspect it was the miraculous work of those nuns… bless that nun-truck! "Yes!" we shouted back. We pulled over, discussed the fine print, and met him an hour later along the shores to board his boat.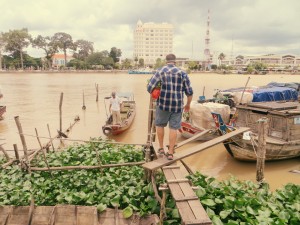 Hopping over a barrier, walking along a two-by-four walkway out and onto his twenty-foot outboard-motored boat, equipped with three wicker backyard chairs. Above our heads hung a tarp that would come off after it poured while we floated down the swampy Mekong.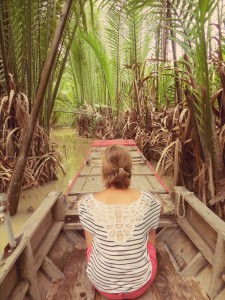 After making some headway along the larger channel, we snuck into a tributary where its width at times was almost an arms length wide. Cutting the motor at times, we grabbed onto hanging limbs and ushered the vessel along its watery path. Our trip eventually led to an island in the middle of it all, and trusting our guide, we docked and walked a path on the land donned, Coconut Island. And like its name, there were coconuts a plenty. Leaving our packs and bags on board he maneuvered his craft downstream to meet us at the other end. We uneasily joked about how our captain could just be chugging down stream laughing at a couple of trusting tourists who are going to be eating coconuts and bananas until they grow old- instead, we see him docked with a machete in one hand and a freshly picked coconut in the other and he's hacking away at the top. He even brought straws. What a fucking guy.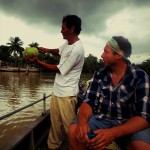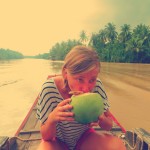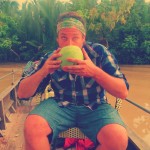 On the float home, we ended up making a pit stop at his family's plantation of sorts. Pulling up, you could see about eight-thousand coconut husks. And after hopping onto land, we
bore witness to this little operation he had kicking. His wife, along with a staff member, who could have been his mother, were wrapping up a wack of coconut tchotchkes. Trolling us through his property, he brought us over to a group of workers, aged twenty years, slicing out the chunks of coconut meat. To their right were several giant vats of coconut milk that had recently been drained, think nine-person hot tub big. We hung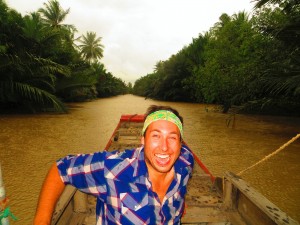 around drinking coconut & banana liquor and staving off the rain before Nam's wife jumped on board on our way home. Before we had even pushed off, she took her days garbage, neatly confined in a plastic bag, and tossed it into the Mekong, like you would a Whiska's treat to a fluffy kitten. And like magic, the garbage was gone. Katie and I both looked over at each other with the same it is what it is look on our faces. We docked, paid Nam, and picked up our bags from the hotel for our four-ott hour journey back to Ho Chi Minh City. This time, opting for the straightforward AH1, destination, end-of-the-line.  And like afternoon clockwork during Vietnam's four month long monsoon season- it starting raining… again. Bring it on Vietnam.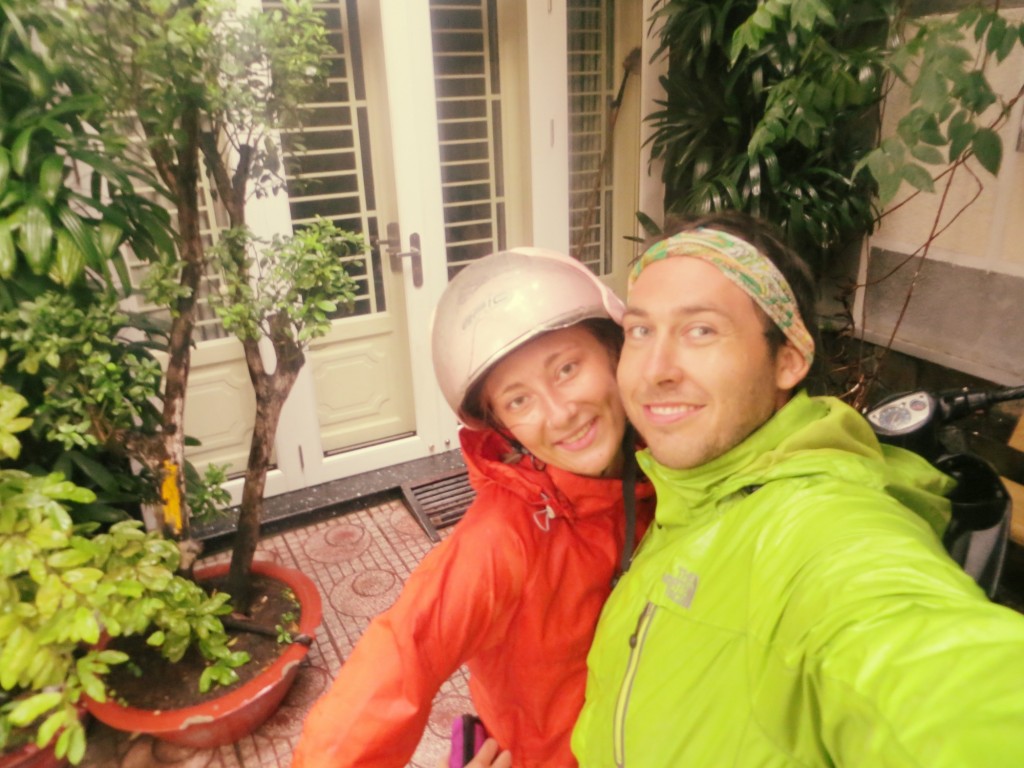 Home safe!