It took a little while to get our bearing out of Hoi An. It's been a running theme for us to wait until our bags are packed and the roads just sitting there ahead of us, open, tapping its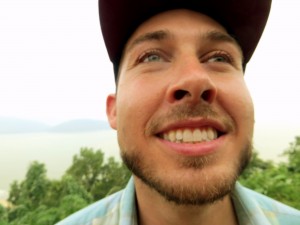 wristwatch, with an enough already sort of chagrin. That's about the time we actually open up a map. I wasn't in the mood to look at any maps. I was in more of a fuck it lets just ride kind of mood. Which doesn't really help any situation. We had been about three minutes out of the city when we pulled over to grab the GPS when a motorcycle pulls up. Now, I'm gonna be flat out when I say that I know I'm getting grumpier and more cynical, but sometimes I just plain don't feel like making small talk. Hell, I never feel like making small talk and I'm not generally a rude guy, but this trip has been shifting my gears. So we're sitting there on the side of the road when a guy pulls up and makes with the usual where ya from sort of bit…ok buster, enough's enough. I'm just pulled over minding my business. There's no need to get into my life story and it really makes no difference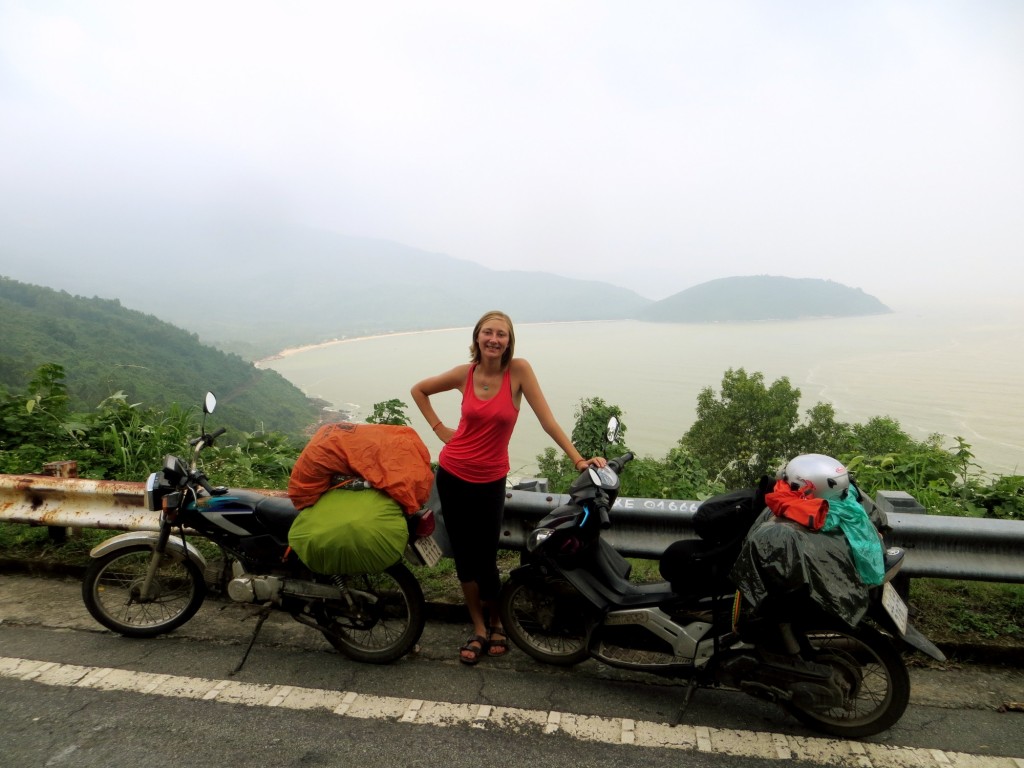 what my name is to you. I'm tired of it and just want to get on the road, on with my day, and out of this damn town that has eaten up the last ten days of my trip. I hold my breath while Katie does the talking and he assures us that if we just go straight for 200km we will be at our destination. That's it. That's all folks. He smiled a big joyous helpful smile and took off down the road. He didn't try to rent us a room. Offer us a ride. Nothing. But there I was shooting down his kindness. I wasn't going to let him be kind. I've been tricked time and time again and now I've jumped into assuming everyone is wearing a mask of deception. A mask of greedy personal interest. A mask of what's in it for me. I've been tricked into running from kindness. I apologized by giving him my final attention and thanked him, and again when I passed him on the road.
The road was your average Vietnamese road. Which means 100 different things all in rotation. Riding through the streets is like looking at old family photos on your projector, but on repeat. It's beautiful the first time. And the second. Maybe even the third. But then you start noticing the smalls things in the photos. And you nitpick them. Each town Vietnam wide has about 10 buildings on repeat; hair salon, cellular phone shop, pho or rice joint, café, hotel, mechanic, corner store, baby clothes shop…hell maybe it's only 9 on repeat. Either way it's the people and the piglets that make the drive exciting; and the scrappy puppies and oxen that don't give a fuck about you or the traffic or the whip coming down on them. It's all this that makes the trip exciting and then you have endless mountains looming in all directions like they are waiting in line at the checkout with a cashier in training.
On the road to Hue we zoomed past Marble Mountain without stopping. It was too close to Hoi An to stop, we needed to zoom today- but it left me a little upset that I didn't check the Lonely Planet to see what was close around to explore for the ten days I spent relaxing. I chalk this up as a fault, but something that ultimately I won't regret when the end of the trip rings near. Marble Mountain sounds exactly as its moniker. It's a goddamn marble mountain. You can climb it. Look over the edge. Sit on it, if you like. Or sing a tune and see how far it carries. We passed it with our eyes. By the foot of the mountain, shop after shop after shop sold marble statues of Buddhist gods; Shiva, Brahma and the other one.
We kept zooming. All the way through Danang which seemed like a pretty hopping city. The town was built on a river and three giant bridges connected it to the other side. One of the bridges was lavishly decorated with an enormous golden dragon that wriggled from the top rungs to its underbelly that ran below the bridge, snaking almost to the water, only before raising, and lowering again. We ended up crossing on another bridge. It wasn't the same.
The road out of Danang followed the coast and we drove a good 15 minutes along the gulf without a car insight. It led us all the way to the Hai Van Pass. A monstrous mountain with a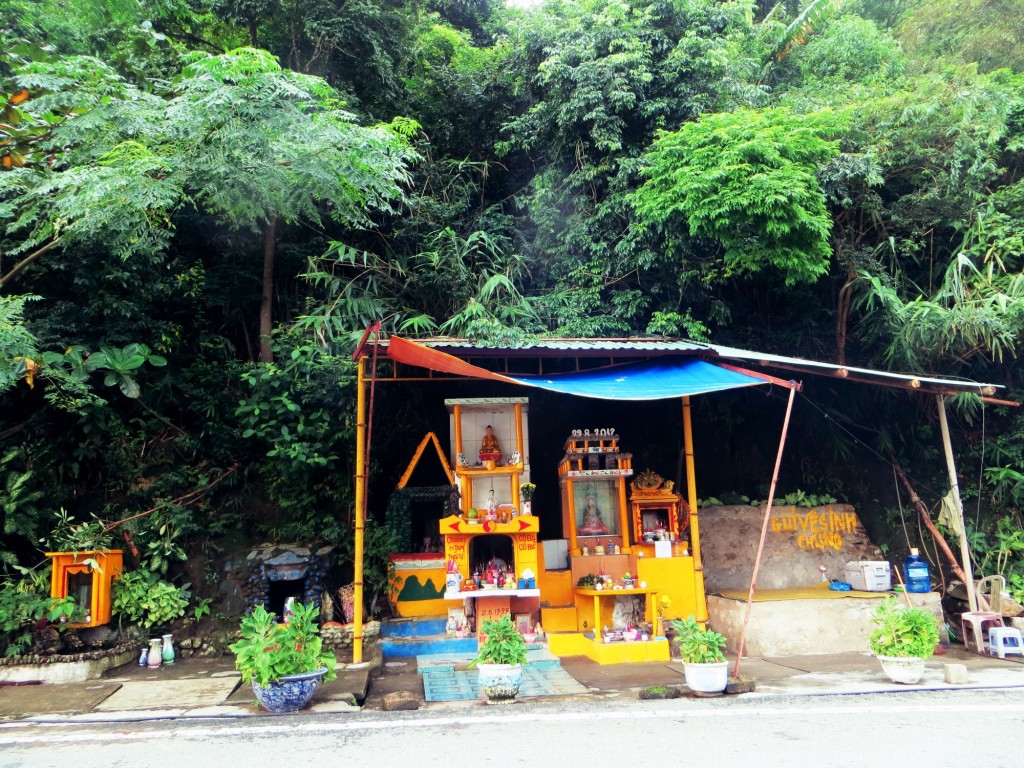 road sliced off the edge like an endless piece of cake. Up and up and up we swerved, taking turns with a delicate lean as if our bodies were being dipped over the edge in a foxtrot. The view held me captive. It was captivating. The bends gave way to multi billion dollar views – towering mountains like green skyscrapers; endless lumber scored the land and I thought about the billion dollars I could have in my pockets if I chopped it all down and sold it to Hilroy. I decided to let it live and just kept riding.  Each bend folded in and out of beaches and towns that looked a fraction of their size. We kept riding higher. Then it came to its peek and broke, broke, broke downward falling for 12 minutes past mountains wearing hats made of mountains, and big brother ocean patting little brother mountain on the back since birth – best of pals they are.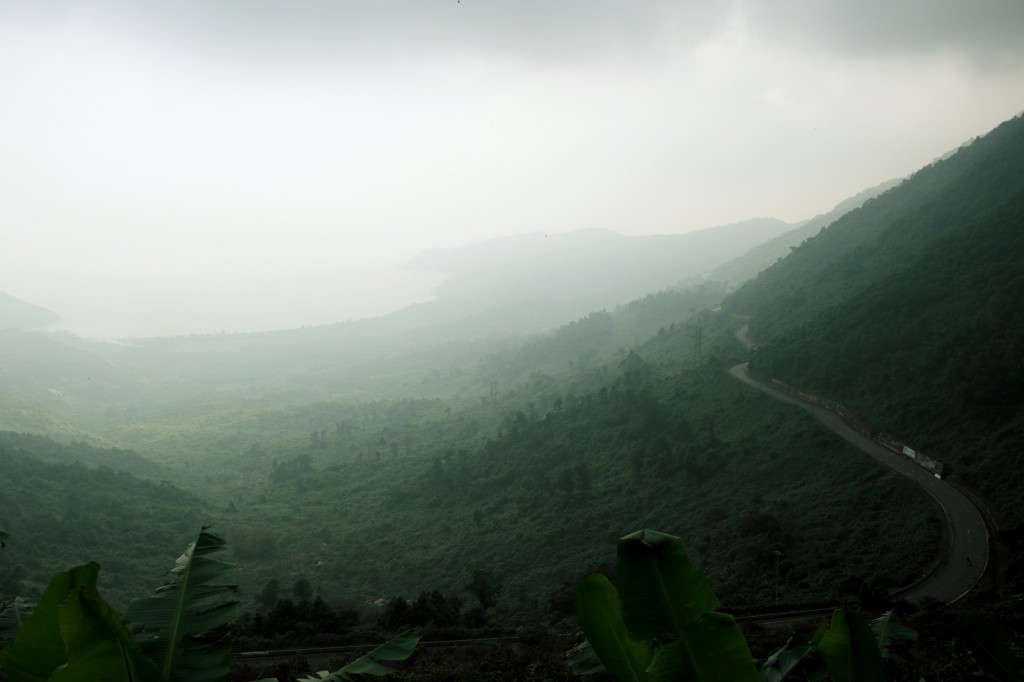 We conquered it all in one swoop and road off to Hue (HWAY). A drug dealer welcomed us to town and even escorted us to a hotel that was sandwiched down a small back alley. He waited outside while we unpacked and reminded us that whenever we wanted drugs,
that he was our man. We thanked him and checked in & took a load off for a short while before heading out for dinner. On the walk we met a street corner poet selling his poems printed on 8X11 white paper. Katie bought one for 50,000VND. He pulled out another sheet. One he was extremely proud of as he pointed to the signature Umberto Eco. A woman had passed his poem on to Mr. Eco and in return he received a letter of gratitude for the poem that stirred his heart. The poet even offered us a ride around town not as a tour guide but "for our pleasure" – He was one sweet little guy.
We ate Chinese food then walked along The Perfume River. A river that got its name from the sweet smell that drifts downstream from the floating petals that overflow from buoyant orchards. All along the river booths were set up selling snacks and little trinkets and cacti and paintings and belts all on rotation.We walked for hours and ended up back at our hotel in a deep sleep.
The blinds won the battle and we woke up a couple hours later than expected. We left the room, found a restaurant serving eggs and bread, and then spent the next 45 driving in squares about an impenetrable Citadel.  We eventually found a parking spot after crossing a moat and paid a ticket attendant who we think jived us for 5000 Dong. After we parked we had to walk ¼ around the building to a further entrance.
Inside the first building a luxurious golden thrown sat risen above ancient wooden planks. The enormous room was empty aside from tourists, no photography signs, and 40 or more giant cylindrical pillars holding the roof in place. The citadel had been destroyed by the US in attempts to save it from the Viet Cong who had occupied it for three weeks during 1972.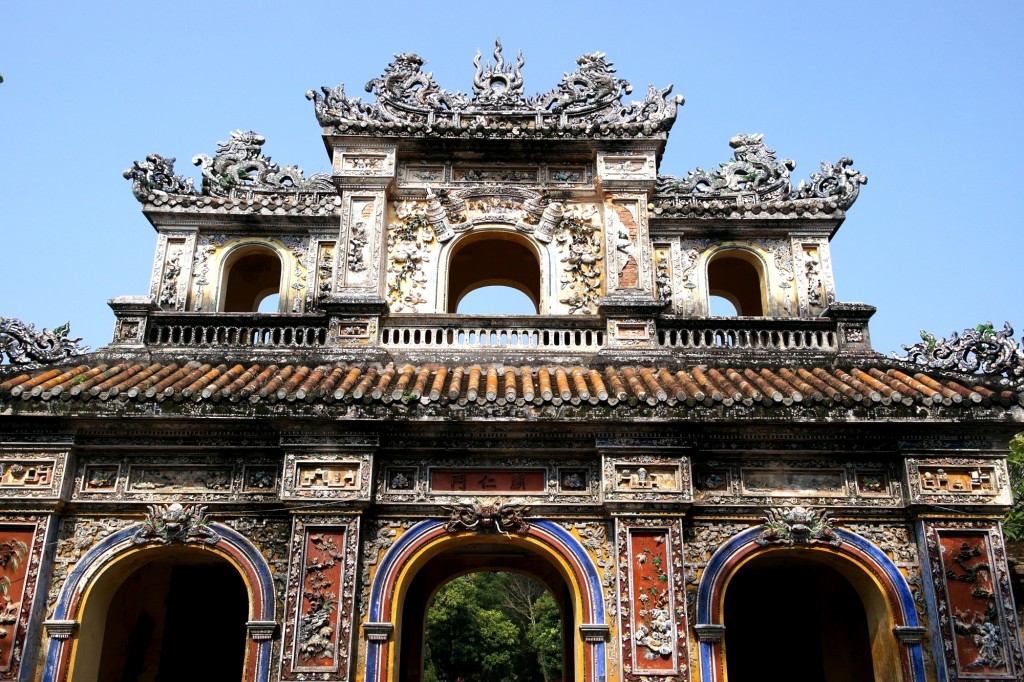 It's funny that it takes destruction to set a people free. Or does it? It's best not to tempt the US. I was searching for truth, trying to get a feel of what life had once been like 200 years ago walled inside of a world of politics, philosophy, arts and aristocracy. We walked and climbed our way across the sprawling grounds, knowing both enveloped in morbid thought that we have walked the same paths where men and women stood and  fought and cursed and cried and bled and crawled and died. We found a lake in the north east corner of the citadel in as much despair as the remaining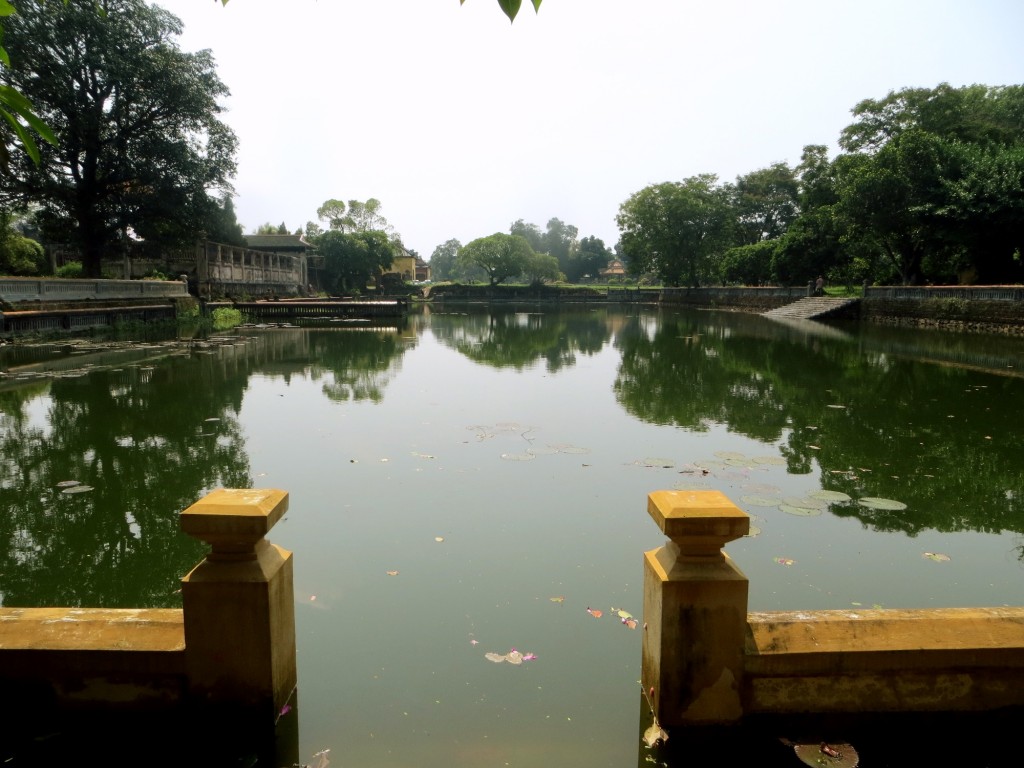 temples-turn-ruins. The water flooding past its broken perimeter as if it was the crumbling stone that had raised the tide. I am blessed with the glimpse that I was allowed today and I can only dream of its once peaceful past. We left the grounds humbled and passed once again over the moat to rejoin the outside world. We drove over to a restaurant on an island to get a drink and cool off in the days extreme heat. We sat and read and wrote and drank for hours; Coffee with Baileys and cans of ice cold Huda beer.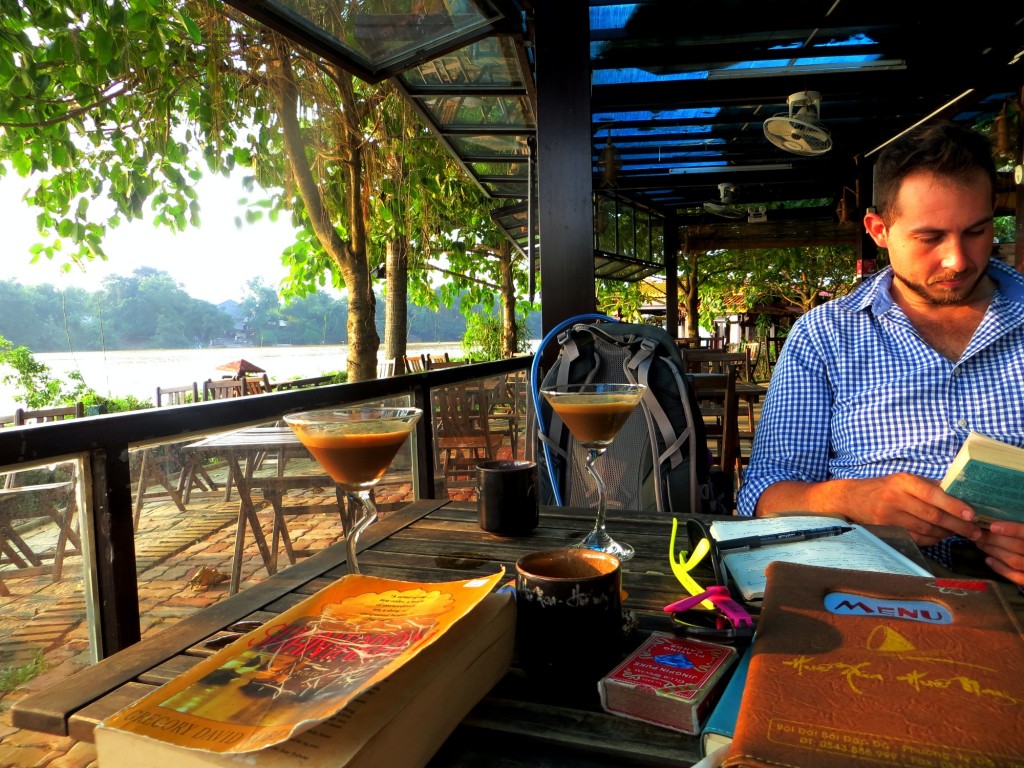 This is what I wrote:
With my legs crossed
On a wooden stool
At the fork
Of The Perfume River-
The water folding like origami
Fused with a scope
Of blues and pinks
Drawn by hints of night sky.
Hand crafted vessels
Lay asleep along the skirts
Tired as the hands that built
These archaic beasts
With primitive tools
I'm on a mission
To unearth the unknown.
A looming motionless flag
Raising itself like a student chosen in class
Stands guard above the tortured citadel
Opposite the river
Once a home to emperors
Artists and intellectuals
Once a dream and vision
Once chaos and destruction
The unfortunate formula
That haunts the murky waters
That drifted past unable reach out its arms
And put out the fire
And now the vessels run tours
In search of tombs
Imitating Indiana Jones
For five dollars
I cringe inside
We left the restaurant after the DJ spent thirty minutes of mic checks and mot, hai, mot hai, mot, hai, mot, hai, tsss…tsss, mot, hai (the equivalent of 1,2,1,2) trying to get the reverb on the karaoke machine just right. If it wasn't that mans first day on the job I'd like to see that he was taken out back and shot, reprimanded or belittled – and I am totally alright with any one of those options. The evening was capped with dinner at this delicious vegetarian restaurant; huge plates of roasted corn, fried tofu, spring rolls and noodles and sauces for next to nothing. It's beautiful to get what you crave. We went to sleep full and happy and were once again deceived in the morning to the hidden sun. It was time to head north.