Heading to Cat Ba Island, Vietnam
October 10, 2013
Have you ever heard of Halong Bay? It's east of the capital, Hanoi, and rests as a port-cum-destination spot. Rich in beauty, tranquility, and one of the reasons that swayed my decision to visit Vietnam. At least that's how all the pictures on the computer portray it to be and today was the day that it was all coming down to.  After travelling 2300km across the country we had another 150 and we'd be there. All across the country we talked to folks doing the same journey- a mere fraction of them on motorcycles, but scaling the entire country North to South/South to North nonetheless. Although not quite as badass as us. We asked and received a lot of feedback about the famed Halong Bay and a consensus came out that it was a filthy port, touristy and over priced. Wow! Dreams just came crashing down on me! Well, not really, but taken back a little. After looking at a map, you can see an island further out past the bay of Halong. An island that was surrounded by a Roy Litchensen painting of untouched islands. It was like Halong jacked up on steroids.  I had to go there. And to make matters even more in our favour, an even closer port took us to this new island. It was cheaper, less touristy, and less of a drive on the AH1. Fucking jackpot! So in the morning we had a new destination, one that included hopping across two islands and riding the span of each until we came to the farthest eastern tip. To a land of exotic langurs, white sandy beaches, national parks, 360 degree sea views, and a network of newly paved roads that mirror that of any Italian backstreet raceway.  A land called Cat Ba Island.
The road out from Son Tay to Hanoi was straight forward. 50km on a straightaway that lead to the south of Hanoi. Then since motorcycles aren't allowed on the highway we had to skirt the perimeter and ride underneath the underpass stopping at every red light for 30 to 50 seconds only to be held up at the next. Lovely. Quite the dynamic from the past month on the road, but it's all part of the battle. And in order to get the pie you have to buy the ingredients.
Along the side of the highway waves of women were perched on the railing like crows, all scrolled out for miles, all selling the same fruit. Something that resembled a lime. I didn't really get it. It just seems a little trite to sit around all day, day after day, with no way of standing out from your competitor. It was a crapshoot that someone's tires would stop in the 20 feet of highway you occupy, one foot further and it's someone else's limes they are going home with. Not one person had a sign. No one had a deal going on. At least no visible deals. And no possible way to know anything about the said limes unless I pulled over and asked. But then I'd feel compelled to pull up to the next and try to get a better deal.
Eventually we exited at a roundabout and found ourselves on the right path after being lost and grumpy for an hour or more. And would you believe it, as soon as we turned off the highway the lime salesladies morphed into baguette salesladies but the technique was the same. And on it rolled for a few kilometers with a dozen vendors all selling the same buns. We passed them too. Then a stretch of restaurants with workers all standing street side with fans in their hands causing a big stir and waving people on in. We zoomed right past. The road was another straightaway – 80km in 30 kph traffic. You do the math. I had my eyes glued on every marker counting the seconds it took to complete a single kilometer. Hai Phong was the name of the port we were to catch our first ferry and it seemed like we would never get there. But we obviously did.
The town of Hai Phong was a refreshing break from the monotonous escape of inner city blues and battling trucks, traffic and pollution. We probably couldn't have spent more than a day there, but it was still refreshing. We navigated the town for thirty minutes trying to find the port swerving through back roads, uwee's, and on and off  and on and off the bike
fixed on the cursed GPS until we finally found the road. A road that turned out to be pure shit. We were under the impression that the road to the ferry would be paved with gold, saddled up right along the sparkling blue waters filled with flapping birds and flopping fishes the entire way until we rode our bikes onto our maiden voyage that would sail us to our deserted island. NO! It was nothing like that. The road to the ferry was an industrial wasteland. Surrounded by huge factories and ship yards with mountains of colorful shipping containers pieced together like children's Lego blocks. I once saw a home built from twelve pieced together shipping containers spaced together like two T's pointing outward and an open family room in the center covered by a corrugated tin awning. A true work of art in sustainable development. Driving past, I thought about building my own container home in nature. Three stacked, one on the other, with a spiral staircase running from the ground on up and access to the roof to gaze out at the tops of trees  and sliding doors that open up to your own environmental oasis and full windows on each end to let in buckets of natural light. But my reality was dust blinding our faces from the debris from a thousand and one trucks schlepping product A from country Z and every letter in between. We pushed on until the road died at the water's edge and then found our ferry by gazing down the shore.
It was cheap. Three dollars would to get us to the first island of Cat Hai. We docked after a short effortless expenditure and geared up to cross the island before boarding another ferry to our destination. We drove across in one slug and saw everything the island had on display. It was an island that was on the brink – but I couldn't tell of what. I felt like they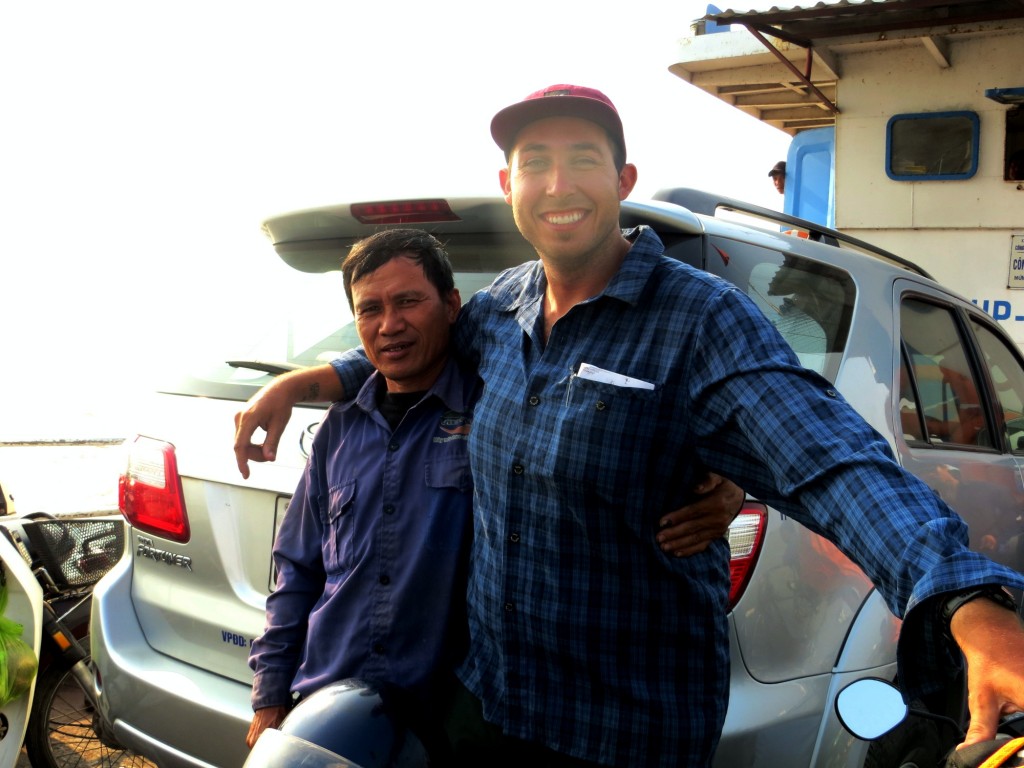 were building the whole island over although it was still in its primary stages. Which is odd because the island wasn't born yesterday. I had an eerie feel that the island could never sustain growth because every time they got ahead, a natural disaster occurred that set them back to ground zero. Cat Hai is filled with grandparents that look older than the island itself all sitting around like containers of paint. That, and a bunch of workers in fields and in floating tubs at sea tending to their tendables. We found the ferry and boarded for $2.50.
We docked at Cat Ba and road off climbing the forested bluffs with bleating mountain goats, then dipping to sea level to cruise against beaches and then zigzagging up and up
along those sexy s-curves that skirt mountains like the brim of a hat. We rode for thirty minutes until construction brought us to a halt. They were blasting mountainside to give way to wider roads and an antique crane was using its arm to sweep boulders off to the side. We played cards and waited. When it finished we passed and cruised into town and found an $8 hotel after the manager hailed us on the street. It was on the 5th floor and overlooking the harbour. We saved $2 by cheaping out on the AC – we figured the breeze would be just fine. It was. We ended up at a restaurant filled with foreigners. The most we had seen since Hoi An. It was called the Noble House and we would end up there for dinner almost every night.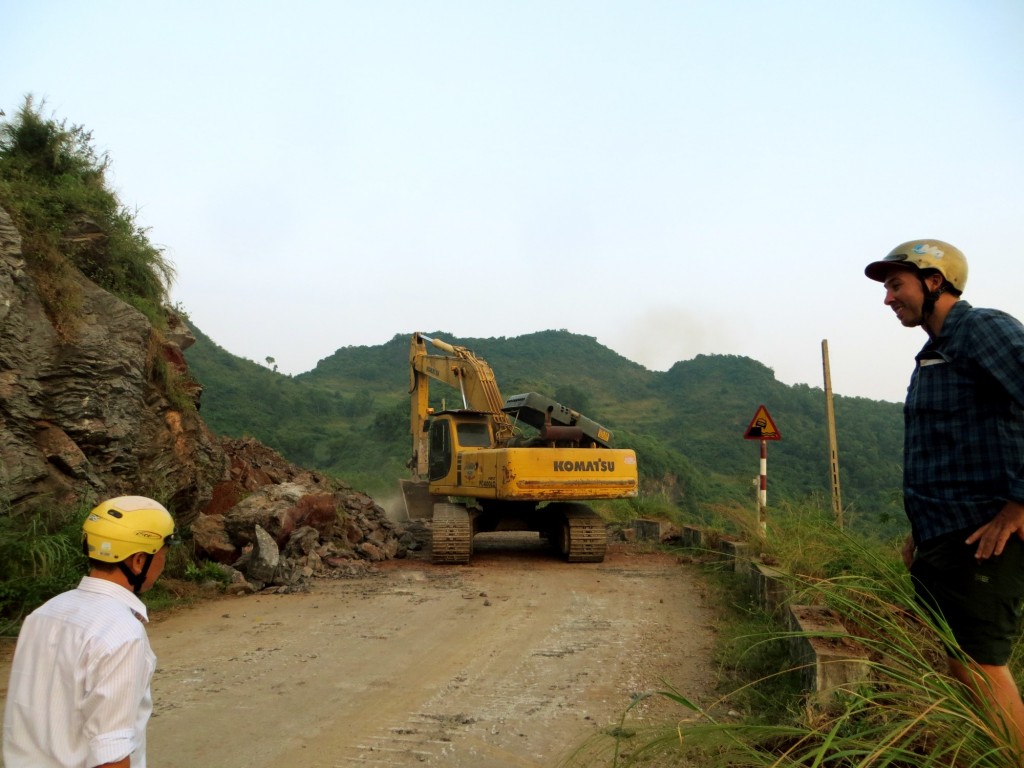 We had been riding since 8am and hadn't stopped until 7pm. So we dedicated that evening to sleep. Only to have Michael Douglas screw me in the morning. And it wouldn't be his last.