This story is a 3-parter as it encompasses four adventurous days on Phu Quoc Island! Stay Tuned for Part 2…
It was Saturday morning. Louis' 30th birthday. We had spent the night before cruising Saigon streets and sneaking into a swanky hotel rooftop pool in nothing but our skivvies.
We cabbed to the airport, arriving at 1:50PM for our 2:50PM flight. Feeling pretty smug about how perfectly everything was going, we traipsed through security without a hitch and sat at a 'restaurant' near our gate to indulge in a little caffeine for myself and a brewski for the birthday boy. With the gate in view, we noticed absolutely no movement as our boarding time approached. No customer service reps, no planes at the end of the walkway…nothing.
We asked the one lonesome, tired looking traveller sitting near the gate, his reply being, "No. I'm waiting for Hanoi". What?!?! Then I looked around…this area all said Vietnam Airlines and we were flying VietJet! Louis asked a nearby customer service rep. She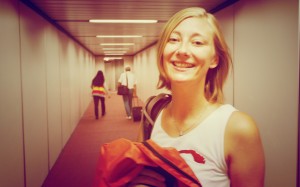 pointed us in the correct direction with a "but they're at final boarding call! Hurry!". And hurry we did. We sprinted, barely making it to the gate, sweating, panting, and red-faced, bursting into laughter as we walked down the hallway towards the plane. Whoops! Apparently the boarding gate for our plane had changed, while none of the boards updated. We were too busy having a ball sippin' on our beverages and taking goofy pictures to notice the message over the loudspeakers.
The flight was an uneventful 50 minutes and after deplaning we were all herded onto a tiny shuttle that drove us literally 20 feet to the airport door. More laughter ensued. It was easy-peasy-lemon-squeezy to grab a cab and get to what was to be our humble abode for a few days - Beach Club on Long Beach, the Western coast of Phu Quoc Island. If you're cabbing from Phu Quoc airport to Beach Club your cab shouldn't be more than 120,000VND (About $6CAD).The cab ride was fairly quick, and oh my, stunning! Trees! Mountains! Nature! Yay! We immediately fell in love with the place and when the employee told us that the Beachfront Bungalow was available for $30/night instead of the regular room for $20/night we decided to splurge and spoil ourselves. It WAS Louis' birthday after all!
We promptly threw the doors wide open, and our grins even wider. Does it get any better than this?? You know when you smile SO big you can't help but laugh? Yeah. That.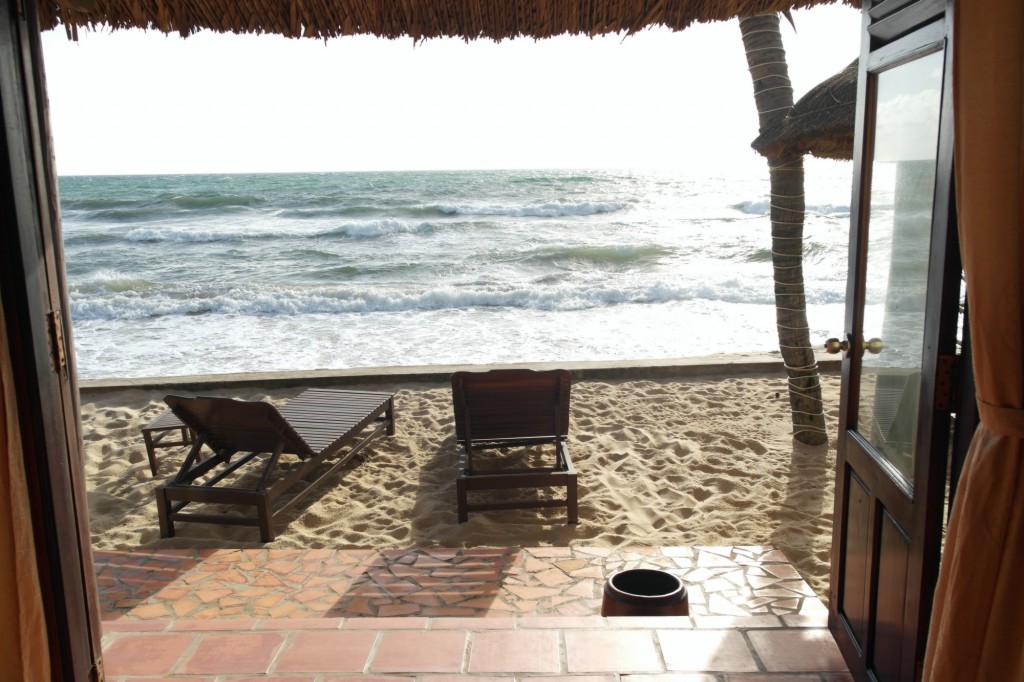 We spent the next few hours swimming, reading, lounging, grinning like idiots, and almost drowning. OK, maybe that last part was only me. The waves and current were just how I like my men – big, strong, and unpredictable. (Insert something here about my bathing suit repeatedly almost coming untied, but I won't because my parents will read this)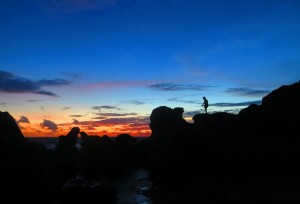 Louis being Louis wanted Indian food for his birthday dinner and we were lucky enough that our favourite Vietnam Indian chain (Ganesh! Go there!) has a location just a beach stroll away from Beach Club. We walked down the beach toward Ganesh, taking in the breath-taking sunset. Is this real life??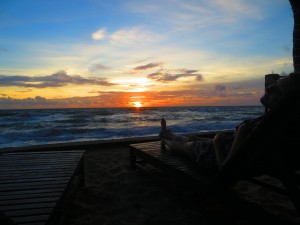 We got a little lost when one local told us Ganesh was right down the beach, then another local told us it didn't exist, then another told us it was further into town on the main road. Road beers were in order for this Ganesh hunt so we picked up a couple of 333′s and kept on keepin'
on. It was WELL worth the hunt…
We gorged on our favourite Indian dishes, smoked espresso flavoured cigars, drank Vietnamese rum on ice, and overall felt like rockstars. All we were missing were a couple groupies. Although, the servers were waiting on us hand and foot, so maybe that counts.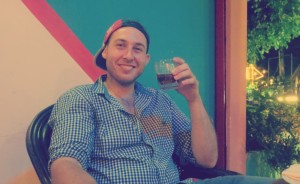 To add to our rockstar status, we had a nightcap lounging on recliners back on our private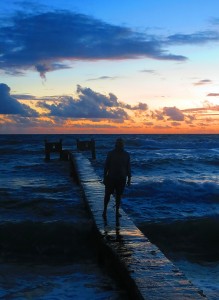 beach, staring out to where the water turns into sky as the Gulf of Thailand lapped up the sand at our feet. Large bodies of water have a way of making one feel so small. I could only imagine all the plants, animals, and various life forms that were out and about, thriving under the surface, while all we could see was the moon's reflection bouncing off the top, as the salty sea air licked our cheeks. Or maybe it was Ten licking our cheeks.
Ten is a puppy we befriended and I named him Ten after "Tenacious D". His full name was actually "Tenacious D-O-G", but for short we called him Ten. He guarded our beach, cuddled on our chairs, played, and tried to sleep in our room with us! We eventually closed our beachfront bungalow doors, stunting our vision of the sea, while the waves crashing and breaking over each other lulled us to sleep.