Read Phu Quoc-ing Crazy Roads Part 1 of 3: Happy Birthday Lou! and Phu Quoc-ing Crazy Roads Part 2 of 3: Just The Tip first!
Sunshine and smiles consumed our Monday morning. Another day on the bikes was ahead, and I was full of nerves and excitement. After a quick breakfast of french toast and glorious maple syrup for myself, and a hearty breakfast of eggs, bacon, and toast for Lou, washed down with a couple of ca phe da at Buddy's, we hopped on and headed out. We rode slightly inland for a while before reaching the road that snaked around the perimeter of the island.
The roads were what my motorbiking dreams were made of and we were making
excellent time. The road got closer and closer to the water until we were driving right along the edges, cue big grins. What's that? A completely deserted beach? Why yes I DO want to go for a dip! This time I wasn't afraid of jellies because the waves made it so that I couldn't see what was in the water anyways – I put my blind faith in this water and it didn't let me down.
After our dip we carried on down the road, finding ourselves driving through a quaint river-village full of hilarious Vietkids playing and yelling "hello!" as we drove past their homes. It was literally an alley with houses on our left side built over the water, and the houses on our right side built on the sand. The houses were but shacks made of corrugated tin and wood, and the alley was a mere 6 feet wide. Oh the places you will see! From trees to beach to boats to floating houses. We waved our simultaneous hellos and goodbyes, and made out for the "forest walk" where we hoped to see some animals.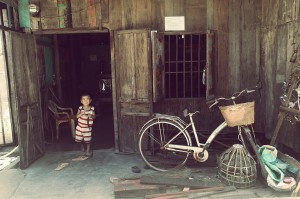 We found the entrance because of a few motorbikes parked there (or else I'm sure we would have driven right past) and hiked in with only a 1/3 of a water bottle left between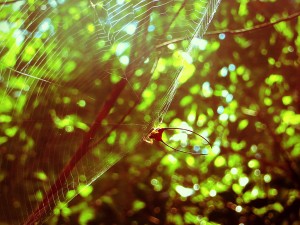 both of us. There were no trail markers, and certainly nothing in English, so we just hoped to not get lost. The tourist map showed animated images of monkeys and pigs, so we were under the assumption these animals resided in this forest. We accidentally happened upon someones farm, and strolled past rows and rows of pepper plants. The shade of the forest was most welcome, and we listened intently for the sounds of animals. At one point we did think we heard a monkey, but as we never actually saw it, we'll never know for certain.
After exiting the forest walk, we bumped into the most gentle of gentlemen. His wife and daughter were just entering the forest walk while he, not interested in hiking at all, hung out near their cab. After chatting for a few minutes (he wanted us to wait to speak English with his daughter) we apologized but we had to get going, we were awfully hungry. Upon hearing this, he rushed to his hired cab and pulled out a bag of rice crackers, informing us that the next town was quite far away. What a guy! We apologized again, but we must be going, we were awfully thirsty. Upon hearing this, he rushed to his hired cab and returned with a bottle of water. What a guy, again! We thanked him profusely, not realizing then how long it would be until we ate. He gave us his phone number – he lives in Hanoi and we are to call him when we arrive there.
Finally we were on our way again, stopping one more time a while down the road to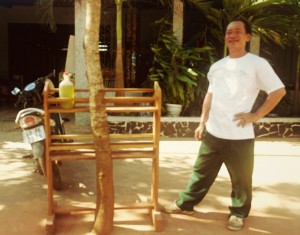 quench our thirst (the last bottle of water lasted about 30 seconds) again, and purchase a couple bottles of petrol off a roadside vendor. Yes. Bottles of petrol. That's how far out we were. No petrol stations anywhere near, only roadside bottled petrol vendors. As we guided ourselves down and around the dirt roads, the mountain views were astounding. So much greenery and nature!
I was taking in all the beauty, until all of a sudden the road disappeared. I mean that literally. The road was no longer in front of us, in its place was an eroded section of clay and sand. Back to, "How is THIS a road?". Turns out it USED to be a road, and the detour, now behind us, was not marked at all. I really don't think I can express my horror in words, and I was too frightened to take my camera out of my bag, so all I have now are the  feelings of driving up the mountain over ramps made of sticks. "Just hit the gas and don't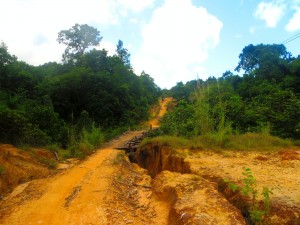 look behind you", I kept telling myself. We got to the top and I was glad it was over. Oh right, coming down…that part sucked too. Then there were full out bridges made of sticks, crossing rivers and ravines. My palms were sweaty and my heart was racing, but I just kept telling myself (aloud) You can do this, You can do this. I also didn't have any other choice but to go forward. This "detour" lasted an hour or two, who knows, it really felt like days. Louis was loving it! He was incredibly positive and encouraging, while he himself tore down the path like a natural dirt biker. My stomach is feeling tight just thinking about it!
Even after we seemed to have left the deathtrap roads behind, I was never certain they wouldn't reappear. I'm just thankful I had gotten my wipeout out of the way the day before so I could master with a shred of confidence the stick-bridges and clay/sand hills.
We eventually reached the main highway again and let our maniacal laughter loose into the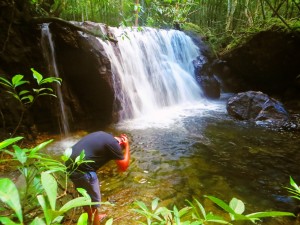 wind. The tourist map had a picture of a waterfall nearby so we stopped by to check it out. Hailing from the Waterfall Capital of the World (Hamilton, Ontario), I wasn't too excited about a measly waterfall. Louis was all amped up to swim in the fresh water though, so away we went. We payed an admission and parking fee of about 50 cents, hiked on over to the waterfall, and took in the hypnotizing powers that only waterfalls have.
It was starting to get dark when we reached Duong Dong again, and we were adrenalized by the thought of having the freshest of fresh seafood at rock bottom prices, especially since we had only eaten rice crackers since breakfast. As we walked into the Night Market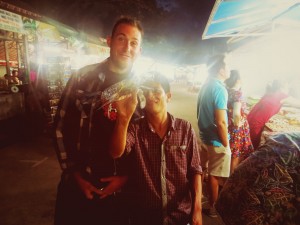 it went completely dark. Pitch black. All of the power had gone out! Shoot, now what? Slowly, vendors powered up their generators and we went to the first one up and running. We each picked out some scrumptious sea creatures (Louis a blue crab and myself a red snapper) and sat in the makeshift restaurant in the night market. Louis' blue crab was succulent, and my red snapper was probably the best fish I've ever had.
A couple people we had met at our resort joined us for dinner and we had a hell of a time chatting about past and current travels and adventures. Picking up some booze and continuing our little party at Beach Club where we could sit on the beach and chat in peace seemed like the logical next step, so Lou & I hopped on our bikes in search of cheap Vietnamese rum and beer. As all of the local stores were closing up shop, it took us a while to actually GET the booze, but we finally made it back to Beach Club. By the way, a bottle of Vietnamese rum costs 50,000VND ($2.50CAD). The five of us (Alex, Emily, and Max from the UK) relaxed on the beach swapping stories until we were too tired to talk.
The next day consisted of swims, reads, chills, eats, and chats as we soaked in the last of the sun before heading back to the mainland. Alex and Emily left a couple hours before us, saying they'd meet us in Ho Chi Minh City on September 5th, while Max still had a week left at Beach Club, finishing his three month Asian adventures. I left Beach Club, Phu Quoc Island, with a few scrapes and bruises, a sunburn, a thirty-year-old boyfriend, and the idea that Phu Quoc just MIGHT be the best place on Earth, but I am willing to give some other destinations the opportunity to prove themselves ;)