These buns are toasted!
The first 3 days of our motorbike trip through Vietnam from Ho Chi Minh City to Hanoi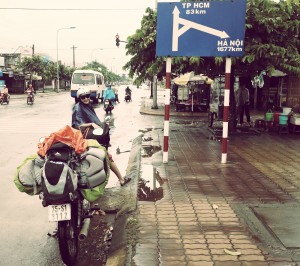 Day 1 – Ho Chi Minh City – Mui Ne
We set off from Ho Chi Minh at 10AM after a hearty breakfast and some coffee at our favourite HCM hot spot – Santa Cafe. It was later than expected, but hey, we're on vacation (our excuse for everything these days hehe). I was a little apprehensive about how the roads were going to be out of the city, as we had experienced treacherous roads out
of the city previously on our way to the Mekong. We got incredibly lucky; no rain, bearable traffic, and great roads all the way out. Puttin' along the highway, we were making great time. We had one extended stop at a highway-side cafe/karaoke joint full of hammocks and smiling faces. After a short photo-shoot with the local mamacitas and grandmamacitas, we hopped back on our bikes and continued on. If you've read our previous blog posts about road-tripping, you know we got lost a LOT on our way to Ba Dong Beach. But not this time! Nope. We headed to Phan Thiet, which lead us to Mui Ne.
At about 5PM we were popping our heads in to some hostels and guesthouses; we were determined to not pay more than $10. We found one lovely little place, Ly Ly Guesthouse and decided to call it home. After dropping our bags in the room, we set out in search of food. Famished from our first day of motorbiking excitement we went to one of the first joints we saw. The lady was also incredibly friendly, which we're suckers for. A couple of unexceptional meals and some free fruit later, we snacked on some ice cream cones and sat by the sea, watching the fishermen do their thang farrrr out in the water. We walked back to our home and Louis was fast asleep and snoring almost before his head hit the pillow. I stayed up and read (finished Eleven Minutes by Paulo Coehlo. Very interesting book, I recommend it!).
Day 2 – Mui Ne – Di Linh
The next morning we had some breakfast down the road (mushroom and onion omelets), played with a puppy, and went for a cruise on our bikes. Sand dunes on one side, sea on the other – wow! I can see how people could get completely lost in the desert. Walking up and
down dunes with the sun shining so bright is disorienting. Tobogganing down the rolling sand dunes seemed like the natural thing to do, so we parked our bike and started the twisted trek up the dunes when an old(ish) Vietnamese lady came running over with two toboggans. We decided on a price of 50,000VND for both Lou & I. We all hiked up together, with a younger girl joining us, then another girl. The older lady cleared a path for us and I won't lie, at first I was a bit nervous. It was hella steep, but really…it's sand, get a grip, right Katie. We went down 5 times in total, twice with both of us together. It was pretty hilarious and we got entirely covered in sand. I could feel my legs burning as I climbed back up the
dune, and I was completely out of breath. As we thanked the ladies, and found some more breath to laugh with them, they decided to change the price from 50,000VND to 150,000VND. "You tip her!" the youngest girl said to us. "Yes, we were going to" was our reply, and we held out our hands with a huge tip. The older woman thanked us, hugged us, kissed us, while the middle girl looked at us disappointingly. She had tried to change the price on us at the last minute, not this time, sand dune lady!
We drove home, changed into our suits, and hopped in the South China sea. And ahhhh how amazing it was! It gets me every time how incredibly warm the sea is. A huge wave hit us…"Ah something touched me." "AHHH THAT DEAD FISH TOUCHED ME!". And sure enough, there was a dead fish floating in the water beside me that had just graced my back with its dead scales. It was close to check-out time and we had to get on the road so we got out, packed up, and headed out.
The spot we wanted to hit up today was Di Linh. We were excited about the drive there because we had a met a man at Santa Cafe that has a coffee plantation in Di Linh and had told us about the beautiful roads and scenery. Nothing could have prepared us
for the beauty of this day. Driving along the open roads with fields and rice paddies on each side, and mountain ranges in the distance, we were laughing and grinning like idiots. Then before I knew it we were in the mountains. Louis and I are both nutty about mountains. Twisting and turning up the mountain, both my bike and I could feel us climbing. She kept puttin' away and didn't let me down. Soon enough we were driving through clouds and ooh-ing and ahhh-ing at the mountain towns and fields etched into the sides of hills. Up and up and up, then down and down.
It started to rain and we were ready for a pit stop so we pulled off at a little shack with a few (very very) drunk men taking shots, eating snacks and chillaxin' out hard. We took our coca-colas and strolled through this hill-farm-town. Knowing that there was much more to come, we got back on our bikes and headed out the last 30KM towards Di Linh.
It was getting rather chilly as we got to Di Linh at 7ish. We bartered some hotel rooms, found what seemed like a decent one, threw our bags down and went to grab some (cheap!) dinner. Just down the street we ran into a lovely little pho shop with a woman and her son running the joint. It was heavenly. The best pho we've had so far. Thick noodles, delectable broth, chunks of beef, fresh greens, steamed bean sprouts – YUM! Before calling it a night we went for a stroll to digest our drool-worthy meal then parked our butts in bed to watch a movie – Now You See Me – it was just OK. We were lights out pretty quickly after that.
 Day 3 - Di Linh – Da Lat
I won't lie…I woke up groggy and grumbly. The mattress was, well, worth nothing more than the $6 we paid for it, and there was a table full of Vietnamese men down the hallway that I swear were up gambling all night. After some com tam (pork and rice, with a tasty soup side) and a ca phe da for breakfast, we flew out of Di Linh in pursuit of happiness – Da Lat.
It was another day full of breathtaking views and lovely roads. It only took us a few hours to get to Da Lat and we were driving along the centre river by 1PM. A river! And mountains! And french-inspired buildings! Da Lat is in the center highlands of Vietnam where the
French soldiers went to escape the heat of Vietnam, so all the architecture is largely french-inspired. Da Lat is said to be the city of eternal spring. It is very warm in the morning, quickly followed by a light drizzle and cooler temperatures. It's everything we wanted. We're escaping the heat of Saigon and couldn't be happier about it. After checking out a few hotels, we settled on one basically by the very friendly owner and his willingness to barter and give us a good deal on two nights. Our room is on the third floor facing a field and mountains, and half the room is windows. The mattress is a complete 360 degrees (lol jk – a complete 180 degrees) from our mattress the night before.
We hopped on my bike and went for a scoot around town, stopping at the market to have a gander at a mountain market and get some grub. The meat market had live chickens and ducks for sale, that could be butchered while you wait. There were also dishes full of brains and other body-part substances I couldn't name. Don't forget the flies buzzing all around and women cutting meat on the cement ground. I'm still in awe at the handling of meat here. We wandered up to the second floor and grabbed a seat at a little stall selling Vietnamese things with a menu translated into English. I can't remember what the dish was called now, but it was just alright. Something with mushrooms and pork.
We decided to kick back to our hotel to grab our computers and go to a coffee shop to do this – blog – but when we got back to the hotel we both crashed so hard…for 5 hours. We woke up and it was pitch black out, 9:45PM. Da Lat has a curfew of 11PM but we knew we had to get out of the hotel and eat something before being stuck in for the night, so we snuck out (not really, we told the owner we were leaving so he knew the front door would be unlocked) and walked through the light drizzle in search of cheap pho-ood. It was incredible. The city was fairly empty, just the odd motorbike whizzing past and the odd shop open. The air was so fresh – something we had really missed after being in smog-filled Ho Chi Minh. We came upon the night market and each got some vegetarian chow mein (funny, because Louis had JUST been talking about how much he would love some chow mein and we hadn't seen any anywhere) and a couple of pops (or sodas for you American-type). We sauntered back to our hotel, walking along the river, and marveling at the gorgeous mountains and peacefulness of this Vietnamese-French mountain town.
We again started to blog, but Louis put on Kickass 2 so we watched that and passed out so hard – that bed! So comfy! We had looked at a bunch of stuff we wanted to do around Da Lat, and were contemplating living there forever as we fell asleep. Tomorrow would mean more Da Lat adventuring.
What kind of adventures have you been on? What has been your favourite roadtrip? What roadtrips do you hope to do in the future?
PS: Hey guys! We're on Facebook and Twitter :) We'll post little updates and non-bloggy things there as well!