Don Det, 4000 Islands, Laos – Pakse, Laos
November 14 – November 15, 2013
We've made it back to the Mekong somehow and in marvelous fashion. The cerulean skies are adrift with smoky-white Santa beards. The Mekong is its usual muddy puddle brown. And Laos is as chill as ever. My shoes are at the front of the restaurant so I let my toes play with the wooden boards that hang over the river. Katie's in a hammock with an inebriated puss passed out on her swaying lap. And aside from an Asian actor being interviewed on the tele, it's pretty near impossible for it to get any more peaceful.
Don Det is a spaced-out island serving up fun treats and shakes with slogans like make it happy for 20,000 ­­- so it's hard not to immediately feel at home. We have already walked the island twice over and found that 95% of it is traditional Laos, staying true to its roots of tending, building and living off the land. The 5% (if) is at the northern tip and has been seeded with foreign interest. A hedonistic getaway to fall into your senses and release yourself of reality. I only say that this isn't reality because it's not sustainable; once the green has withered it's back to work I hither. Ha, that's a silly way to put it. Actually just thought of it, but it's true. I can't keep this lifestyle up and soon enough I'll be a teacher back in my ol' stomping ground Seoul.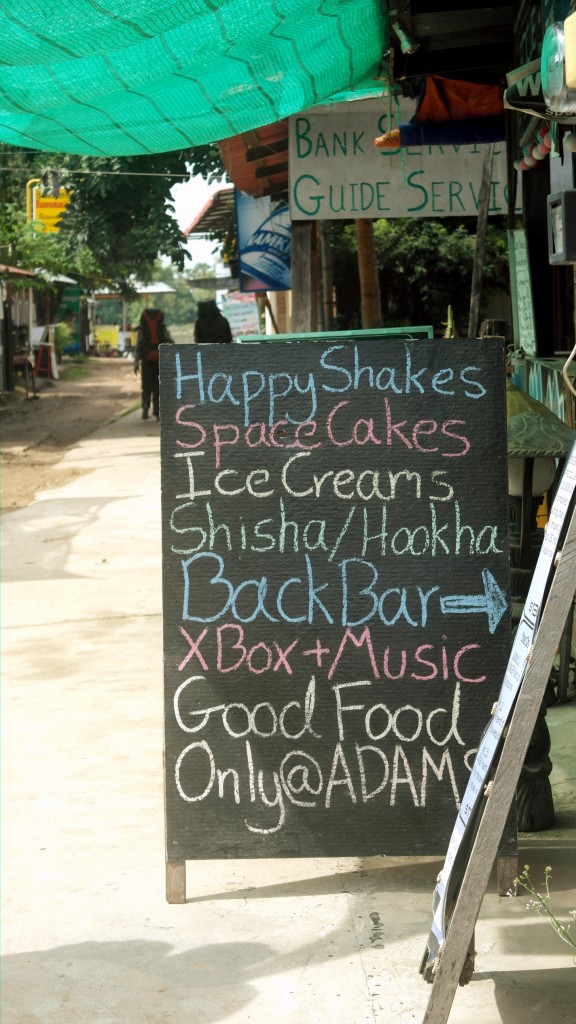 But there is lots of living to be had until then, and in two days time we'll be back in Paksong with Tyson & Janelle celebrating their coffee house opening and then we whisk off to Thailand for Muay Thai and yoga in the north. And with perfect timing, yesterday I received an email from the training camp and they let off so much good energy and assured me that there are a lot of good people there right now and the vigor is high. And with grand news it has only birthed more. It has been almost 3 months without having a home and Chiang Mai will offer us that, even for a month. It will be nice to let our lives breathe from our packs and put up our stones and shells on a shelf alongside our books, and home cook meals and have a desk and wooden chair to bring outside and write and write into the night and wake early and run and train and kick bags and burpees, and sit in the hills at night with campfires below…this is a big deal, a real wallop to get worked up about, this month could change the way I look at life! I need to be able to prove to myself that I can accomplish one of the toughest tasks I'm about to set on myself in my life. This isn't this last minute whim I am signing up for as a goof, whether I know what I'm fully getting myself into or not. It's something that I've wanted to do ever since I went to Thailand in 2007. I want this to be the last year of my gut, the last year of rubbing thighs, the last year of ever caring about taking my shirt off. 30 years is way too long to live in self-created fear.
KT: I'm not signing myself up for Muay Thai, I don't have much interest in it. Instead, I'm going to dive into the Chiang Mai yoga world and see what's going on there. I'd also love to get into some meditation (as Janelle so wonderfully suggested!), but I'll have to scope that out once we're there. Really looking forward to keeping put in one spot for a month, and being Lou's cheerleader as he commits himself to this crazy workout routine.
We ended up at an Indian restaurant for dinner with our elbows on the railing over looking the soupy Mekong. In the distance, deep within an ominous cloud, a perpetuating display of lightning prevailed in the sky, lighting it up in electric gasps, larger and longer each time, until all chairs had been turned and eyes adrift. The food was magnificent and spiced perfectly, so much so that we ordered an extra curry and naan for dessert.
The nights were early for us and the days long, all spent in hammocks and chairs or walking about or picking up children and swinging them in the streets like vintage carnival rides, as the two tiny little girls no more than six, swapped back and forth between Katie and I with arms out to be hugged, and stern little faces that meant business. They wanted to be swung and that was that, so we picked them up more and twirled and rocked and upside down and right side up, until they giggled and let out whales, and swapped places and ran into either Katie or I's arms until we did it again & again & again, until we said sorry we had to go and tried to level with them, and they weren't sad, they only high-fived us and blew us kisses.
KT: Don Det was indeed more Rock & Roll,in the most relaxed sense of rocking and rolling. Although there wasn't a lot going on, it was telling that many souls got lost on Don Det, very similar to what we saw in Vang Vieng. In the evening, Lou & I went for a long stroll all the way around the island, taking in the Mekong sunset. What a place.
It had been five days on the islands and it was time to make our way back to mainland to wrap up our last 5 days in Laos, so we bought a boat & bus ticket (50,000LAK) from a woman who ran a restaurant that held a litter of kittens and their mother in a Styrofoam box under her desk. On her phone she showed us videos of them sleeping in a swing she has above one of the tables. It was a swing similar to one you'd rock babies to sleep on, but instead it slept three kittens and their mother. I paid her for the ticket and she told us to meet her at our guesthouse at 11am the next morning.
Well 11 am rolled around and about 50 people had amassed along the murky beach at the tip of town, about 20 feet from our guesthouse. Everyone was heading back to main land, it seemed like the whole island had been drained all at once. Everyone was in a long line waiting to hop on one of the 6 long boats awaiting passengers. We hung back as we always do, hanging out until we have to get on. Sitting around waiting, she came up to us from behind.
"I told you to wait at your hotel" she said sounding upset.
"Ahh…the manager said to wait by the beach. We're sorry!" we said.
She softened up right away and the three of us walked to her own personal boat where we loaded in and took off in minutes, sailing past the claustrophobic beach.
"What the hell Katie? That was amazing!" I rejoiced.
"So good! How do people not know about this?" Katie said rhetorically.
We bypassed these tourist-filled boats to have a whole one to ourselves. Lucky us ;)
We docked and cleared the boat in a heartbeat and made our way to the bus…only to have the slowpokes catch up and saturate our quiet little brew-ha. The bus eventually left, but snapped it's clutch minutes before reaching Pakse. Another bus oddly enough was trailing not too far behind us and all thirty of us managed to find a seat. So back in Pakse we were, for the third time, sitting at our favorite coffee joint and Indian restaurant and riverside bungalow being the creatures of habit that we are. Tomorrow we ride.