Hoi An is famous for tailors. And if that wasn't enough the whole town has to tell you. Every minute of everyday. It's impossible to leave your hotel without a woman on a bicycle on your trail like a hound on an ambushed quail. What's funny about the ordeal is that the
women want you to follow them to there shop. Although I haven't let myself been dragged down that route, I wouldn't be surprised if it was on the other side of town. Yah, let me walk 20 minutes to your shop when there are fourteen in front of me that I'm not going into. Blasphemy! But hell it's all in the name of the game. And it must work if they are out there. That is unless they're on their last desperate legs clinging on for dear life. If I had a heart I'd say let them live, but you have to wean out the weak. Darwin baby! Too many dealers saturate the market and no one makes money. While it just gets fucking annoying. It's lose-lose. A terrible cocktail when your town's livelihood is centered around one product.
After the women, we are faced with the bicycle & motorcycle shops, restaurants & corner shops spokespeople, endless motorcycle tour guides who call themselves Easy Riders, more tailors and a hailstorm fruit & sunglass vendors- all hell bent on making a sale. It takes about two minutes to walk to the first set of lights before entering the town and we start everyday with the same routine "No thank you…Sorry sir…Nope, just walking…It's ok I have my own bike…I'm from Canada. It's my forth day here…Nope not even tomorrow…No, I'm not looking for clothes…I'm sorry I don't need shoes…that's ok! I'm full, but thank you! No tours, just walking! I'm from Jamaica. I live by beach! I really don't want to come in your shop! I'm not looking for anything…thank you! No I don't need a suit. I'm sure they are beautiful, but I don't want one! I just ate a banana! I have sunglasses thank you. No, I'm sorry I don't need two pairs! NO! NO! NO! NO! NO! (insert aneurism)"
Why am I still here I'm sure you're wondering? Well, the town is just too damn enchanting. Now that's not a word you hear me throw around too often. Check for yourself if you like…go ahead I'll give you a minute.
All the tiffs aside, Hoi An is pretty chill. I mean hell, we ended up staying here ten days. Which was more my fault than anything. But while we waited there was much to take in. The puzzle-piece streets all share the same feel and design. The town has
an old-world-Asia dynamic with a symmetry that flows from building to building all slapped in a couple of coats of a rustic yellow- think adding a little soy to your mustard. Equally dressed in harmonizing antique wooden beams and storefront signage as if tailored by the same fabric. It's a weird and wonderful uniformity that creates a magical Disney-esque feel. At night lanterns illuminate the streets and satisfied people. Alongside the river ancient women sell dreams for a dollar. Singers sing songs and play with the crowd whose eyes grow with foreign erection. Cafés serve up ice cream cones to mothers and backpackers and grandparents and children all excited for their first lick, who ultimately are dreading their last. The workers loosen their ties as much as they can and all is beautiful for those with full bellies.
The last ten days have all blended together, woven with chocolate banana pancakes for breakfast, flowing in and out of shops in search of funky fabrics and profitable relationships, lantern-lit strolls, and sipping coffee and 15 cent beers playing hand after hand after hand of rummy 500 and dreams of hats…hats…hats!
THE GREAT FABRIC & TAILOR HUNT
Ahh but alas…on to my newfound obsession…dream….project…venture…making-it-rain racket. I haven't had too much success in the past. Particularly because I have the attention span of a bobble head. It's more of an un-attention that has festered throughout my lifespan. But I always step back up to the plate…strike out or not…I'm always up swinging.
So, back to hats! The idea came to me on a walk. Somewhere after a bombardment of vendors attacking me with a condor's grip, I started thinking a suit would be nice but it's just going to get all crumpled up in my pack. So I thought about what I could get made. Something smaller, something that I could get a lot more use out of than a heavy suit. Then it hit me! BAM! Like a spike through Jesus! HATS! I'll get a hat made. And so I was on a mission. It was quite easy actually. And even though I only found two hat makers in town, which included one that was rude to his wife. Well that and he was charging twice the going rate of the other. So I found my man. I still don't know his name, but his wife's name is Huong…she calls me Sweetlou.
After showing him the hat on my head I told him that I wanted to make a duplicate using a different fabric. He understood and pulled out his cotton roster. I wasn't digging his selection so he pointed me to the fabric market. We agreed on a price if I supplied the fabric and I asked for the dimensions. I learned that you can make 4 hats out of 1 meter (1 meter also makes 4 ties). Each one 30cm by 140cm of fabric. I also learned that a baseball caps brim is 7cm. I wanted to make my hat a little unique so I cut the brim down to 4cm and hauled ass to find some fabric.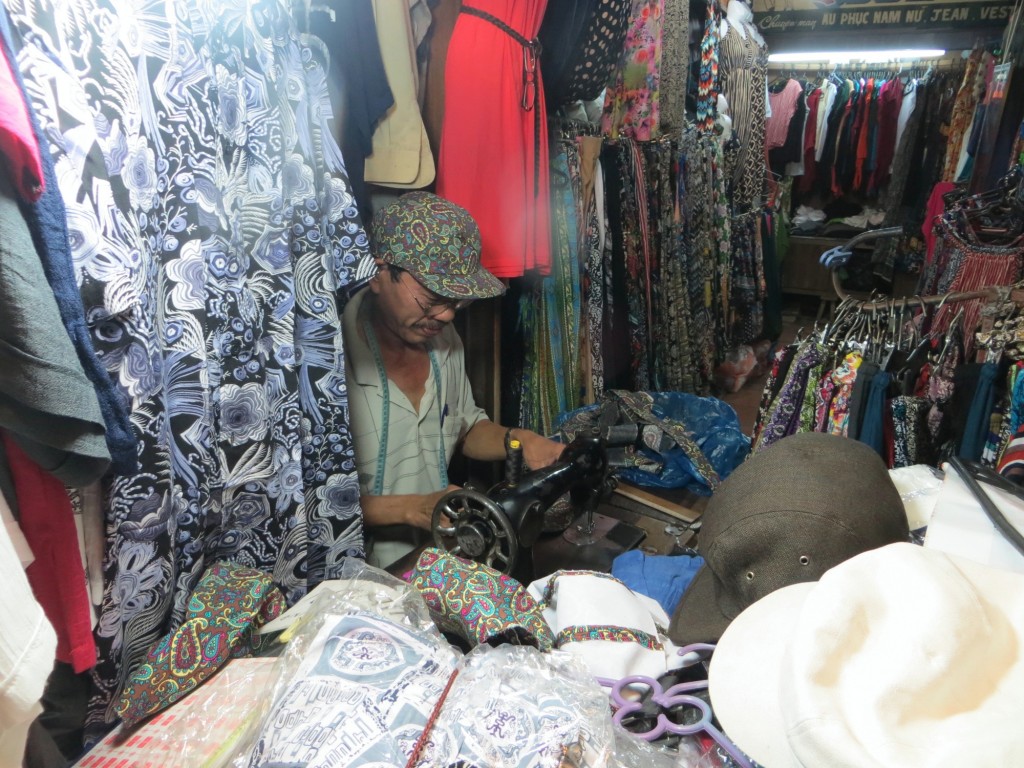 I didn't even make it to the fabric market. I was approached by a woman in the fish market who followed me, asking me the usual questions, so I gave the usual answers. I'm from Canada. No, not Vancouver…about one hour from Toronto. But this time I answered yes to her next question.
EDUCATION FOR DUMMIES
I pointed to the tie around my neck. But before we get into that, you need a little education. Education is important you see, because without it you are ignorant and I don't like to keep my readers in the dark. So I'll tell you what I said without further education and then I'll fill you in…here we go. I said so close to verbatim I'll just go ahead and quote myself. "I want this fabric" I SAID POINTING TO MY TIE "same- same. If anything is not same-same I don't want it and we can stop right here. Same-same blue…same-same flowers…same-same everything." She said something to the tune of Yes, of course follow me. I knew not to get too excited because I am educated you see. Now it's your turn.
If you go shopping back pretty much wherever outside of tourist Asia you will get a similar answer in and around I'm sorry we don't have that fabric, but I can show you something else if you like. This in turn leaves you in the driver seat. It's your decision whether you go with the person or not.
Knowing that this woman is possibly just riding me along, you know a one trick pony just tramping the laps for ol' times sake, I decide to follow her because she's cheery and actually knows where the market is. We get inside, and to quantify for simplicities sake, let's assume there was a scale from one to chaos. It would be somewhere in the you gotta be fucking kidding me.
Immediately upon entering I was bum rushed by a wallop of mothers with raging hard-ons to shirt, shoe, shave and suit me. I grabbed a tight grip on the woman as if she was a lone plank and I had capsized. I slid through the market rejecting all the mother hens with the old I'm sorry I'm with her point & nod.  Alas we found her nest and by golly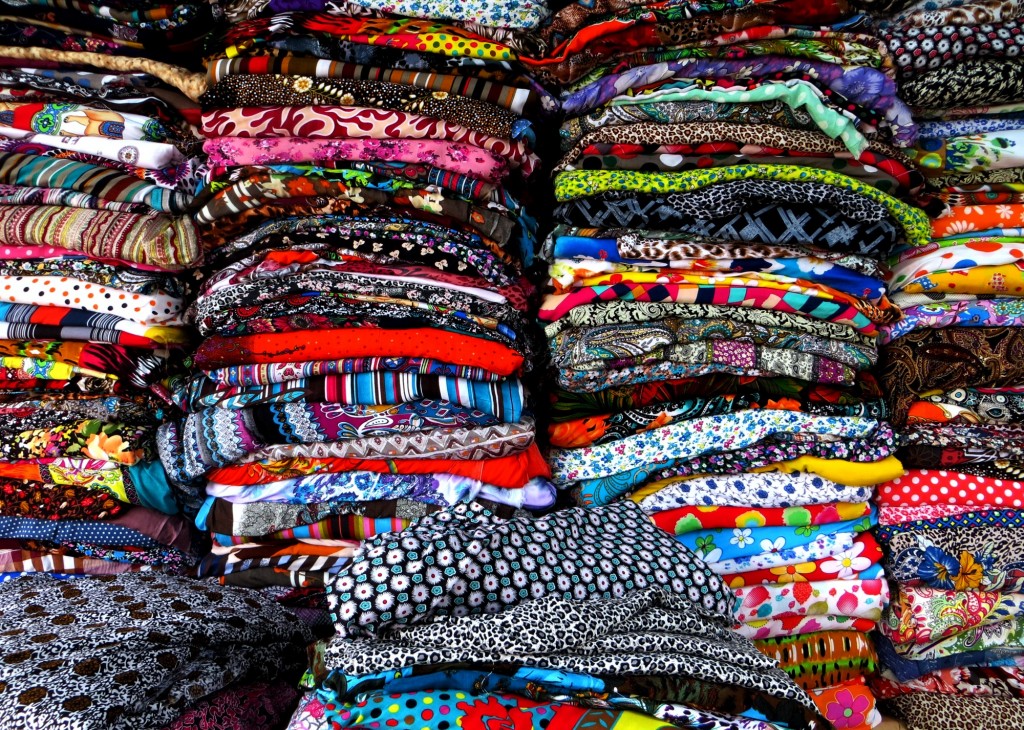 would you believe it…she points out about every other pattern aside from the one draped around my neck. "Not same-same" I said shaking my head…"Not same-same". Although it didn't come off as whiny as it now does on paper. It was much firmer and macho- you had to be there. Well I'd love to tell you the story ended there so you could get on with your day instead of listening to me talk about fabric…but it doesn't…I ended up buying a half a meter of a similar one after they tried to swindle me on triple the price, but I play a tough game and did my research and knew the market rate for cotton. September 2013 market prices for locals on durable cotton is in the ball park of $4-6 bucks a meter, with a discount if you buy in bulk. The market price for a foreigner on the same strip of cotton is $6-8. The lady highballed me at $7.50 taking me a rook. So I came back at $3 for a half, which was a fair price for me and for her. She waved me off. So I was done business with her. I carried on until I found another fabric for $3. I was on a sort of fabric kick and all I could envision was a hat for everyday of the week. Then month. Aww sweet Derek Christ! Why not start a business? Surely I can get a discount if I up my meters and I can turn this into a full fledged business.  Everything seemed great except the thought of having to deal with these sharks at the market… I needed an in.
KT Edit: So where was I during all this fabric-chaos, you're wondering? Well, sure as Hell not in the market with Lou! I avoided the cloth market, and spent my day reading while my computer had a spaz attack, crashed, and rebooted. It seems to have recovered, thank Nguyen.
BRANDING & CRUNCHING NUMBERS
So I had the fabric and I had the man. Now I needed a personal touch. But what? After little delegation, Katie said why not Sweetlou, my nickname, and then I threw in circa 1983- the year I was born. Pretty fresh. Bam! Now I needed a leather man. But how were they going to imprint it on the leather. I was itching for it to be stamped or branded.
I met the woman the next day. She was selling leather shoes. Inside her shop she had scraps and I asked her how much it cost for a small strip of leather and if they do branding. They didn't. They embroidered. She said I could choose any leather and fabric and we agreed on a price. Although it was high! But for a couple of hats I could justify. If I wanted to start a business, this was one area I'd have to cut down the cost. Her name was Thuan, and over the week I popped into her shop everyday.
Thuan's a wonderful woman, 40ish, two boys, 9 months and 7 years, and she works 29-30 days a month from 8am to 9pm and sometimes later if she's in the middle of a sale. She's worked to the bone day in day out but knows that everyone else is too and that If she doesn't perform it could be the axe. Fortunately, things are going well for her and the stores flipping a lot of soles- just some shoe humour. I asked her about wages because I'm interested in world dynamics and she asked me to guess. Hmmm, 4 million Dong? (equivalent to $200 a month). A low guess, but I had found out that some of the staff at the restaurant I frequent make around 1.5 million Dong A month. You heard me right. People get paid by the month not by the hour. And at 1.5 million/month working the average dozen hours a day that works out to be about $2.50/day. Which is about 20 cents an hour. It's a cruel world out there. So next time you think about spending 5 bucks on a drink- remember that someone had to work 24 hours for that and that's without a word of a lie. Believe me when I say I get it baby! I get it loud and clear! We are different. We are all born in different circles. Different worlds! Some of us have been raised with the finest of everything without ever having to ask someone what it costs before picking it up- but anyway you cut it bub, the math doesn't change, only the heart of the matter does and what you can do to help. When you ask yourself "What's the purpose of life?" I'd like to think that i's about spreading love and raising the status quo.

Thuan told me people in her field make between 5 & 7 million Dong/month, which is a decent living if you have a lover that's bringing in around the same. Throw in a kid or two that are also bringing in a little loot and life could dandy. In a land of 15 cent beers you can easily drink away your tears and put a few in the bank for a rainy day. But the days are long and they don't stop. That's the ultimate problem. There's no time to bring in a supplemental income when you're strapped to the daily grind- this is where I come in.
I'll be genuine and honest here. I'm looking out for me first off. I'm number one in this game, but I have a heart. I'm a decent guy and I'd sure love to help some people out along the ride. So I put Thuan in my roster for connections. I promised her nothing, but explained my business and said that maybe she could be a missing piece of my puzzle in sourcing leather, embroidering, and shipping since she said she had hookup at the post-office. I had her make 2 Sweetlou circa 1983 patches, paid her, grabbed her business card and kept up the search.
EMBROIDERING SCHMEMBROIDERING
Across the street, down the road, or take 20 steps in any direction and you'll have walked into a dozen or so leather shops all offering the ol' same-same business. I popped my head into a good 4 or 5 and they all tried to hustle me doing the ol' 3 times the price trick. Well it's not working on me. You see, I come from a long lineage of Jews. And what do you think us Jews talk about while saddled up at the deli counter or in between prayers at temple how to make the perfect bagel? Hell no! We talk about DEALS! How much we saved! Where to get the cheapest jar of gifilde fish! Which magazines have the best coupons! Did you hear Wegman's has GrapeNuts on sale for $2.95 for a 540/gram box. It's normally $3.95 for the 370/gram. Well, I just saved $17.49 dollars on a pair of Levi's. Moshe wanted to go to Marshall's but I told him that Target was having a sale. Guess what? They were $10 cheaper and even more when you add what he saved on the tax. We're Jews. We can't help it. And we don't want to. It's in our DNA and it's as much apart of us as a good scratch behind the ear is to a dog.
So after giving up on a few I stumbled into yet another leather shop. This one flaunted its cow and buffalo hide in rolls on both sides of the shop. In heaps the way a burger is pieced together with morsels of flesh and fat from the entire range of cattle. I got down to business, but this time, for some reason I brought up stamping the leather. Something I had lost all hope in when it appeared to be a lost cause- embroidering it was, I guessed. So I asked her and she ran out back pulled out a stamp that she had made in Ho Chi Minh. She assured me it was possible and that she could do it for me. All I had to do was come up with a design/brand and she'd have it made for me at a cost of $200-$250. Then she would charge me $1 for each piece of leather and her time punching my logo onto them. Which after the initial cost of $200 would save me the exact same $1 to $1.50 in embroidering. Things were looking good. Then they got even better.
THE IN!
Having managed to find a way to cut the cost on the leather and having already worked out a reasonable price on the tailoring, I needed an in at the fabric market.
"Fabric market" she said "Oh…too expensive! You have to go to [such and such street], they have much better prices. And such big selection." She raised her hands from floor to ceiling to depict the stacks of fabric. "Show me…where, where, how do I get there?" I shouted amped as a civet hopped up on mocha coffee beans. Having staff hanging around she got one to show us. So Katie and her hopped onto a motorcycle while I was given a bicycle to ride alongside.
I knew we were there when cafes were replaced with wall-to-wall shops heaving at the breasts with fabric. The girl knew which one to go to and parked right in front. Although they all looked the same to me. Right in front of my eyes, miles of meters stacked in groups cotton, silk, rayon, canvas, then stacks of floral print, stacks of children's animal prints, stacks of every fabric you could ever pull from a catalogue all piled to the ceiling just like the woman's hands.
After digging for fabric like one would for funk in dusty record collection; with fine detail, precision and keen eye I had a stack of 6 prints and was looking at getting 3 meters of each which would make 12 hats a piece and 72 in total. All we had to do now was discuss money. The girl told me they went for 80,000/meter but she could get me them for 70. Just for kicks I threw out the number 65 although I was already ecstatic about the 70 price tag since the market charged me 120 for the identical fabric. She came back with 66 and we ended up shaking hands on it.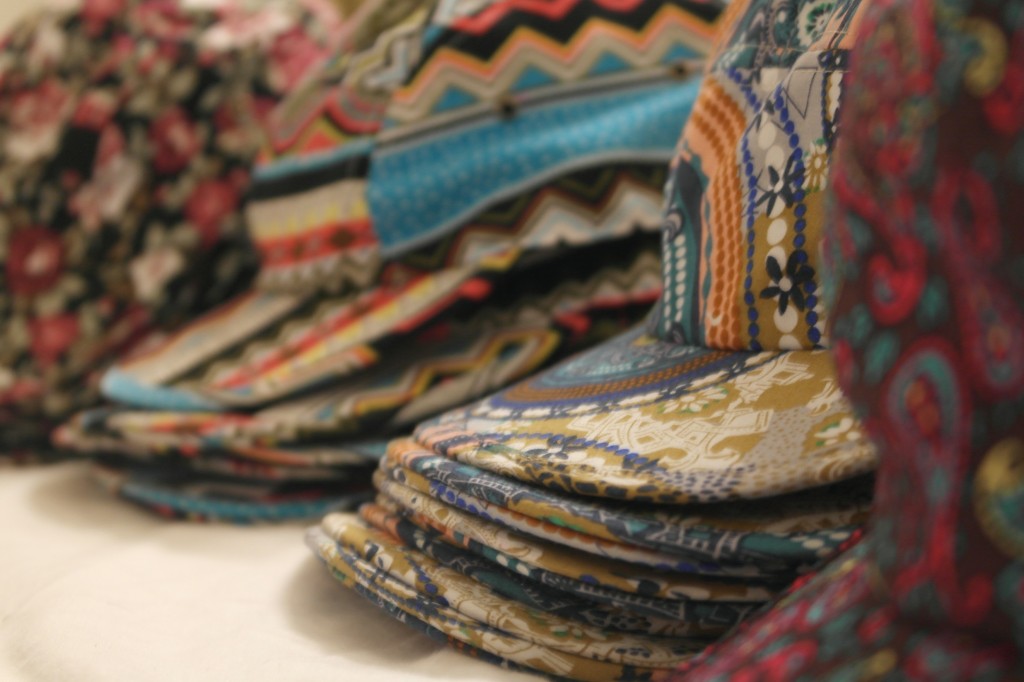 GOING POSTAL
So in a matter of a few days I had locked down all they key players in the birth of my new found hat empire. The only tasks remaining aside from branding, marketing and sales, was to look into that hookup at the post office. Behind the counter sat the typical pregnant woman that pops up behind every office scenario countrywide. I toss her my hat to weigh so I can get an estimate of the cost to ship my order. She tells me the weight.
"Ok what would it cost to send 50 of them?" Turned out to be $35 by sea and $70 by air. She talks to another woman who grabs a folder and meets me on my side of the glass. She goes over the usual. Where and what are you shipping? Sea or air? I answer them all and make some light small talk before pulling out a business card and ask if she knows Thuan. At first I thought she had, but it turns out she knew the owner of the shop. The business name printed on the card. Either way she told me she could give me a 10% discount on air travel and that if I called her she would get her staff to pack it in the smallest box to curb the cost. I thanked her, grabbed her number and walked out with the last piece of my puzzle.
With my giant bag of fabric I flew to the tailor and dropped the bag before him. I tried to read his face, looking for something to tell me if he was excited for the work, or if a tremble brewed in his brow. Shit I couldn't tell. His wife assured me that he was on board. Well that's good enough for me. I went over the details one more time about the brim size and liner and style, the only thing that troubled me was the back. I wanted a snap-back. Well I really wanted a full back, but everyone's cranium doesn't match my perfect skull, so I had to fall back on the snap-back. Then he said that he could add an elastic back, which makes the cap universal and answered the query to my dilemma. It also ended up being the easiest formula, which also meant the most cost effective. Wham Bam! I'm in business. Now I just need a name!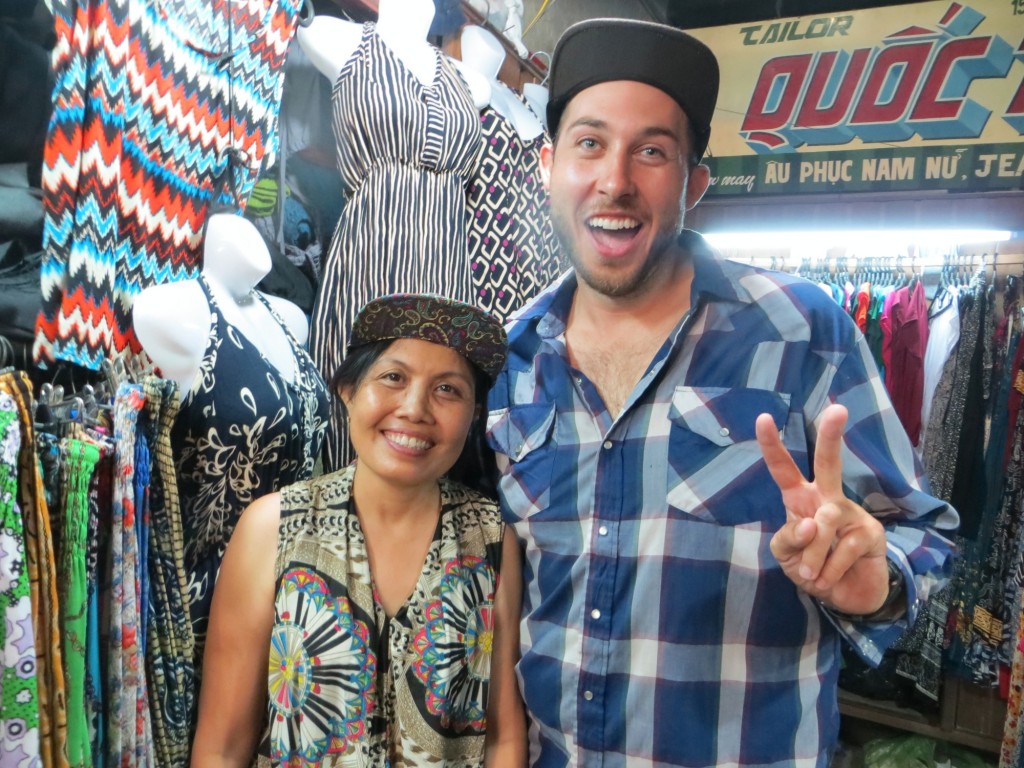 to be continued…