We arrived in Ho Chi Minh City on July 23rd, figured out a taxi to take us to where we were staying – an apartment in the Manor 2 with Louis' friend from Korea (Pam)'s boyfriend Haider, snuck in around midnight, and crashed in the spare bedroom. Setting out on the first day of our adventure after a relatively long and unbroken sleep, we had no idea where to go or what to see first. We were Vietnam virgins in the purest sense, with not even a map as a guide. We left the Manor 2 in which we thought was District 7, with the sole purpose of exploration. We quickly got lost, but can one REALLY be lost if one has no specific destination, and one is never really "found" to begin with?
Our first order of business was breakfast. It was after 11AM, past Vietnamese breakfast time, but that wouldn't stop us. The airplane and airport food of the past two days had left a lot to be desired. We kept seeing little plastic tables and little plastic stools set up all over the sidewalks with people of all ages stooped and slurping. Alright…so how does this work?? Should we just sit down and see what happens? Not speaking the language…this really was our only option.
So that's what we did! We sat at a metal table on the sidewalk, lined on both sides with tiny plastic stools and covered in containers holding chopsticks, spoons, toilet-paper-cum-napkins, diced limes, various spices, and a number of things we couldn't put a name to. A middle-aged woman smiled at us sweetly and got to putting together two bowls for us. How did she know what we wanted?? She didn't. Didn't we have some sort of menu or choice? We didn't.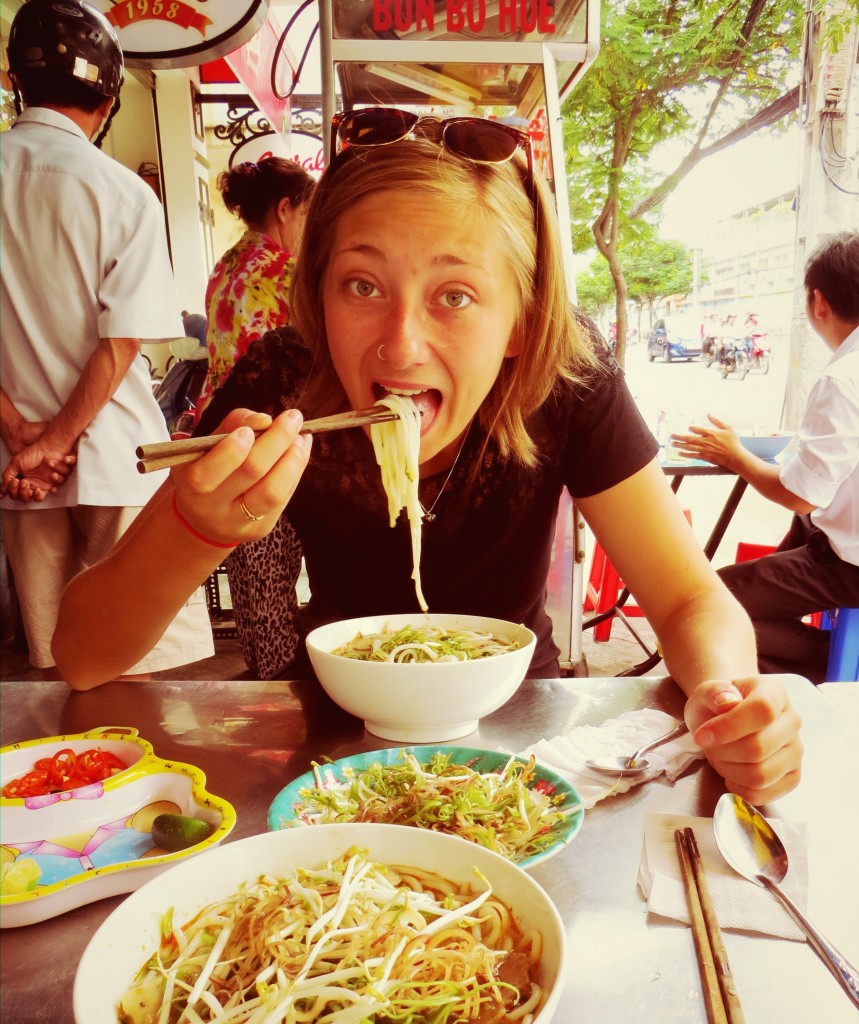 This sweet lady brought over two bowls of Pho. Just like the pho restaurants at home, there was a plate full of fresh herbs in the middle to mix in with our noodle soup. One "herb" looked quite strange, and when I asked Louis about it he stated very matter-of-factly, "It's not octopus". With a shrug, I threw it all in my bowl, squirted lime like the lady was insisting, and slurped away, no more questions asked. And…it was great! Very much like the pho we have at home, but much better…assumingly because everything was the freshest of fresh, and maybe because we were starving. And also because we really couldn't be sure what was involved in the making of the pho.
We dove head first into the food culture and were not disappointed. At a whopping 50,000VND (about $2.50CAD) for 2 meals, we'd say we got a great bang for our buck. At Pho Dau Bo in Hamilton, which is my favourite pho place back home, the same setup and meal for two people would have cost $14. All this, plus a little Vietnamese boy and his mother offered lively entertainment, wanting to take pictures and laugh with us. The boys mother informed us that the "not octopus" part was, indeed, dried squid. Whoops! Whodathunk the girl who gags at the thought of eating an olive would be munching squid on her first day in Vietnam? The one thing I couldn't bring myself to eat, although Louis did give it a go, was something femur bone-looking, with the texture of tofu. I'm still unsure what it was, but my money is on something sausage related.