Nong Khiaw, Laos
October 25, 2013
"We'll have one vegetable korma, one muttar panneer, two nans, and one rice" I said to the waiter who must have just woken up. "Anything else Katie?" I ask.
"I'll have a masala chai" She says.
"Me too. Make that two. I'm 30 years old and this is the first time I'm having Indian for breakfast. It's a good day." I tell our waiter
He doesn't seem to care. He just feigns some morning smile and walks away to prepare our food.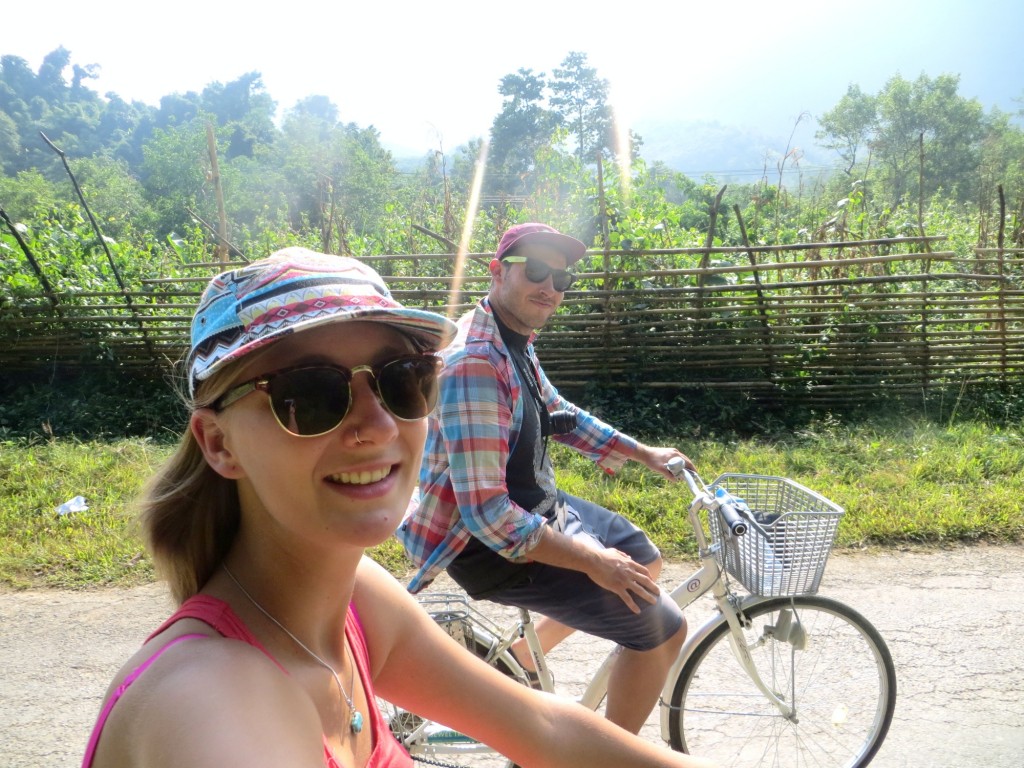 After breakfast we rent a couple of bicycles with baskets and go explore the sleeping countryside. We set off for a cave. We walked our bikes down a rocky path to a rickety booth set up along a steady creek. Somewhere inside the mountain hanging over our heads like a piñata is the cave. The woman, womaning the booth is breastfeeding her child with a litter of children around her. Now I see where the dogs get the idea. We pay her almost nothing to enter and we rent a headlamp off her for also next to nothing.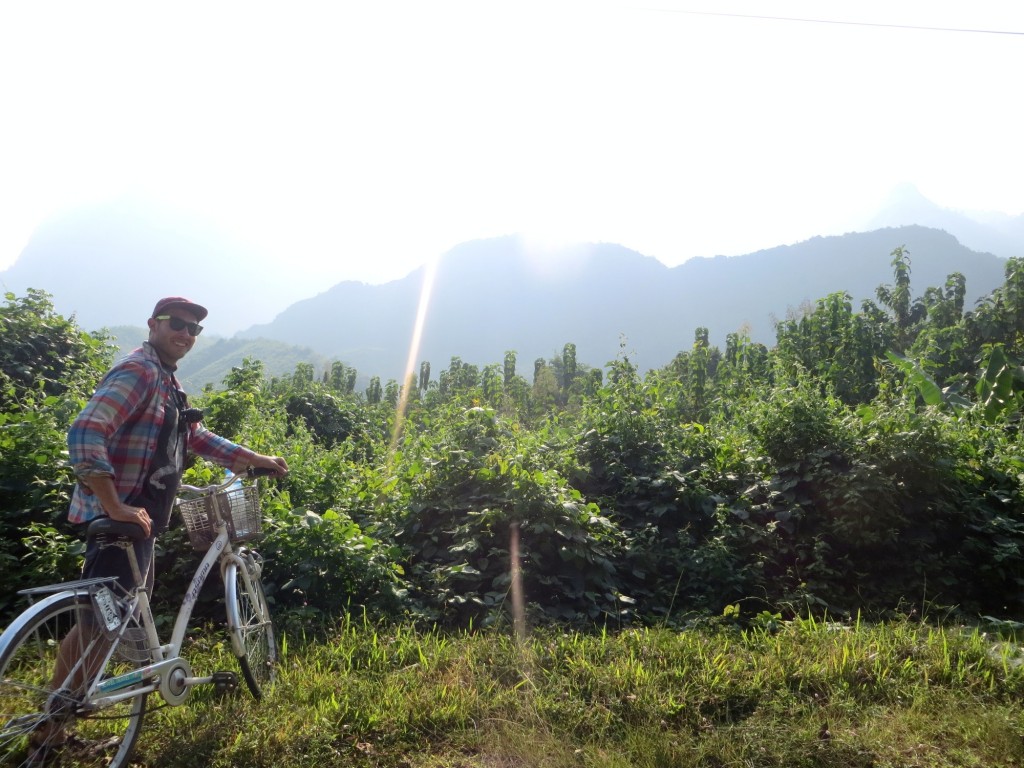 Ahead three kids cross a makeshift bridge that is nothing more than tree limbs tied together with bamboo. It looks shotty but we make it over safe. The kids are going to be our guides we can only assume. All three of them were chatting to each other ahead of us making small talk like it was just another day on the job. They were no older than 13.
"What is your name?" One asks me.
"Louis" I said
The three of them mull it over between themselves
"Ahh Louis, yes. " I imagined them getting back to there conversation. So I got home late last night to the wife, and she could tell immediately that I'd been drinking, but I was like No, baby I was good I just had a coke. "Sorry what's your name?" "Louis" I said. Ahh Louis. Ok so like I was saying….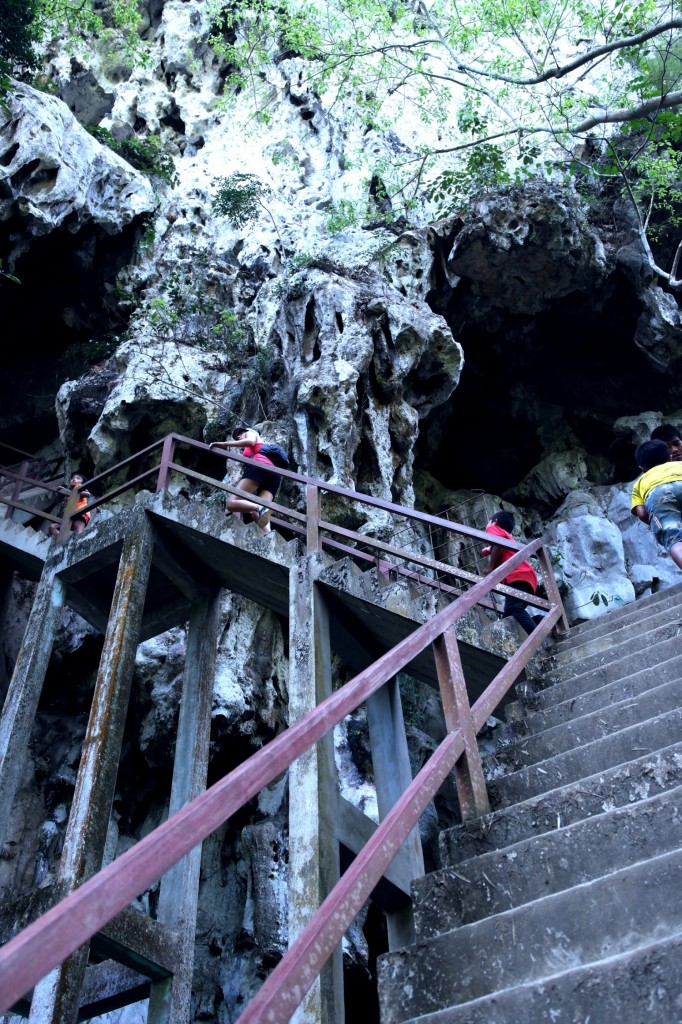 The kids rambled on the whole walk nonchalantly. I knew we'd be stuck tipping them. We all climbed up this long and steep ladder- think Snakes & Ladders steep. You know that lucky leap right near the beginning of the board where you climb to the second last row, then BAM we were into the mouth of a cave.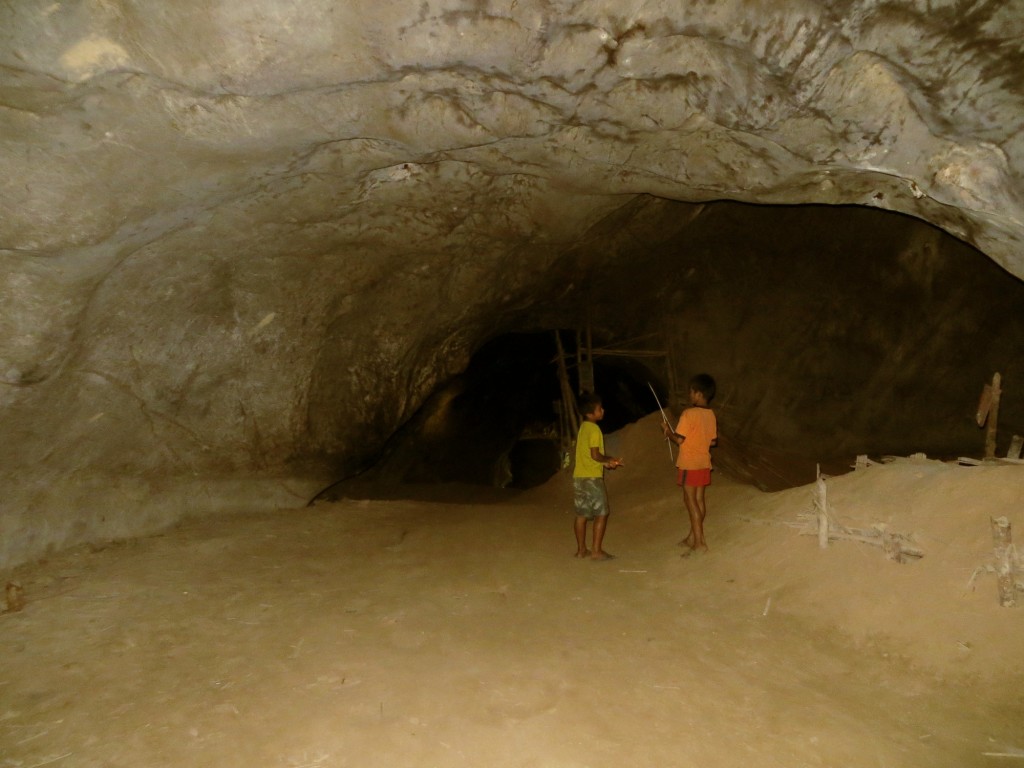 We read that the cave was converted into a bank in the late 60's during the war. Although the cave we went into showed no signs of any teller booths or offices or even seating outside of offices. The kids shown their flashlights into some holes in the limestone and called us over to see some bats. There they were all crunched up sleeping in little holes deep inside the rock like corner pockets on a pool table.
We climbed down knowing there had to be more to this mountain.
"Hey" I mouthed to the kids "more caves? I said pointing.
"No." they shook their heads.
"Fuck it, Katie. Let's just go this way we already paid. Lets go explore."
Katie was on board. And so the kids followed. We wrapped around the base of the mountain along a path, underneath a blanket of forest until we ran into another group of tourists.
"Amazing!" said a woman
"Totally worth the trek," said another.
We looked back at the kids like you little fuckers! Not far ahead we came to another mouth of a cave with an aged placard with a worn-out blue patina that read "The Bawk Office of Luang Prabang" and on a second line "Betwten 1968 – 1975". We climbed inside and couldn't believe our eyes, which needed to be lit up with headlamps.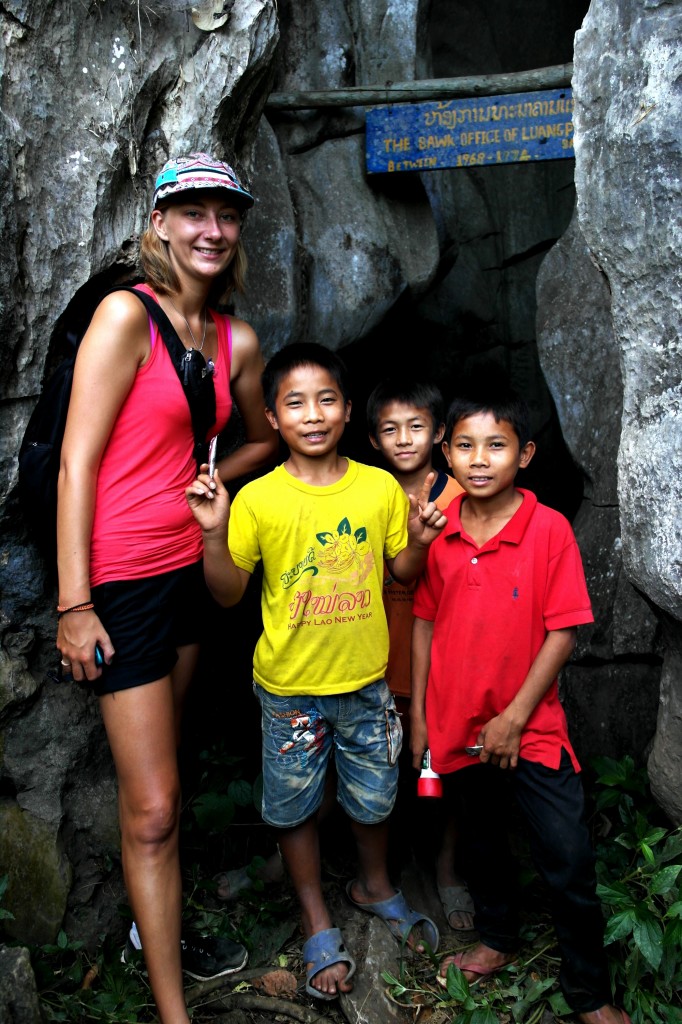 We found it. No thanks to the kids who obviously knew about it because they darted by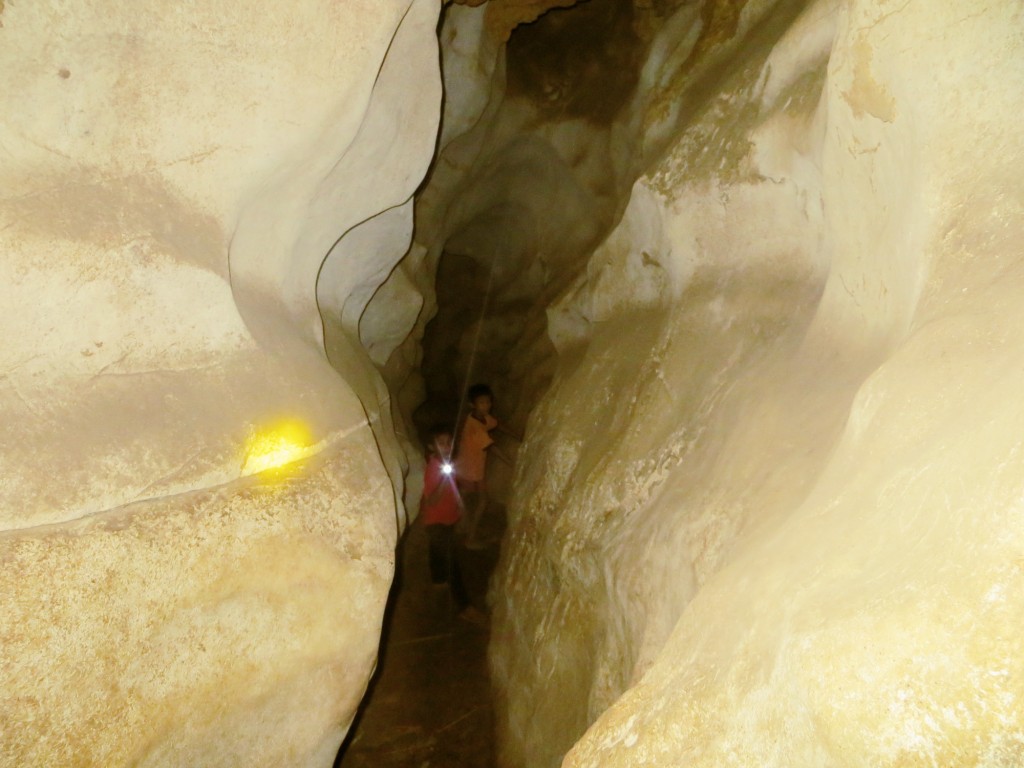 and said "three caves" pointing to three different tunnels for us to explore. Passing my bag to Katie I crept through the first one until she handed it back and crept through herself. It was void of any sign of light. We crept our way down and down and down snaking through this eerie cave that somehow used to be a bank. I tried to picture it in use, but it was impossible. There was no place to sit. Where would they put a desk? Did they use candles? This is just fucked up is what mostly ran through my head.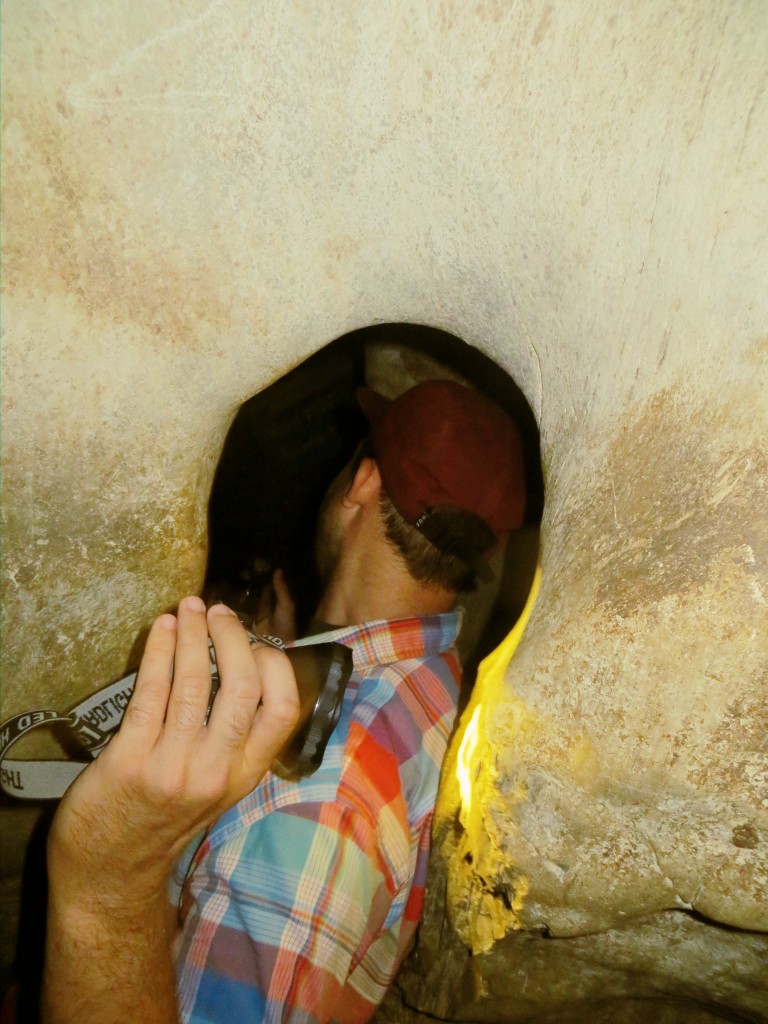 We crept back through and then went into another tunnel. It was all dark and all the same but it was just amazing to experience it. To be able to walk through a piece of history. Only I have a camera around my neck and can leave this place at my own will. We climb out and end up back at the creek out front of the booth. The kids are taking off their shorts and going swimming. I join them.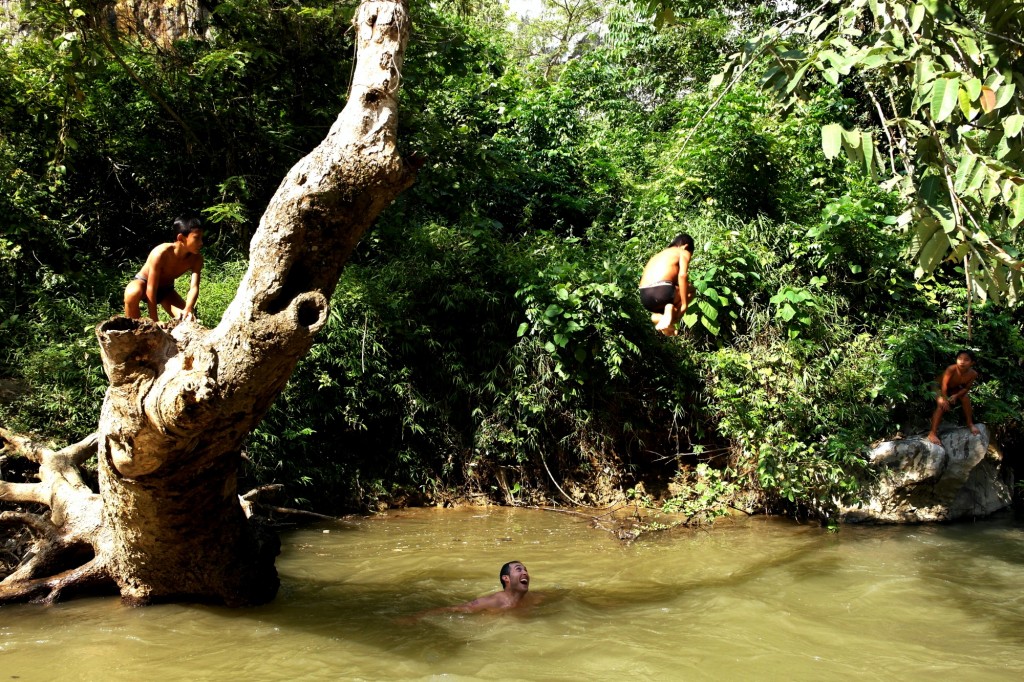 Further down the road we found a village of children shouting out to us as we rode past, but what they were shouting for really touched us. Throughout the whole trip kids have been at our heels with palms out pouting "money, money, money" while some of them shouted it as if they didn't even know what money was and just that it was the thing to do. But these kids shouted for pens and candy.
Pens and candy. These kids want for pens. What an honest thing to want. They want to draw, to learn, to create. How sad is that pens are such a necessity. If I had known I would have stopped and loaded up.
It's actually quite funny because pens and candy are two things that I had recently written on a list of things to get when I get to Hanoi. It's not that I can't write with any pen; it's just that I prefer my trusty Uni-ball Micro, in either blue or black. See I'm not that picky. And candy, well that's just a given.
We ride past the kids apologizing until we climb a big hill and they are out of sight. Katie and I had both loaded up on Uni-ball's in Hanoi and we had about seven between the two of us. That along with a couple shitty pens that float around at the bottom of her purse.
"Katie, let's go back there." I said, as she's already fiddling through her purse with the same idea.
"We can get more pens. But we can totally help these kids out."
We turn around and coast to a cascade where the bunch of children had now congregated.
"Pens. We have pens" I shouted as they all gathered around. There were four of them and we had three pens. I explained the best I could that they need to be shared and before they get them, that they had to draw a picture of themselves. It's something of a habit I've gotten into while traveling and it's a funny way to break the ice.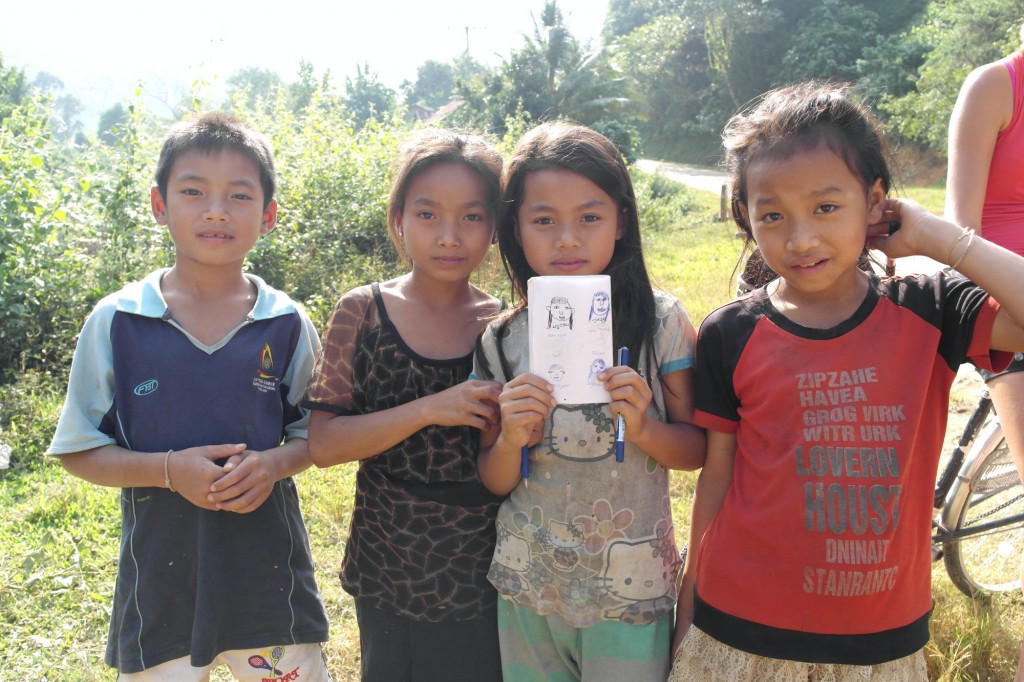 We kept riding until the sunset and then rode some more. It was night time and we were tired and hungry. The waiter brought us two menus with a smile.
Don't bother I already know what I want. And yes it tasted just as good for dinner.
KT: Before dinner I sauntered over to an Herbal Steam bath place to get my steam on. It was one of the most relaxing times so far this trip. I had the steam bath to myself and when I needed a break from the heat I could step out into the fresh country air and sip on some tea. I also ended up buying a really neat scarf/wrap/sarong thing from an older lady that lived next door. When I went back to the room Louis was hella jealous and tried to go after me, but they closed! Muahaha.