There's nothing better than being a foreigner in a new land. Vietnam is no exception. It's not that rules don't apply to you- it's just that ways and laws may be bent or broken to see fit that your stay is more enjoyable. Half the time pure ignorance just ends up fitting the bill and the other half perhaps you just roll with the punches. I see to it that I don't take too much advantage of local laws, but when it comes to licenses, insurance, contracts; that kinda jazz, that's where the life of a foreigner truly trumps that of being just another local at home.
The plan after getting our apartment was to pick up a couple of motorcycles. Well, a motorcycle for myself, and motorbike for the misses. After a couple of days on craigslist, expat blogs and forums- I deduced that the bike I was looking for was a Honda Win. I really don't know much about the bike, aside from it being manually driven. It has four gears and is one of the more widely known bikes for touring the countryside and playing in the hills, swamps and beachfronts. Although the Honda Win is not a Vietnamese bike, there is such an abundance of them in Vietnam- parts and labour I would find out are readily available and mind-blowingly cheap.
Katie, being new to the bike world, opted for an automatic bike, the Yamaha Nuovo. With more horsepower than my bike, 115hp to my 100hp, it's a nice bike to break her into feeling comfortable on two wheels and more importantly cruising the chaotic streets of Ho Chi Minh.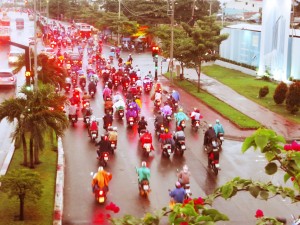 Now back home in Canada, the process of acquiring a bike is I'm sure very similar to that of acquiring one in Vietnam. One would write a test or perhaps have a driving test along side that and once that was settled, you would pay a fee and get your drivers license. Then you would find a reputable, aka cheap, insurance company and sign a contract for a year (which is bullshit back home in Canada because the riding year is only good for 4-6 months, 8-10 if you're ballsy) and then assuming you already have a bike picked out- you would register that and then pay taxes on top of everything. Sounds like a very worthwhile system… Uhhhh, no thank you! The whole ordeal of receiving my M license cost me a hundred dollars or so in tests, then plates and a license are another hundred or so, on top of $1400 /year insurance and then $3800+tax ($494 to get specific)… all in all costing me just over of $6000. Which is pricey, but, like all bikers, we all justify the cost because of that sweet rumble between our legs and the wind kissing our face…I'm taking about freedom- and sweet Jesus it is!
Now let's say I skipped the insurance and skipped the license and just bought a bike… well that wouldn't work in Canada because I would need plates. And then it's over from the get go- but if I had plates and threw them on, lets say, well then perhaps I could get away with it, that is until a cop saw I had outdated stickers and bam… huge ticket, bike taken off the road, and so long freedom.
Hop on over to Vietnam, Xin Chao everybody, and lets pretend you are a foreigner. You want a motorcycle, what do you do? What I did was search all the websites until I found another foreigner looking to unload his bike. Usually foreigners travel from Ho Chi Minh to Hanoi or vice versa and then sell their bikes before heading to another country. That's the usual story. Along with your new purchase, not only do you get a license plate, but you should also receive the original papers to the bike (inscribed with original owners name), and if you are lucky, a couple of helmets, tie-downs, and a map.
But what happens if you get pulled over in Vietnam? Well, something that I have already witnessed in front of old presidential palace was a cop slipping a bribe into his shirt pocket. The going rate I have been told is $5 dollars for locals (100,000 dong) and upwards of $10 (200,000 dong) for foreigners. Hell, I could be pulled over 140 times back home and break even just on the insurance alone. What I have been told countless times from traveller's is to not even show your papers and just play dumb. If the officer knows English… You do not. If you don't know another language- try counting to ten in Spanish over and over again until they brush you off for the annoyance you are. If that doesn't work, pull out a small bill- nothing large.
Now, I'm not saying any of this is ethical. No, I never said that. Nor do I condone my behavior- I'm aware I am taking advantage of the system. But honestly, I'm not going to stop. It feels too damn good to be above the law. Too damn good. I'm flying over here.
Well Jeeze Louise I'm so excited, I forgot to tell you the best part. So it took me a couple days to contact a seller- he was leaving in three days and needed to unload and he fortunately lived a ten-minute walk from my house. Katie and I walked over and met Raphael, a 22-year-old medical student from France who was on a volunteer/vacation in Vietnam.  I looked the bike over, hopped on and gave it a test drive. By no means is it a pretty bike. Oh, she's beat up and abused- loved too much one might say, but she ran well and Raphael seemed like a good guy.  I ended up giving him $300 for the bike and the three of us went out for a couple beers to settle the deal. We did. We finished our beers, shook hands and parted ways. I didn't even have time to be excited about being a new bike owner because Katie had made plans to meet a potential seller almost immediately after I wrapped up my deal.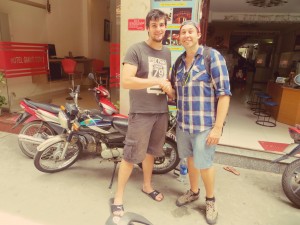 We walked across the street and there was this Thai bloke with the thickest UK accent- it really threw me for a loop. Tattooed up and dressed in a t-shirt that read 'I fuck on the first date' he was lined up to be a real salesman. KT Edit: I asked if I could consider this sale a date. He just laughed awkwardly. Damn! I jumped on the bike to give it a go- spinning through the Saigon streets and back. This bike was in much better running condition. So after a little bargaining he took 20 bucks off and she landed it for $420. A steal considering Katie could put 5-6000 km on it and then sell it for the same price to the next newbie.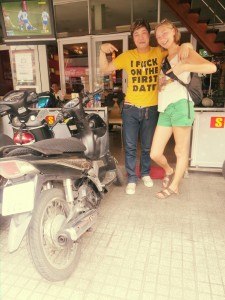 We both hopped onto Katie's new bike and doubled back to Raphael's pad where the bike was still sitting, Raphael was there with a friend. Hopping onto my new bike he walked over and said 'I think you paid me too much- I was asking 500,000,000 dong, that's only $260'. Raphael then hands me $40 back and says 'this will be incase you need to fix anything on the bike along your travels'. Marveled by my good fortune, I accepted and promised him I would keep him posted along the travels and be sure to put some good kilometers on the bike.
With new bikes under our asses and an unknown world that surrounds us, Katie and I explored the wild city, throwing ourselves front wheel first into oncoming traffic, it's the only way to learn the streets and how the traffic works and what we have to do to stay alive on these wicked streets. We got home safe, parked our bikes on the inside of our house in a designated area that sits eight more for our household. I'm already getting antsy to get cruising. Perhaps we will take a look at a map tonight and be off before we know it.