Sapa, Vietnam
October 19, 2013
I'm not exactly sure what time it was, but I remember waking as we pulled up alongside a lake that had a canopied Tim Burton-esque fog. And before I could wipe the junk from my eyes the bus was swarmed with all life. They must have gotten a call or their blood runs on bus schedules. Either way we weren't looking forward to getting off. Well you know what I mean.
We collected our shoes in little bags that we had crammed in our shoe cubbies at the foot of our beds and walked with them in hand single file bumping into each other like a chain gang off to tend the fields. Except I only wish I had an empty field to toil away in instead of deal with these slick talking hawks. I hadn't even put my shoes on let alone popped my head from the doors before heads and bodies started darting in with words and jargon way too fast for anyone that had just woken up.
"Hotel. You need hotel. I have best price cheap hotel for you. Follow me!"
"You need taxi?"
"Taxi…Taxi…"
"Minority village! You come stay with us in our village."
"Taxi… Anywhere you want!"
"Hotel…Hotel…Hotel!"
All of it at once, circled like I was the main event at cockfight and everyone had their bets placed on me. Everyone prodding me with brochures and business cards. I couldn't take it. My head was darting & pecking in all directions "no thank you" "no taxi" "no" "no hotel" "its ok thank you" until Katie and I had our bags fixed on our backs and we lit out across the street and down an empty road. Ahh we could breathe. I shook off the morning vibes and the last 12 hours. Sapa here we come.
We started walking into town when we crossed paths with one of the women by the bus. She was scooting by on her bike, empty handed, so she parked it and ran to catch up with us.
"I have cheap hotel for you!"
Broken down and beaten we asked her how much.
"$8. Hot shower. Private room. Come with me."
We did.
She was persistent. That she was. She ended up winning us over and we ended up staying at her hotel for two nights. We made our way over, unpacked, and left our passports at the desk before we left to go explore the foggy town.
Sapa sits at an altitude of 1200-1800 meters and this October morning we were almost completely blanketed in a sheet of fog, or hell, we might have been in the clouds. Either way, the air was fresh and it was nice to get back to mountain life. Whatever that really means. I mean, I'm not a goat or anything. But over much debate and travel, I've come to an understanding that I prefer the mountains over the sea. Although I'd prefer to have both (Vancouver, Vietnam, Peru…).  Walking along, the bum rush continued.
The women were dressed in the most colorful naturally-dyed fabrics bursting with deep purples, bright reds, woodsy emeralds and sky blues all handmade in their villages, if not themselves, by ancient techniques, precision, and generations of hand-me-down knowledge of the loom. The women pulled out a map and detailed the three hour walk we would trek and the H'mong villages we would suss out. They wanted $20 US for the day and $45 if we wanted to sleep in their village and trek back. Since we had just got to Sapa we wanted to check into everything before agreeing on the spot we thanked the ladies and carried on. Our plan was to get a map from the tourist office and see what they had to say then grab some breakfast. On the way out of the office the women met us at the entrance. They had followed us there.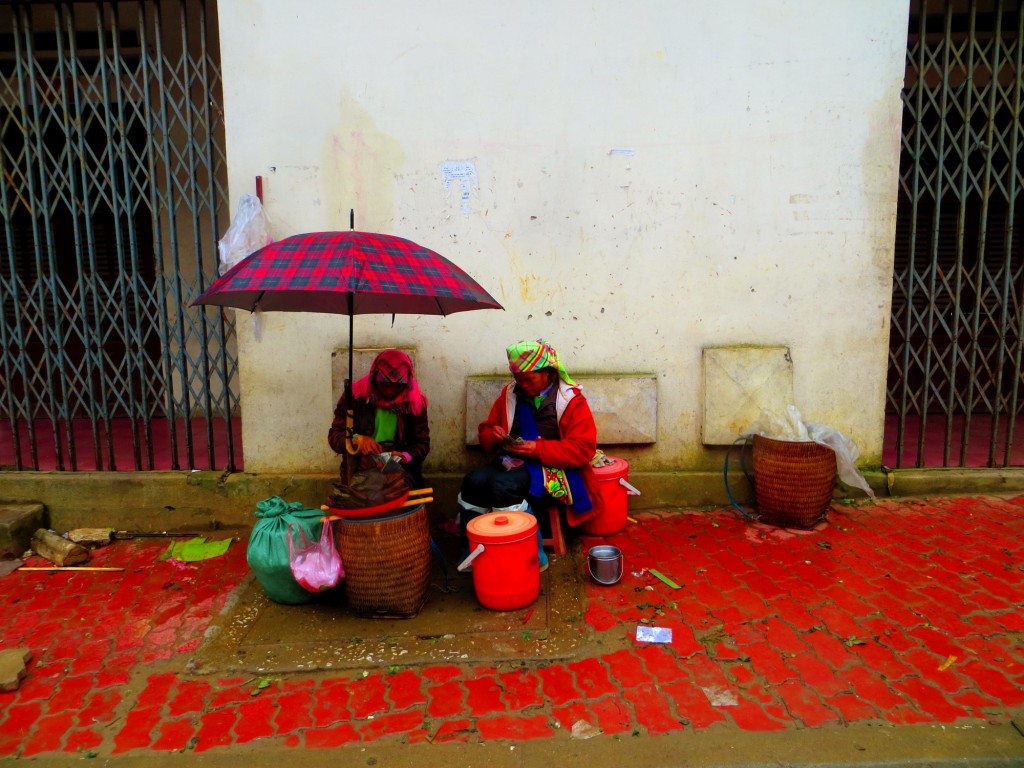 I had heard from the Italian couple Frankie & Katia that a couple ladies from a minority village had followed them for a couple hours along their whole trek, and they weren't even a part of the group. They felt guilty so they ended up giving the ladies a bit of money. But that can't be the future for these women. It's no way to earn a living and it's already starting to shape the future of their culture into one that solely relies on tourism. It needs to be quashed. As much as tourism has boosted Sapa's development and trade sectors, it needs growth on a level where it works with tourism and is not solely dependent on tourism. Which is why we cannot condone being followed around just to be guilted into buying something we don't want.
We thanked the ladies and wished them a good day.
The whole walk to breakfast it didn't stop. Dozens of women from minority villages followed us down the street at the brink of friendly eye contact, all trying to sell us clothes, bracelets, and treks. It's a tough racket out there and I wish them the best. At least it is good to know that they are all working together. We heard from Blui from Lang Biang Mountain in Dalat that the villagers pool their money together and it goes towards the community. I hope it's true because it would be extremely difficult for any one person to make money when everyone is selling the same stuff. But aside from the racket, they truly were the sweetest women and joked with us the whole walk. There was never an ounce of pressure and they were all smiles our entire time in Sapa and it's unbelievable how much English they had picked up just from dealing with tourists on a daily basis. We wish them the best.
We ended up in a restaurant without power and learned that they shut it off periodically. To save energy I could only assume. We got eggs and baguettes.
Afterwards we walked around the town in a light cool drizzle and ended up in a bakery, also without power, to eat some snacks, have some tea and read. Yah I know ehh…some life.
The dense fog never quit and the light rain continued into the evening and it gave the vibe that we better get used to it. We decided against the minority village because, well, it was impossible to see anything. But still wanted to see what Sapa was all about we decided to rent a motorbike in the morning, $5 compared to $40.
And that is exactly what we did.