Dong Hoi, Vietnam to Tan Ky, Vietnam to Son Tay, Vietnam
October 8-9, 2013
I'm not going to say it's about time…but it was about damn time. If you have been following our posts you'd know that Michael Douglas and myself have not always been on the
greatest of terms – but as of late he has been the eggs to my baguette. No problems. No hiccups. Just pure cruising. Which is why it was about damn time for Katie's bike to hiccup. And in my kind of fashion. She had begun to strap her bag on for our extended day on the road when the hotel manager came out and pointed to her flat tire. BAM! BAZINGA! OOOOH! OOOH It was sweet! I mean, I'm sorry baby…really, honest and sincere. Ok is she gone? Yes? Well damn I take it all back! WOOHAA! Michael Douglas high-fived me while Katie unstrapped her pack and left to get her tire patched. All in all it was a dollar and a twenty minute set back, but it was sweet. A beautiful day to start a long haul on the road.
KT Edit: Yep, I finally knew what it felt like to wake up to a flat tire. I was annoyed. I didn't wan to deal with it. Ohhhhh bike problems, curse you!
Since we fell in love with the ease and simplicity of the Ho Chi Minh Highway over the chaos and bedlam of the AH1 – we hopped at the chance to get right back on Uncle Ho and ride his ass all the way north. For the first hour it was all the beauty we expected from retracing our tire marks from lore…and the seven hours that followed were possibly even more majestic.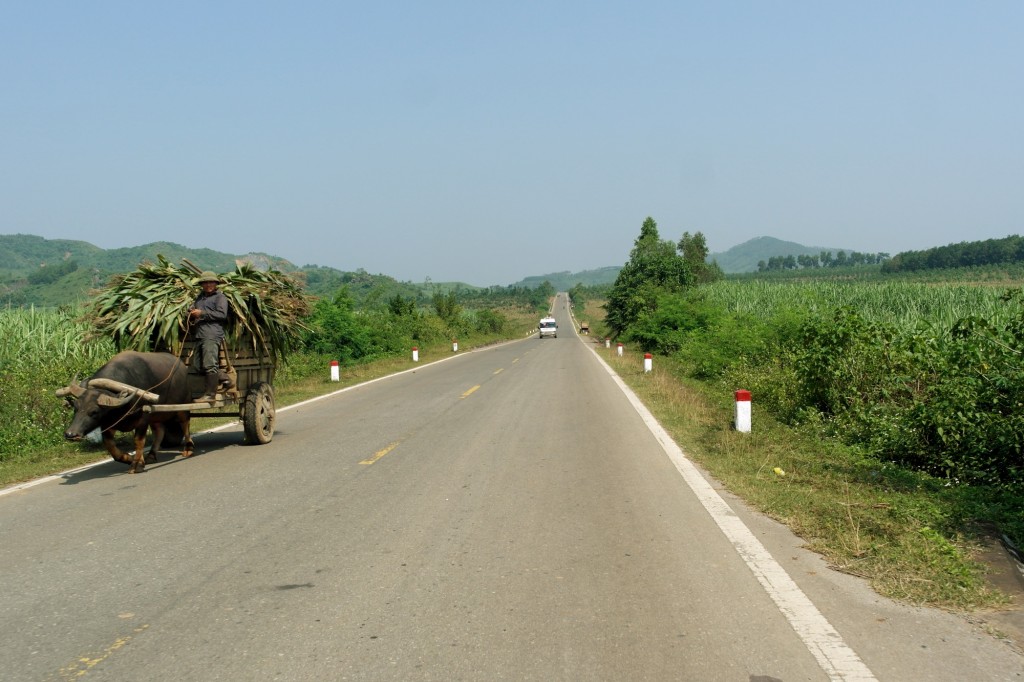 The whole trip long I've battled the battery game with my camera and every time I reach the epic most unbelievable view – the ol' camera says sorry folks this one is for your eyes only. Either way, I saw, lived, rode & experienced the pure enchantment that is the HCM Highway. All the roaring climbs and gliding descents, the hairpin turns, forests so lush and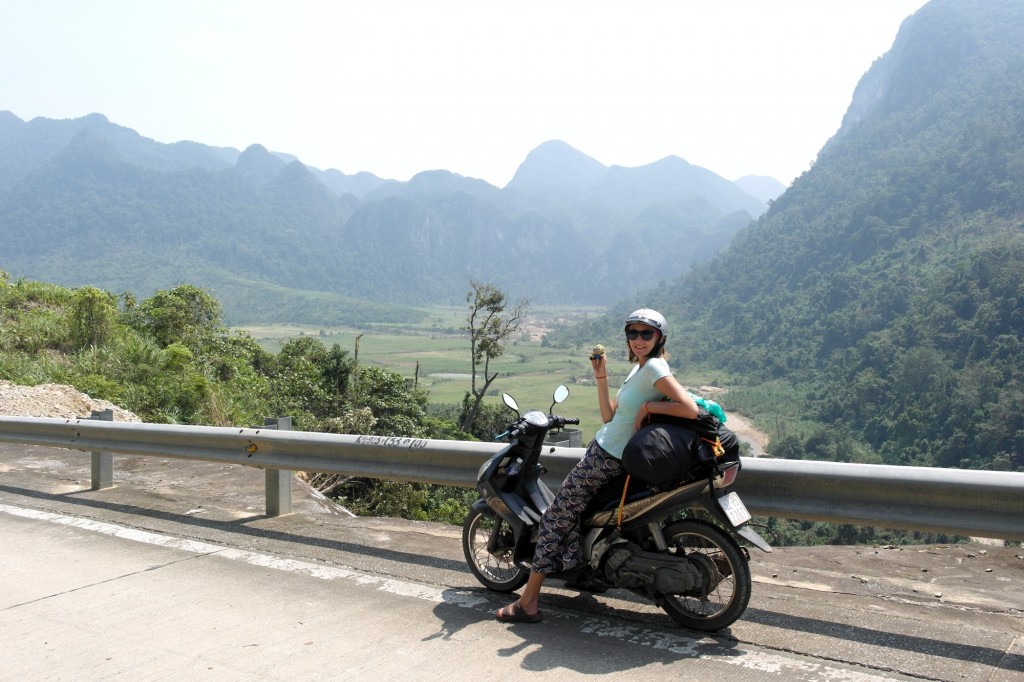 never-ending that they all eventually blend into one immense emerald ocean. Passing villages that consist of only two neighbours and towns that rest their heads along fulcrum of a mountain. And millions of everything between here and your ideas of civilization. And as you ride past these slow, other worldly towns you wonder how anyone ever settled here and said this is where I am going to live…and actually did it. It's unbelievable beauty. I just couldn't imagine the obstacles of creating a world in the middle of nowhere. It's surreal. Perfect. Calm. It's everything I have been searching for. The entire day was filled with wonderment. All 350 kilometers of it.
We ended up in the stop over town of Tan Ky after checking out a couple creepy hotels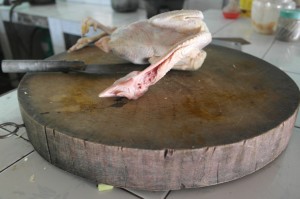 with child drawings on the walls, cobwebs so large I thought the room had already been occupied, and stucco replaced with wallpaper. We apologized and found another. We ate dinner for the sake of it. It had been 9 ½ hours since we had last eaten and I think I ate the freshest chicken in town. Behind me the next batter up was being beheaded as we ate. He didn't sound too pleased.
The next morning we woke up and could only find a coffee joint. Neither of us were really hungry so after taking out some money from the bank, we hit the road. Yesterday we hadn't hit a single stop sign in or along our eight hour drive and today seemed like it was going to follow suit. Our destination was an unknown town called Son Tay. It was 50km from downtown Hanoi and 300km from Sapa, a mountain town that we heard had an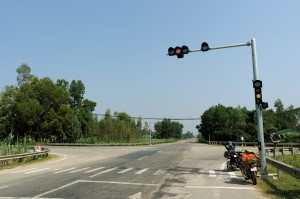 amazing stretch of highway leading up to its mouth. The ride was, well less. It was still beautiful. And the day was great. But we had began to emerge from the untouched landscape. You could begin to tell we were heading for the nations capital. The ride was nice though. No traffic and the two red lights we approached turned green before we got to them. And then it happened. Our first red light. That mother scratcher. Over 500km without being forced to stop and bam it hits you. Well after that 17 second hiccup we got back on the road and eventually made it to Son Tay found a hotel and hung out in a café chatting with family and writing postcards until it was time to settle.
We also changed our flight. We decided to head to the island of Cat Ba over Sapa. A plan that would save us two days of travel and a smoother plan of execution out of Vietnam before our visas expired. So after being landlocked for the past week it was back to the beach.