November 16 – November 17, 2013
Paksong, Laos
I'm not a firm believer in fate, but our chance meeting in the remote town of Paksong left us both in awe; we had met two of the most genuine, fun & passionate people that were living our dream…ours! And further yet they had invited us to share a special moment with them. And we emphatically accepted.
A week had passed since we met Tyson & Janelle and here we were on motorcycles cruising off to meet them. Tomorrow is their grand opening (Jhai Coffee House), but when we pulled up the shop was in complete chaos, not to mention they weren't even there. We drove back to our old guesthouse, booked a room, played with same ol' dogs, and grabbed a bite to eat at a familiar restaurant. To our dismay, the owners, whom we shared such a fun chance meeting during our last visit, did not recognize us – even after we called their pets by name.
We left the bike at the guesthouse and headed back to the coffee shop to lend a hand. We crept up the driveway and hid behind a beam to surprise them.
"No way! You guys made it"
As you can see they saw us.
"It's all we have been thinking about." We said. Which was sort of true…technically other thoughts had popped into our heads.
"Ahh that's so great. Did you just get here?"
"Yeah, we just rented a bike and dropped it off at our guesthouse. But yah we came here just to see you two, and to help obviously, so if there is anything you need that's what we are here for – so put us to work."
As we were talking people moved around the house like a stream of ants coming and going; some were carrying frames, some chair legs, some beams, some had jigsaws, some had pots and pans, and everyone in between had baskets of food.
"It's crazy in here. I cant believe we are having a party here tomorrow. Are you guys sticking around?"
"Oh totally…we're pumped"
"Ok great, there is going to be so much drinking and partying…supposedly there is going to be 150 people. And in the morning we are having 5 monks come to bless the place. That's what all these women are here for. They are going to be here all night cooking and creating offerings for the monks."
"Really? That's amazing. But we know you two must be busy so how can we help?"
Tyson put us to work setting up a chill area on the upstairs balcony with rugs, Thai pillows and wicker tables, while Janelle had us strategically placing plants around the grounds. Afterwards, Katie and I traced the dimensions of a wall map onto a sheet of plywood. After we cut out the piece we glued it and worked on fixing it to the wall.
They had to leave to invite the president of the coffee corporation to the grand opening so we took that time head to our room to pick up a congratulatory bottle of Canadian Club to celebrate their grand opening.
On the walk we found a mini carnival at full erection. A giant inflatable playground two
stories high was laden with screaming children sliding down rainbow tubes, plastic guns were cocked, aimed, rifled at balloons with vigor, children operated hand-sized remote controlled racecars that rounded a figure eight track and crashed into walls; all while adults manned the stations and set up tables and drank beer until the table tops were decorated with a mass of empties. A full moon hung above it all like a flickering candle.
We got back to the coffee shop to see that it was brewing with grandmothers and rich aroma of something fishy. Inside the women had set up an arts station. On the floor laid
strewn banana leaves while the women were weaving them into creative offerings. I sat down beside the three women and motioned if I could help. One woman took interest and showed me how she rolled the leaf, first folding the corner in, and then rolling over it in a circular motion from one side of the leaf to the other holding firmly so it creates a long thin tube, which she then ties with a strip of the vein of the plant. It took me three or four tries to get one that she accepted. But I think she was just humoring me.
Out back a group of hunched over women whacked, scaled and chopped fish for soup; boiled, plucked and fried chicken in giant vats; and sat around drinking and laughing intermittently. In the kitchen salads and rice and more soups were made and all the time wafting aromas tickled our noses, and not always pleasantly.
The monks were supposed to arrive at 7am so we took our leave as the women started snuggling into makeshift beds they created with blankets they had brought from home.
The next morning we returned to the shop at 6:30am as the bustle continued. More women were piling in and all the offerings had been erected and decorated with little orange flowers and money pinched between slits in the leaves. Heaving bags of treats lied
everywhere like the morning after Halloween; Nescafe instant coffee packets, muffins, toilet paper, packaged cakes, shrimp chips, bags of rice, apples, sweets, and bottles of water were some of the offerings, along with a packet of cigarettes and lighters adorned on each table set in front of five seats laid for the monks to sit. These monks couldn't imagine how spoiled they were about to become.
We ordered two omelets from next door and waited for the monks who showed up fashionably late, with one hanging onto the back of a pickup. We started the service off as the men left to go kneel and chant with the five monks outside. Upon returning we sat behind our giant shiny bowls of offerings that had been filled for us by the women. I purchased muffins from across the street, but they were dwarfed by the immensity of treats towering out of my bowl. The men sat cross legged while the women sat with their knees facing the front, and everyone had a scarf-cum-shawl draped over their left shoulder.
The five monks walked into the room and took their seats as they began the process of being presented with offerings. A man knelt down before them with his hands holding a bowl and he began chanting while the room repeated. Tyson and Janelle along with Katie and I were positioned in front of the stage where the monks sat, each of us with our bowls bursting with treats. The slew of women who slaved all night preparing the meals and offering sat all around us, but the ones to our left guided us with how to sit, and how to drape our shawl, and handed us candles to light and really made us feel apart of the ceremony.
We went through a few waves of prayers before the monks began their own. The whole ceremony didn't last very long, and we even stopped to watch the monks eat the food that
had been prepared. A giant platter was placed in front of each of them the size of bicycle tire, fit with bowls of sweat and tears from the night before. I could only imagine that the women beside us had their eyes glued to them each time they balled a clump of rice and dipped it before bringing it to their mouths. I was too enthralled by the event to pay full attention to them, but I'm sure they all felt extremely proud and more connected than ever.
When the monks finished eating the men stood up and brought their bowls of offerings outside to five even larger bowls. It was like a reverse buffet. We all lined up and divvied our bowls into the larger ones, until those two were over flowing. Then the women came
out and did the same. We all went back to sit down. And then we had a prayer over the water, as everyone slowly emptied a bottle of water into our now empty bowls. I was later told that the prayer over the water was the most symbolic prayer of the morning. If we blessed the food and forgot to bless the water, it would have been as though the food blessing didn't matter at all – the water is the purveyor of life and thus the most important.
The prayers ended and the remaining ornamental offerings were brought to the monks -  each one of them received a money tree made from the banana leaves. After the ceremony I noticed a few of the trees strewn behind their seats, and each one had been plucked clean.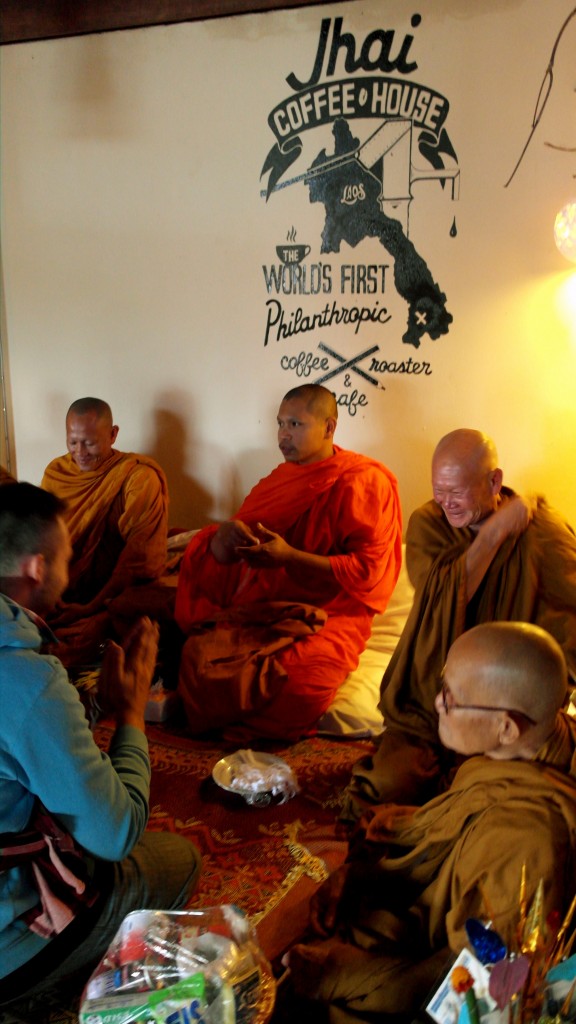 Tyson and Janelle were brought up on stage to kneel in front of the oldest monk who took a short white string and ran it up and down their wrists whilst whispering a prayer and
fixing it to them. Then they moved to the next monk and they did the same. Then the next. After that a chain began and Katie and I joined in until everyone in the room had wrists full of white bracelets. The café, the coffee farmers & corporation, the women, and Katie and I had officially been blessed. The monks had done their job, and so they lit their cigarettes contempt as everyone mused about getting ready for a giant feast.
We ate rice and chicken and fish and soups and sauces all the while Thai music blared from three-foot speakers a few feet away from us. Drinks upon drinks were passed
around; beer and whiskey and rum and everyone laughed and drank and danced the slow Thai dance which only involves the turning of wrists while walking with a slight hop around in circles. We were chosen a few times for being the only four foreign people around and everyone handed us glasses of booze in glorious cheers.
The time came when we had to leave. Katie and I had to catch a bus at seven that evening heading back to the capital Vientiane. A fun twelve hour sleeping bus that we were all too excited about.
We went around saying our goodbyes to all the people we had met. We saved Tyson and Janelle for last. It was as if we had known them forever. And our goodbye didn't feel for a second that we would never see each other again. Their mission had brought us together and the ceremony had bonded us. We left with giant smiles and beaming hearts and nothing but ecstasy for our worlds colliding. Fate? Maybe, yah maybe it was. And maybe it will work its wonders again.
KT: Being a part of the monk blessing ceremony at Jhai Coffee House was surreal. We really got to immerse ourselves in Laos culture in a way that I couldn't have imagined. I'm still wearing some of my "lucky" bracelets and feel so proud when a Laos or Thai person points at them and says "ohhhh lucky!".
Also, Jhai Coffee House is open now! If you're in Pakse or Paksong (or ANYWHERE in Laos…it's worth the trip!) go on over and visit Tyson and Janelle. If you're not in Laos but want to contribute to their amazing cause (and learn more about it), head over to their Facebook Page – Jhai Coffee House. They always have great things going on (from rescuing a chick, to making it possible for kids to attend school for the first time ever, to making it possible for coffee farmers to taste their OWN coffee for the first time ever, etc) and are really inspiring to follow. So check-check-check'em out :)