Pakse, Laos – Paksong, Laos
November 8 – November 9, 2013
We rented motorbikes to get out of the city and explore the region around us known as the Bolaven Plateau. A scenic drive that bypasses a handful of spectacular waterfalls, pineapple, banana, and exotic fruit stands, worn in homes with tin roofs, built stilts, and coffee trees on front lawns  all interwoven by people busying themselves at work or shouting sabaidee all laid back in hammocks.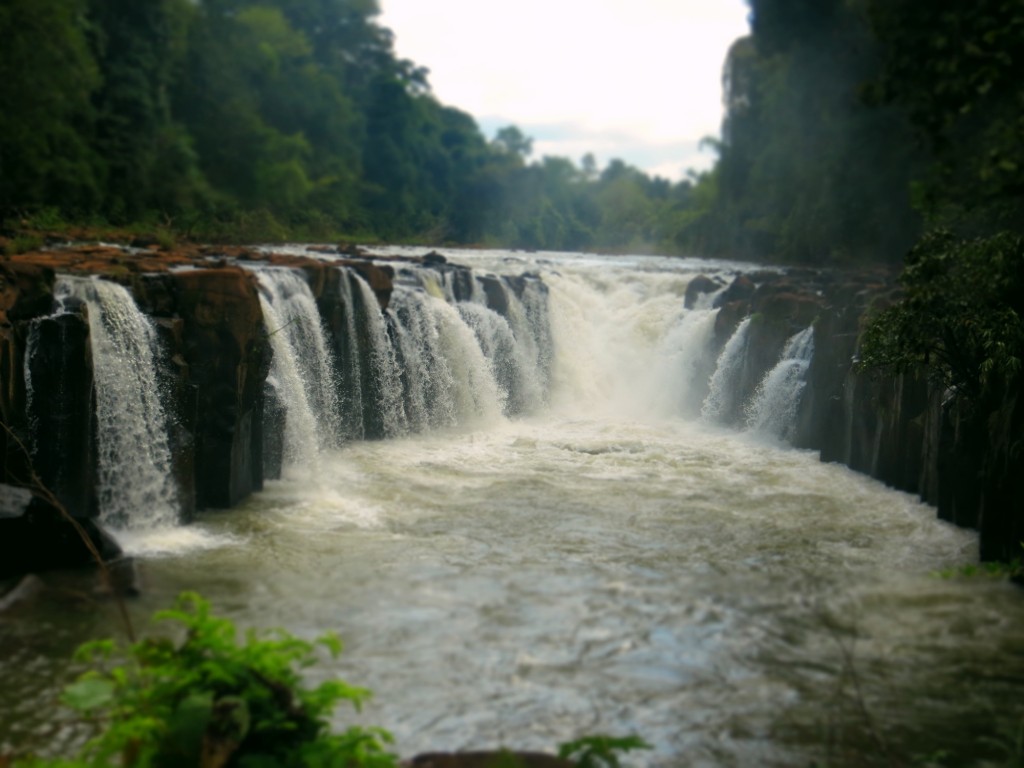 The first four waterfalls were exactly what they claimed to be, and in some wonderfully symbiotic way we had visited the falls just as tourists were leaving, and stayed just long enough to leave as a new set of tourists arrived.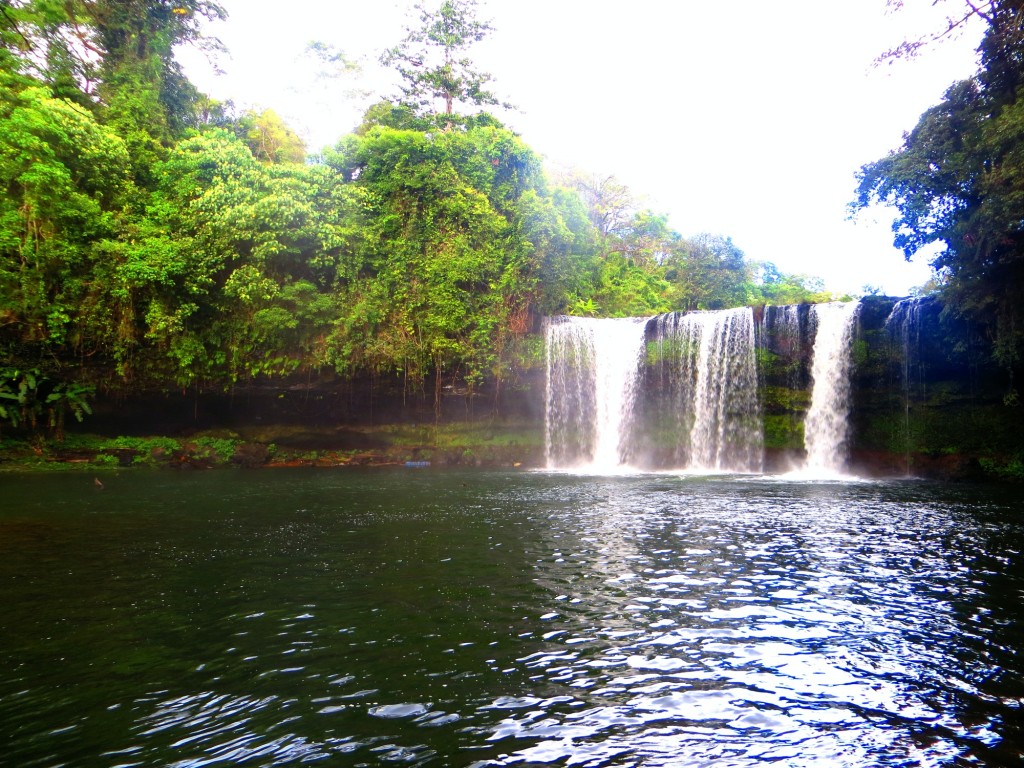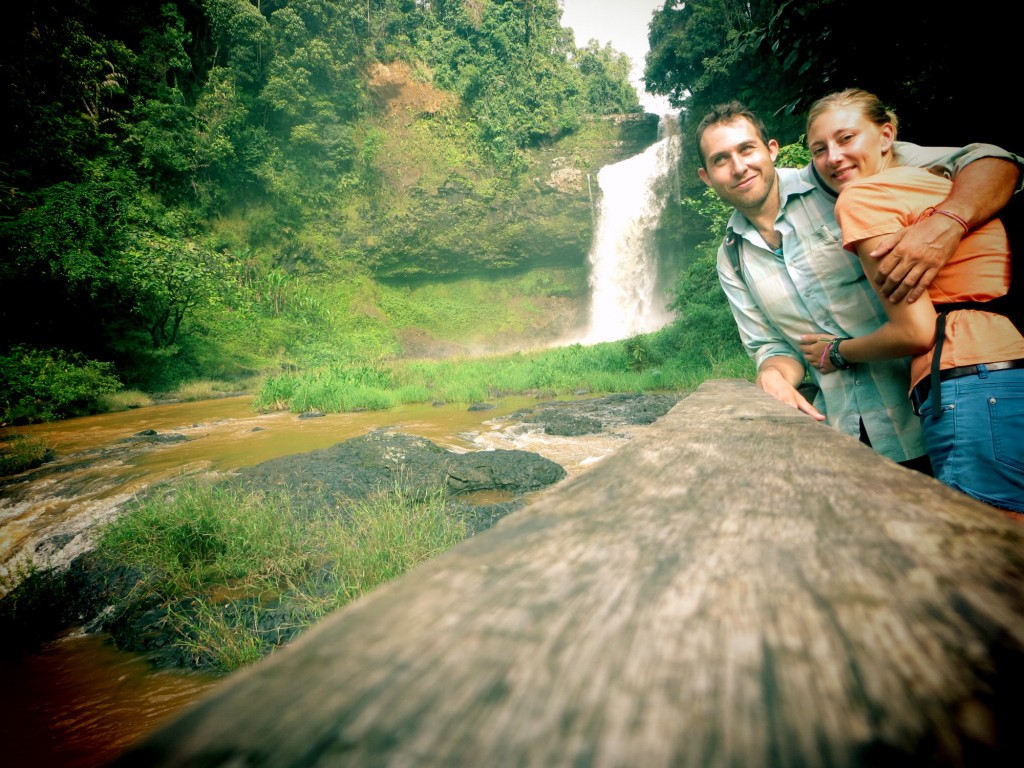 The last waterfall was by far the golden child. With a ticket price of $2 that included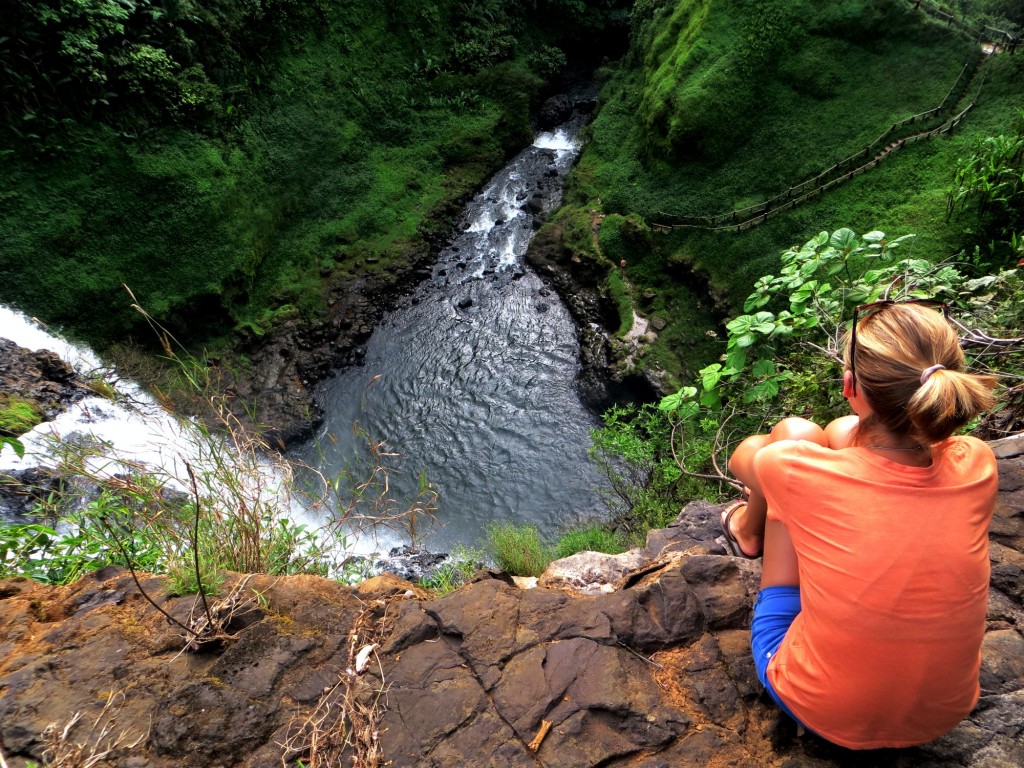 parking, it was also the steepest price. But if I were you, which I am at least for this vicarious minute, I would splurge. And so we did. The top of the falls is a perfect spot to hang out and have some sticky rice and tom yam fish soup. A coiling stream cuts through the emerald meadow all connected by bridges to the edge of the heartbeat-skipping falls. If the water is low, which it was, you can wade in the water and poke your head over the edge to get a glimpse of natures swimming pool.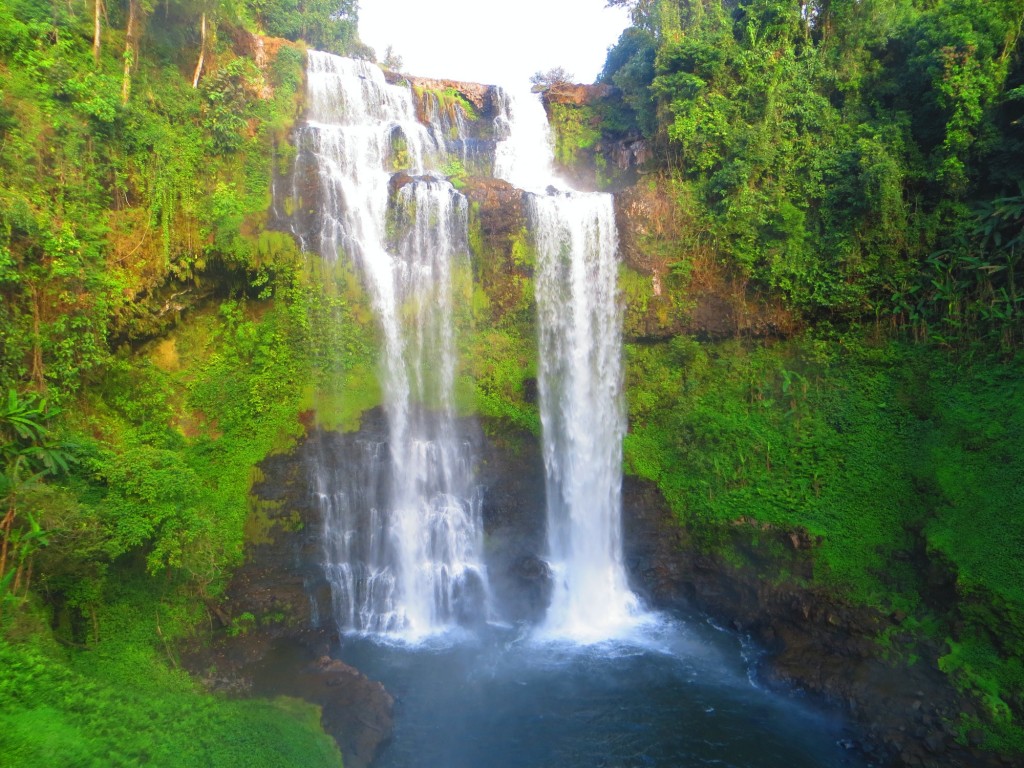 The views off the lip were hidden from the world. A spectacular find for the first explorers and preserved and built-up for people like me to be able to pay $2 to enjoy its beauty.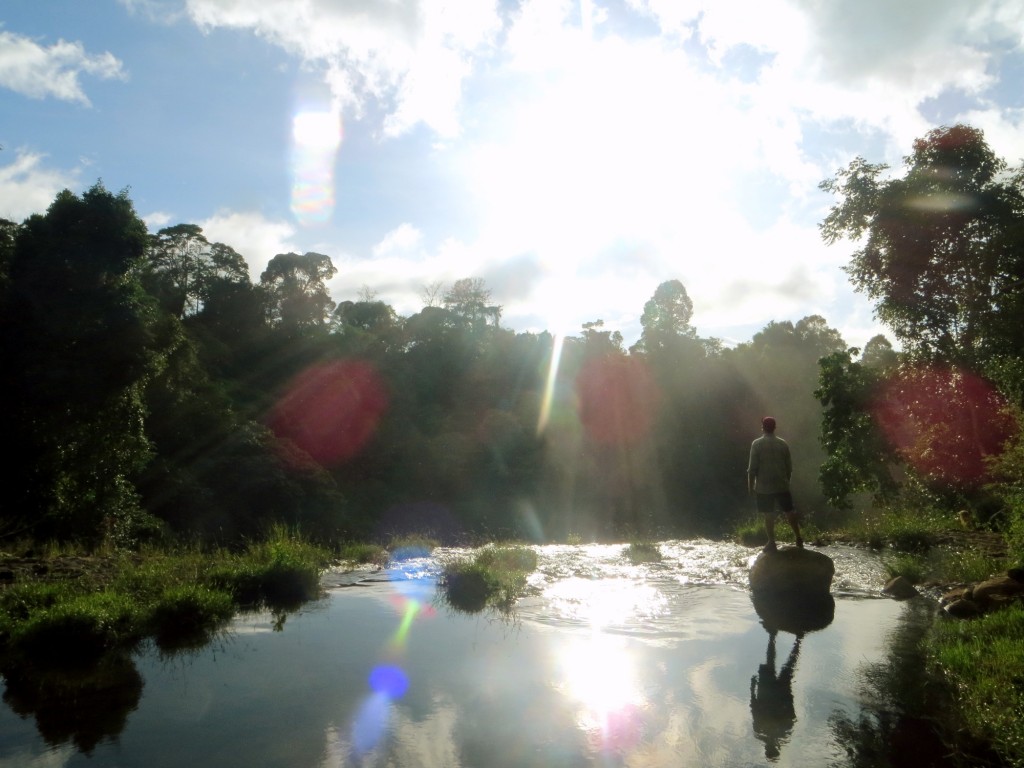 The town of Paksong was only 10km ahead and we begrudgingly left the falls to find a guesthouse before sunset. It only took 10-15 minutes to get to the slow town of Paksong and you could almost drive right through if you blinked. OK maybe ten blinks. We passed
a few guesthouses but wanted to find one off the main road. Coming to a T in the road, I found a sign that read yadda yadda guesthouse and yadda yadda Korean restaurant. Well the guesthouse was laid back against a stream and if you know me there are two things I love; streams and Korean food. So we busted a left and followed the road over two bridges and ended up face to face with a woman who ran the guesthouse who said it was full and they also weren't serving food. LET DOWN! We scoffed, turned our bikes around and luckily found two more guesthouse around the corner. Both peaceful and open and perfect for a night under the stars.
We were shown a room at the first guesthouse with pink candies, bears and presents for sheets, pillow cases and blinds, and then Katie ran over to the other to compare prices, but was also turned down for a room. So it looks like we know where we are staying tonight.
Across the street there was a restaurant and that's where we found ourselves eating when two foreigners walked in and changed our night…perhaps our lives.
KT: But first about our dinner! The food itself was decent, but it was the owners that made
us love the joint. They were an incredibly friend duo who apparently also own a restaurant called Lao Lao Garden in Luang Prabang – where Louis & I had our date night! There are pictures of it here. They have a dog, Lucky, and a couple kitties (Mimi and I didn't catch the other name). Lucky has a bunch of tricks up her paw, her most infamous one being the delivery of money from customer to her mom. Lucky is the first dog we've seen since leaving home that knows TRICKS! And Mimi comes when you call her. The husband offered us some of his home-made Lao Lao whiskey, which we had to be polite…but it was just awful. It was the colour of the Mekong and tasted like…well…how I imagine the mekong tastes, spiked with whiskey. Ok back to L's story…
We had met the two people that we wanted to be. Two people that were living their dream (literally). Two people that crafted a dream that would not only affect their life but thousands, tens of thousands more. Tyson and Janelle, a wonderfully fun, conscious and energetic American couple that are a week away from the grand opening of their for-profit coffee shop that raises money for their non-profit organization spreading the education of health & sanitation and providing the resources for clean drinking water for remote villages.
I wish I could quote Tyson, with his energy and passion that flooded out of him as he proudly explained his undergoing project; about all the people onboard and all the new friends he's met in Paksong, and about the cat they just rescued, and the two water wells they have already installed, and the video-plays they are going to display at schools to educate the children on sanitation, and connections and the beauty of it all. And in no way, not even once, did it come off as insincere, as if bragging about his path, but solely in a way where he is excited and explodes when he meets people, and his energy is infectious. If you are interested in knowing more please check them out on Facebook @ Jhai Coffee House.
After dinner the four of us went for a walk to a little waterfall and laughed and laughed until it was 10 o'clock and past their bedtime. Walking out of the waterfall and onto a patch of grass Tyson spotted something.
"There are fireflies over there," he says pointing, "don't let them out of your sight!"
It was an odd comment, honest and worded in a way that only brought us all to tears. Minutes later we were all in awe with a shooting star that has blazed across the sky after we stopped to gaze. It was a perfect night. It had been a long time, even when you factor in travelling and life back home, that we had met a couple people genuine and so ambitious. It livened Katie and I, and I hope that the feeling stays with us. I even asked Tyson for his  business plan because they had taken myself & Katie's dream of opening a coffee shop and added a philanthropic worth to it.
The next morning we woke up and went to check out their coffee house in progress. Their grand opening is projected for this Sunday, and that night Katie and I had already been rerouting our trip so that we can come and celebrate in Paksong, of all places. Which is a valid enough reason that it's not necessarily about the where, but the what!
When we arrived, they had waffles, donuts and this sweet caramelish fruit called la müt that you eat with a spoon. It was way too sweet, but it was the thought.
Outside the café they were finishing up a second floor balcony with bamboo railing. Inside Janelle was painting on a black chalk board, while Tyson showed us around the spot. He showed us the recycled table tops, handmade chairs, paper maché  lights, and stage for live music, where the coffee bar is going in and even their bedroom upstairs. The whole grounds were bustling with people sawing and sanding and lifting and making deliveries and through it all the two of them hung out with us and ordered us eggs from their neighbour.
We left so they could get work done, but we knew we would see them again so the goodbye wasn't that bad. We saddled back onto our bikes and cruised 150 km back to Pakse after stopping at another waterfall on the way home.
That night we ate at Hassan Indian Restaurant on the recommendation from Tyson & Janelle who are friends with the owner. The food was delicious, but we didn't get a discount for name dropping. JK.
We ended up back at the same guesthouse where the Dutchmen had followed us and made plans to head to Don Khong in the 4000 islands of Southern Laos in the morning.
Life is looking good.