Cat Ba Island, Vietnam
October 13-14, 2013
We took the day off from each other to do our own things: biking the island, reading, writing, and sneaking off for our beloved breakfast, which was open (they had closed the previous day for a wedding-so we let it slide). But we ended up meeting at The Noble House in the evening. A hotspot for long haired and scruffy backpackers jonesin' a taste of home. I've had a lot of bad luck with burgers across the country…but I always feel like my luck's going to turn around. Optimistic? Ignorant? Who knows! I ordered the burger anyways. Bam! It came on a real bun. The patty was actually hand packed like a pressed baseball. The cheese melted and stuck to the top of the bun. Tomatoes. Cucumbers?
Ok…I'll give them that one- but hell it adds a nice crunch. I bit into it. The burger was spiced perfectly. Salted too. Ahhh my mouth is dancing! And it only took 2500km and just over a month and hopping two islands. And you know what? I wouldn't do it again. I've already done it. There's plenty more land to travel and shitty burgers for me to sink my teeth into and immediately regret…but hell, with shitty burgers comes great distance and utter beauty and amazement in between. So bring on the shitty burgers and sugary sweet ketchup and glorious mountainsides and cucumbers, wilted lettuce and ancient citadels and bread for buns and hidden lagoons, 'cause world…I'm coming to fuckin' get you! And eatcha too! (KT: I'll apologize for Louis' dirty mouth. I wouldn't dare try to censor his writing, so just close your eyes over the swears)
The Noble House is two parts restaurant and one part tour shop that it's sandwiching. We walked downstairs to the second floor and had a little chat. We were looking at going on a kayaking trip. Bam! Done! We talked to a Malay for about a minute who was as stoked as we were and she told us that she's even the guide for tomorrow. So we were pretty stoked. The itinerary ran like this:
8:15- meet and drive to harbour
8:30- boat out to pick up our kayaks in the middle of Lan Ha Bay
9:00- Kayak like motherfuckerssuckers through bearded mountains that jutted from the sea
12:00- eat a badass lunch and dive off the boat
2:00- kayak like mofo's to hidden bays and deserted beaches
3:07- slice my dang finger on coral while a snake crawls up a cliff
4:00- lazy ride home through hundreds of these bulging islands
6:00- land a'hoy
We signed our names and threw it on visa… something like 52 bucks for the both of us. We'd travelled from the complete south to the farthest north and this had been our first booked trip. So we were both in balls deep. Just as we were leaving, the Italian couple we had met in the National Park popped in, along with their German friend Fabio. They signed up on the spot and kayaking was looking to be even more fun.
DAY 34- Kayakittyyakitty
We woke up at something like seven. Set off for breakfast at our favourite breaky joint "My Way". Ate some banging breakfast. I have no clue where the chef learned to cook with such western flair, but the hash browns were out of this world. Fried julienned potatoes served in a birds nest. They even had real catsup. We scarfed and raced off to join the tour. (KT: When I asked him for Maple Syrup, he was perplexed. But he wrote down my strange request, so perhaps the next Canadians to amble through might get some good ole Maple Syrup on their French Toast!)
We slunk into the tour bus and turned on the Vietnamese air conditioning aka slid the windows open. The ride was short and soon we stepped onto a wooden vessel. Upstairs we plopped on some cushions and just basked. Drawing away from shore the seascape was just as hopping as land. In the bay, we cruised past a floating neighbourhood that mirrored one on land. Bobbing shanty's strapped to dozens of barrels fixed with corrugated tin roofs and patched with tarp wherever fixing was needed, around the perimeter planks created networks of walkways that led to hatcheries, docks, and lounge areas. Scrappy sea dogs made the width of the plank home. Loafing on a pile of fishy nets or barking at each boat that passed at the edge of their world, foreign of grass or sprinting through a plush field with flying tongue and drool.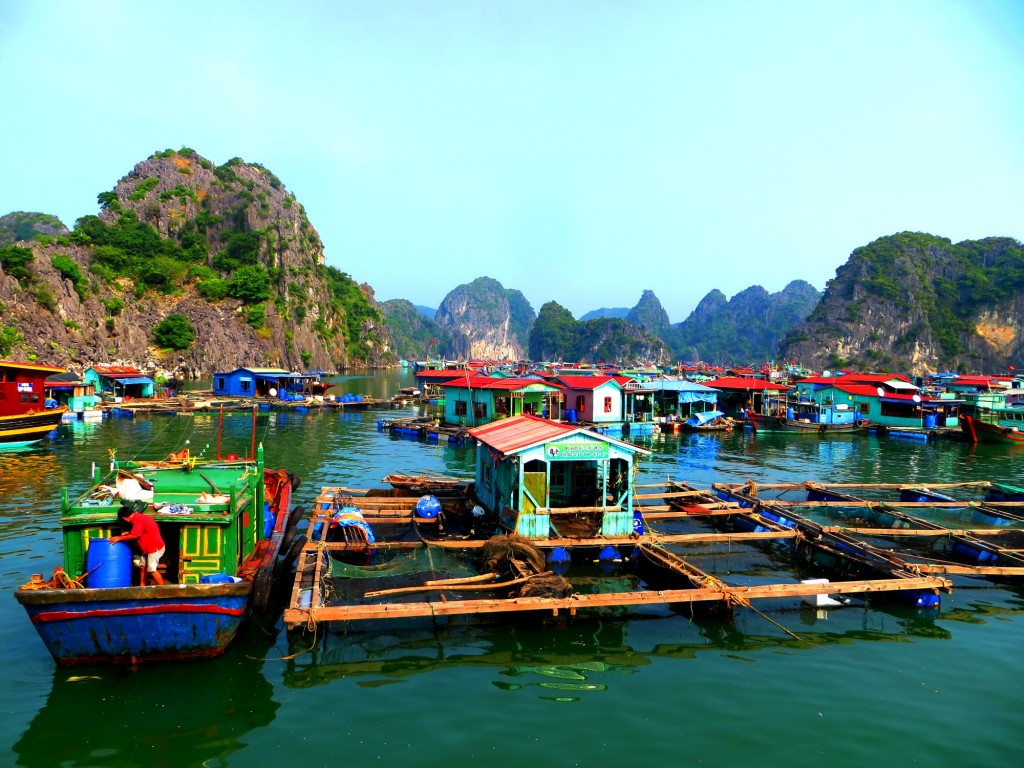 We saddled up to this floating restaurant-cum-kayak rental and we all paired off into the battered school bus yellow kayaks. The water was still and blue and our path was surrounded by bushy lime mountains in the sea that we would have to navigate. We got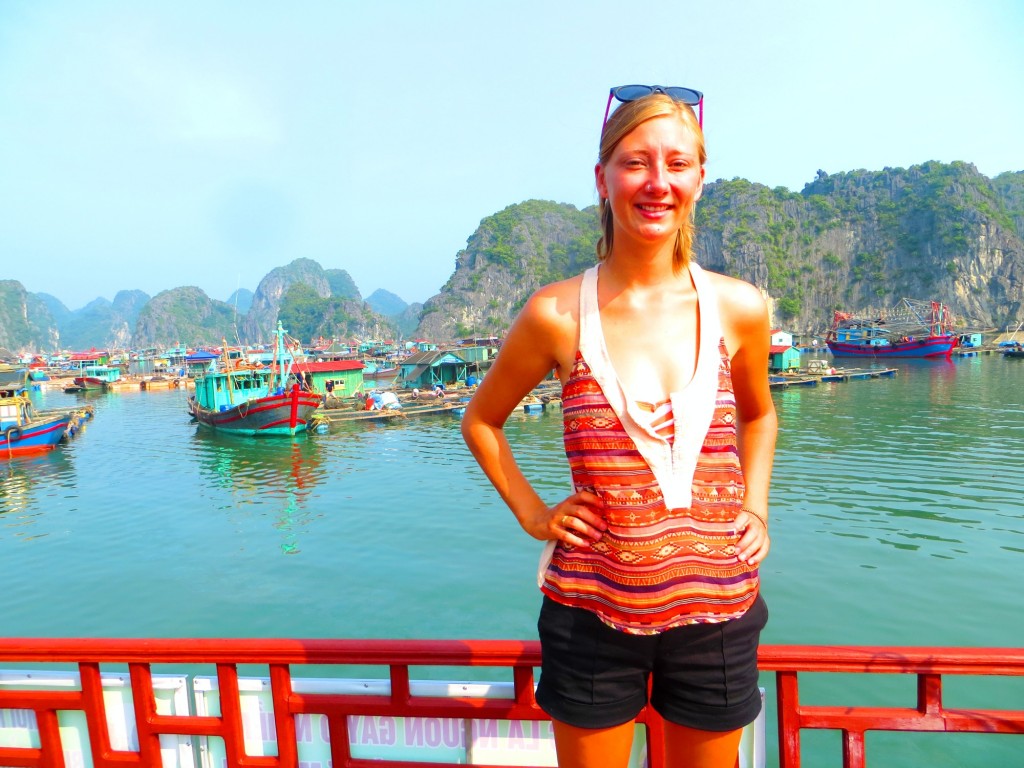 comfortable and started cutting through the water catching up to the guide then passing her as she kept a soft eye on the reckless gang. There were a total of  eight kayaks in the water all flowing at our own leisure. Steering alongside the jagged karst mountains the water had eaten away at the base creating a mushrooming effect that allowed you at times to glide under and through the prehistoric aquatic mountain-range. After paddling for a good while we came to the edge of a mountain. From a distance you could see shimmering blue piercing through a speck of rock and as we paddled closer the speck turned into an opening fit for a flightless canoe. It was a crescent opening that had eroded that led to a hidden inlet.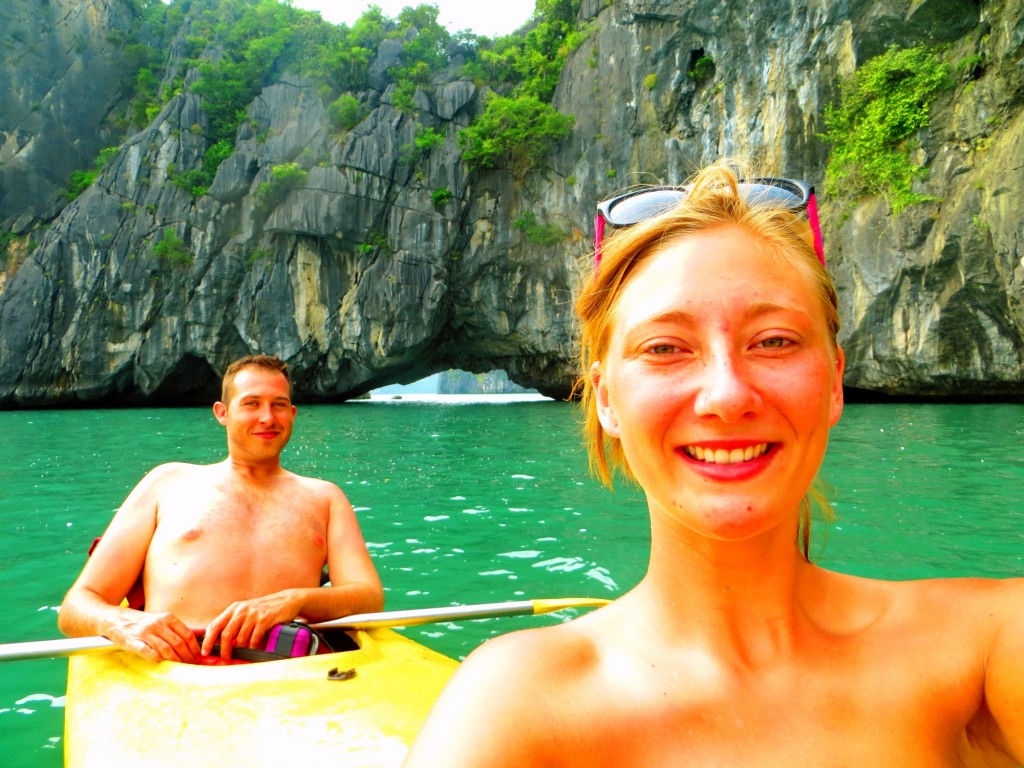 Most of the people hopped out of their canoes to swim with it in hand, but I slid my body into the cavity and Katie swam me through. Passing under the jagged and bubbling limestone my face was mere inches away but I slid through unscathed. My eyes drew long and wide. My jaw followed. My body frozen. It felt as though I made it- all the while unknown that I was even in search. It was paradise. An unblemished paradise. Without an exit this 360 degree cove was our playground. I hopped out of the canoe to swim free with the others. Hedonism at its finest hour. (KT: The swimming was unbelievable. Using our life jackets as makeshift seats we floated, splashed, laughed, and dropped jaws.)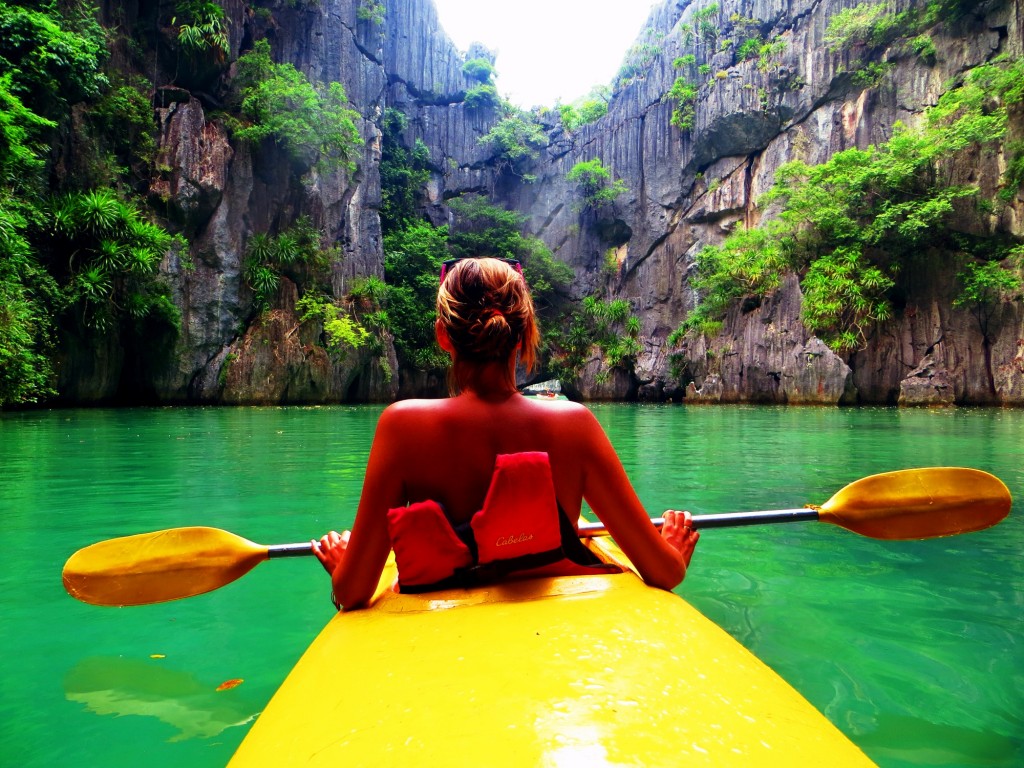 We left at our own leisure. Swimming our canoes through the small incision in the mountainside and back out to the Mysterious Lan Ha Bay that stretches out deeper and farther removed than the infamous Ha Long Bay. The scenery was pure magic.
After a few hours we ended back up on the boat for some good ol' deserved eating and a dive off the second deck of the boat which took me a good measure to talk myself into. It's an awkward feeling tricking your body into letting it jump 12 feet head first and that everything's going to be just aces. I did though. And I got a few claps from the upper deck. And damn it felt good. Afterwards I thought about how I'd like to become a better diver and that it is something that I would really like to work on. It's a beautiful and wild feeling being free and letting your body fly over an edge. It is very empowering. (KT: I didn't dive. I've never truly been good at jumping into water without getting mass amounts of it up my nose, and now with my nose ring plugging my nose it's that much more difficult. I did jump though! Exhilarating!)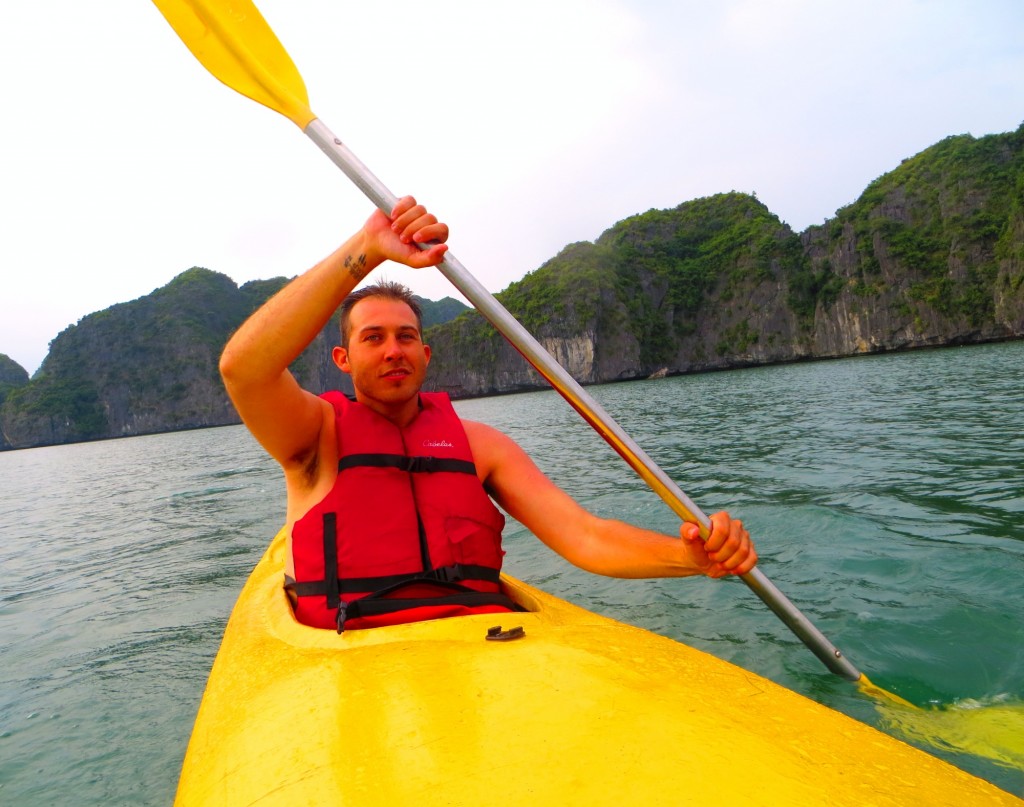 The second bout we chugged an hour further north in the whooshing vessel and then slipped back into the kayaks to the sound of simplicity and the hues of cerulean.
After a good five hours of enjoying mixed water-sports the two of us were excited to be pampered by cushions and the ease and ingenuity of powered steering. The two of us sat on the lip of the boat and Katie read me Kerouac's On The Road as we passed pureness in its most natural form.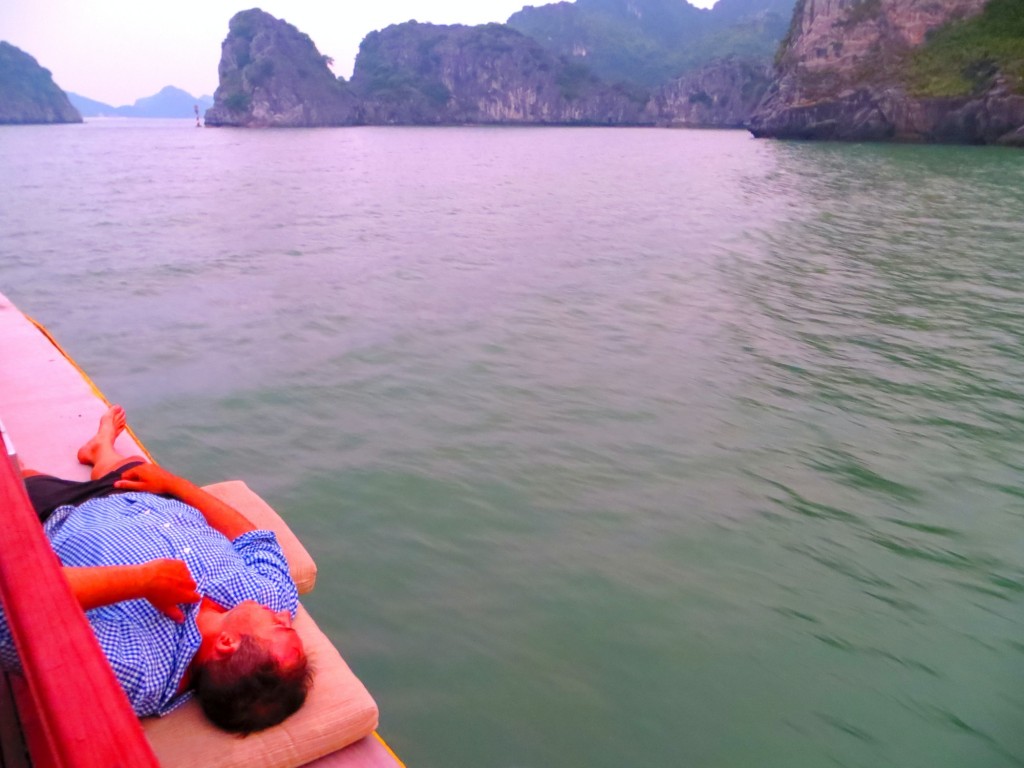 Synchronicity On the Road
We haven't met too many people on the road so far, well not many that we have really clicked with, aside from Max, Alex and Emily from Phu Quoc but that was only for one night and was about two months ago. I chalk most of that up to us not being partiers or club/bar goers. That, and we are usually just hungry and tuckered by the time we end up in a city after spending the last 8-10 hours on an eight inch wide piece of plastic. Plus the comfort of traveling with a partner always adds a little to the "I just feel like staying in" category. Or maybe it's just us. Could it be? No!
To our surprise we met two couples…and on the same freaking day have you. Cat Ba island turned out to be a hotbed for us. A Cornucopia of couples. A delicacy of duos. A plethora of pairs. A goddamn hotbed I said! The first was Italian couple which I already introduced to you. Both full of life and world travelled and with cigarette in hand they threw out stories and cursed and laughed and whooped it up. Real genuine folk. And the other a tender couple from Germany. Sweet natured, worldly, and well spoken with eloquent tongue and trustworthy. And we can't forget Fabio. Even though he hasn't said much more than a few sentences. The seven of us were all aged within six years of each other and clicked immediately, all engulfed in the travel talk that spanned globally to each continent as if set with sail and precise winds. It was the beauty of travel all pieced together like origami- each fold working with exactness like the natural flow of uninhibited conversation.
"Did you know they have machines in Japan that dispense used panties?" said Eva with excitement in her eyes.
It caught everyone's attention over the hum of friendly table-side banter. I had known about the machines. I had travelled to Japan twice for visa renewals during my tenure as an English teacher in Korea.
"I know! It's wild isn't it?" I said.
"On the machine", Eva continued, "there was a picture of a woman wearing panties with a little stain on it."
We all sat around discussing if we thought the stain was real or what the smell was or how they made all intrigued with discerning scowling squeamish grins.
"Imagine the factory that makes the smell for the panties" said Frankie in his tonguey Italian "scientists searching for just the right smell to match it with used panties."
We all let out some sort of ooh or cringe.
It's some visual isn't it. A lab full of Japanese men dressed in white gowns with furrowed brows and noses sniffing vials with quick short nods knowing how close they are to nailing that pheromonal scent. They call their wives and say they are going to be late for dinner
because they are so close to perfection and they must keep working. Oh, you know that strong Japanese work ethic. Perfection cannot wait. And can you imagine the joys and cheers when they add a dash of cat urine and splash of oyster juice and they bury their noses deep into the vial and whiff and their eyes light up like Japanese storefront. They drop everything and burst through the doors of their perfume factory and rush out, white gowns flapping in the wind, full sprint to the closest bar for a round of Sapporo and a bout of celebratory karaoke.
The restaurant was closing so we all said our goodbyes. Each couple heading to a different corner of Vietnam. Us to the mountains of Sapa. The Italians to a typhoon currently hitting the land of fabric and tailors that is Hoi An. And the German couple to hunt for Caves 50km outside of Dong Hoi. And a lone and silent German who we never found out where his journey was to take him.
His name was Fabio. That night while saying goodbyes he came back to our room and purchased one of my hats. It was my first sale and it emphasized that there are people out there that dig my hats. If a backpacker on a budget spends his rent and food money on one of my hats then I'm doing something right. I walked him downstairs after taking a congratulatory first sale picture and handshake. I thanked him and assured him that after I make my first million I will send him a hat on the house for being the first to support my independent venture.