Read Phu Quoc-ing Crazy Roads Part 1 of 3: Happy Birthday Lou! first!
The sound of the wind and waves woke us from our extended slumber. As we munched on our omelet, baguette, and banana-pancake-with-honey breakfasts, the employee we had spoken with the previous day walked over with motorbike keys in his fist. "Motorbike?" Yes! We had mentioned to him yesterday that we were interested in renting motorbikes. He handed the keys over and that was that. No papers to sign. No info on the bikes. No cautions about the roads. Just…here you go. Sweet! No red tape. Great. He also gave us a tourist map of the island.
Armed with the map, my GPS equipped tablet, and our bathing suits, we saddled our bikes and set out to tackle Phu Quoc Island. We can ride the whole thing today, right? It didn't seem too big. We were horribly mistaken. Deciding to do the southern part first, we were off, and (maybe too) quickly, impressed with the quality of the road. That was until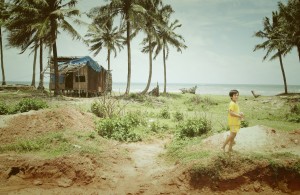 huge potholes and mud swamps created from the overnight thunderstorm we had slept through replaced the smooth pavement. Wait. This can't be right. "How is THIS a road?" ended up being our Phu Quoc motto, along with my overly cheezy "These roads are Phu Quoc-ing crazy!". We were off-roading in every meaning of the term, but the mud trail eventually led to a full-fledged red-clay highway that is clearly being slowly developed.
Riddled with potholes this road was…intense. And we loved it. On our right side we had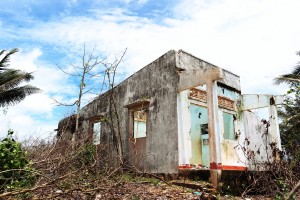 the Gulf of Thailand. Bright blue waves breaking against an even brighter blue sky, and on our left side we had fields and abandoned houses and marshland. There were zero cross roads, so the path was very simple to follow, and eventually led away from the sea and into the forest, where trees lined both sides.We pulled over, turning off our engines, and just listened. No honking! The animals and insects were creating a symphony that I swear only we could hear. No one was around, just us and the animal choir.
After emerging from the trees some time later, we pulled off at a little shack-cum-house-cum-convenience store to quench our thirst and check our GPS. After a 7 UP, a Sting, and some giggles with the local kids, we set off in the direction of a small fishing town that would complete our southern journey before we started back up the East side of Phu Quoc.
We reached An Thoi easily, in hopes of finding a beach, and instead found rows and rows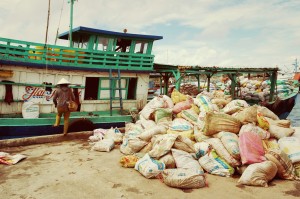 of boats unloading their catch-of-the-day. The smell assaulted my nasal passages while we walked around the docks, watching the fishermen heaving and ho-ing crates, boxes, and bags, of sardines from the boats to waiting trucks. Also being tossed were bricks, crates of beer, and other unnameable objects. It was fascinating to watch as we knew the main economic industry in Phu Quoc was the fish sauce that is oh-so-popular in Vietnam (but not-so-popular with my taste buds).
We hopped back on our bikes, preparing to leave An Thoi, head North along the East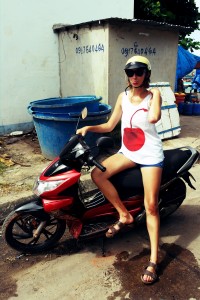 coast, and suss out a beach, when things took a turn for the worse. I wiped out on my bike. Fully down on the ground, bike on top of me. Ok, ok, mom & dad, relax. I was driving about 2km/hr when I hit the brakes a bit too hard and my bike skidded and fell over because of the loose dirt and oil I was driving on. Louis promptly hopped off his bike, lifted mine off me, and helped me up. It's actually impressive how quick to react he was. Well done, Lou! Anyways, I was fine. A few scrapes here and there, an impending bruised knee, a couple sore joints, but I was fine. My first spill! My first bike wipe-out! And it wasn't even on the treacherous streets, it was on a tiny stretch of paved road. Haha.
Carrying on down the highway (this time a real, paved highway), we passed by what looked like a prison. "Woah, Lou, look at those guards! They're armed to the teeth and have dogs!" What a blonde moment. This was Coconut Tree Prison, where the South Viet held Communist prisoners during the war, and those "guards" were mannequins. We pulled into the old prison, finding out it was free to tour.
Surrounded by rows of barbed wire coils, fully sharp and dangerous, was the prison. The sun was high, there was no shade, and yet neither of us could complain while reading the atrocities and tortures the prisoners endured.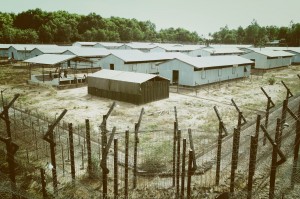 The scenes and commentary was horrific. Prisoners endured tortures of all kinds. They were mind, body, and soul crushing. From being boiled alive, to stuck in a "Tiger's cage" which was a small, unventilated metal shack that housed groups of people all day and night, making it excruciatingly hot during the day and bone-chillingly cold at night.
Entering one of the last barracks that housed some mannequins mimicking scenes, there was a (real-life) Vietnamese family, a couple of them snickering. Soon enough, Louis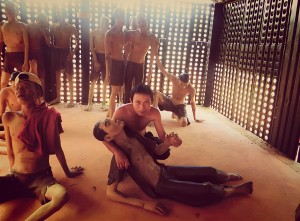 started snickering too. I scanned the room, trying to uncover the source of the hilarity I was clearly missing. Oh, there's a t-shirt draped over a mannequins shoulder, that must be it. Is it? I smiled uneasily while looking around, what the heck is going on here? Then all of a sudden, the face of one of the mannequins flinched ever so slightly. WAIT a minute! Then this "mannequin" burst out laughing! The Vietnamese family's father was posing with the prisoner mannequins, and totally fooled me. Everyone laughed entirely too hard, I think there were tears. He kept posing with them while we ducked out of the barracks. Well, that felt completely inappropriate. Leaving the prison we by-passed the souvenir shop, hopped back on our bikes, and gunned it for the beach.
We reached Sao Beach fairly easily, and practically sprinted towards the water. As excited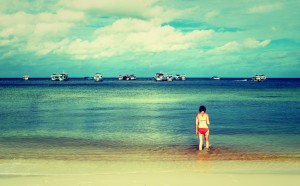 as I was, I was a little unsure of hopping in. You see, I have a very strong fear of jellyfish. Sure, they're tiny, and probably more afraid of me than I am of them, but still. Louis jumped right in and slowly coaxed me out into the water. It was glorious! A whole day on the bikes was being washed off our shoulders by the calm, turquoise water.
All it took was one little jellyfish floating by for me to leap into Louis' arms and beg him to carry me out, no horsing around. Yeah, I was being a bit of a baby, but I had cooled off and washed my wounds and I was ready to leave the jelly-infested waters. It didn't help that two foreigners walked past us and said "watch out for jellyfish!". I relaxed on the beach while Lou frolicked and splashed, before we encountered just about the happiest litter of puppies we've ever met on our way out of the beach. We would've adopted them all but we knew Ten would be waiting for us back at our bungalow and we didn't want him to get jealous.
We stopped in Duong Dong for dinner, feeling rather nostalgic, and opted for Buddy's, a Western style restaurant/cafe. After devouring our club sandwich and fish and chips, we rode over to the night market and found ourselves surrounded by rows and rows of seafood vendors. Blue crabs, tuna, lobster, and red snapper were everywhere! Disappointed we had already eaten, we vowed to come here for dinner the next night.
Arriving back at our beachfront bungalow we had smiles plastered across our faces. We did it! Although we didn't tackle the whole island today, we completed the southern part of it. We spent the rest of the evening reading on the beach and cuddling and playing with Ten. Tomorrow, we would tackle the rest of the island!  (Lou: A trek that check-marked a little black box on my bucket-list, while it simultaneously made Katie's list of 'never-agains'.)
Stay tuned for Phu Quoc-ing Crazy Roads Part 3: Le Fin!