The last four days we've been plagued with Vietnam's monsoon season. With distorted
vision, I tried to find pleasure in the unfamiliarity of villages, faces, landscapes and everything that I whooshed past. It's the only tangible thing to hold on to when you begin to question the purpose. It's the kind of rain where you postpone plans and cozy up on the couch with a book- If I were back home I'd be putting everything off for tomorrow, but that's kind of hard when you have to push on. Although pushing on does have its benefits- even when you have rain blinding your sight.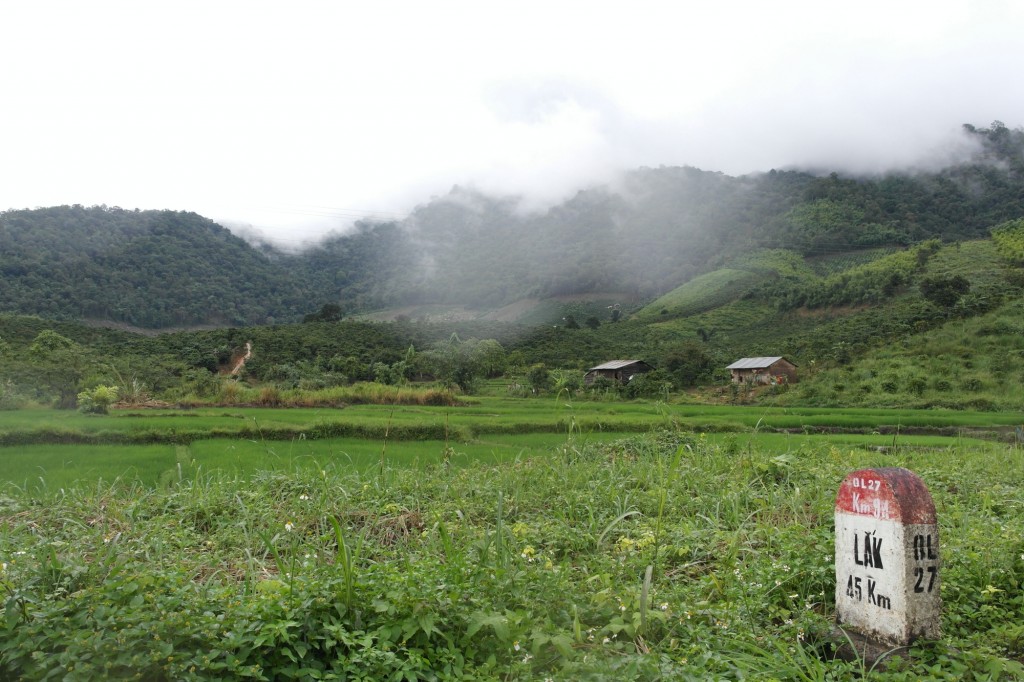 We ended up in Lak after a brutish day. Try spending seven hours ducking and dodging raindrops like a goddamn bobble head…I wouldn't advise it. We found an $8 hotel after scouring the town and after almost being forced into one…I'd never been grabbed by the arm in attempt to be dragged into a hotel…but it wouldn't be my last.
"NO!" I shouted, breaking free from her grip.
"Katie let's get out of here"
The woman, now desperate, shouted insults at her competition…
"You find dirty hotel in town…very expensive…you stay here!"
Well either way, you've just lost our business you backstabbing swine, show your town love…desperation wears a stinky cologne…and we pulled out of her driveway gagging for air.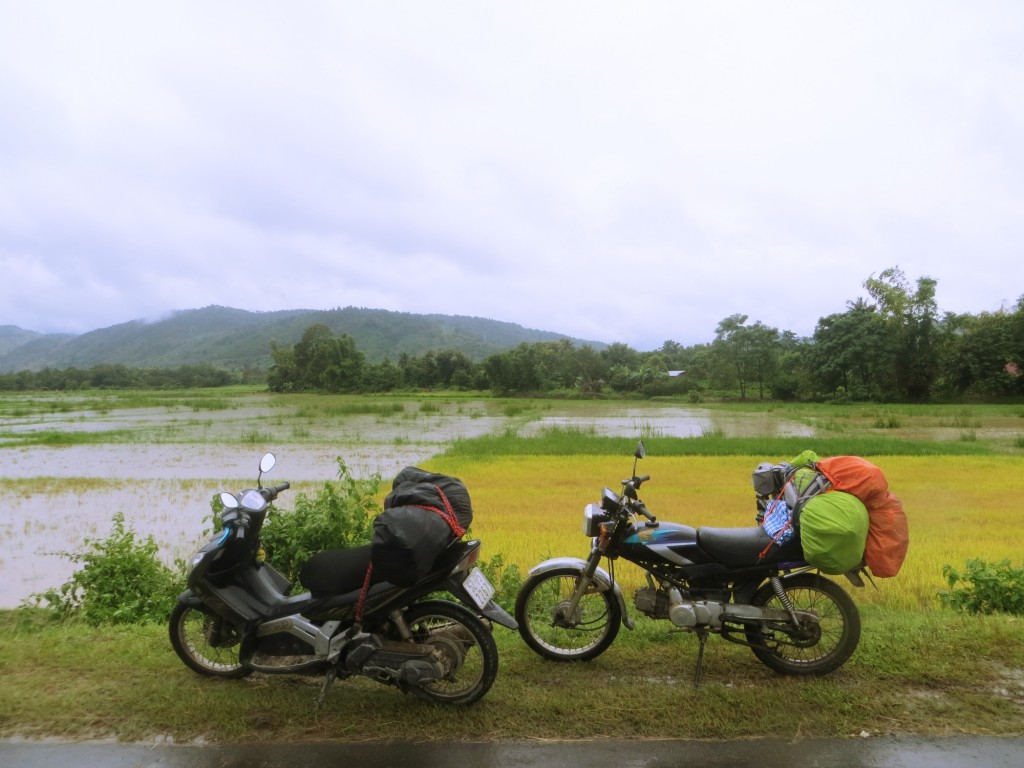 We randomly ended up in a restaurant after being hailed by a table of would-be-drunks. It's no fun being sober around drunks…and they must have known that for they filled our glasses the second we finished them. Expecting to order dinner we flipped through a menu, but we weren't able to read one thing…instead they offered us to help eat their dish. It looked like elbow pasta. It wasn't. After being force-fed by a bunch of drunks with chopsticks pinched between these little dark noodles, dangling in front of our mouths we reluctantly accepted. Well, it wasn't pasta…and there was definitely some sort of bone I had to crunch through. Thank god for the cellular phone, because without its dictionary we would have never known that we just ate some sort of eel. It didn't taste too bad, and I'll even put that down in print- it's not something I'd order again…mostly because there are shitloads of dishes I could think of I would rather eat…but, hey, it wasn't bad! Even the chicken liver we ate afterwards tasted better. Mmmm nothing satisfies your cravings after seven hours on the road quite better.
We parted from the guys mainly because we wanted to get a real dinner, but more so because we hadn't been able to properly speak to each other for the last hour, and it's honestly damn tiring, especially when all you want to do is relax, have a couple beers and eat a decent meal at the end of a long day on the road. Next door we found a little hut serving pho. It was cheap, dirty and tasty…and we didn't even have to make any small talk.
Looking for a snack, as I have grown accustom to at the end of the evening…hell, I deserve it after getting smacked around by a monsoon all day. We ended up across the street in a typical all-in-one shop-cum-living space. There was a family sitting around their television surrounded by mounds of chocolate pies, toilet paper, knock-off-but-authentic-versions of Mr. Noodles. I was in the market for Choco Pies or some delicious variant, a comforting snack that leaves your teeth smeared in chocolate and bits of marshmallow cookie crumbles. I found a competitor and after handing over the money I tore the box open, while some real-life cartoon popped up onto the tele. And almost immediately the whole family, from grandma to daughter, alongside Katie and myself became completely engrossed. They pulled up chairs and soon I was handing out Choco Pies while we sat around the TV in their convenience store watching a half-pig half-human cut his enemy in half, only to have him morph into two miniature versions, in which he ended up swallowing one. Now he was reeking havoc on the inside of his stomach… I don't think any of us got it, but it left us all in tears, with the grandma losing her shit a handful of times. It was a warm way to end the night… a slice of home with all our family members swapped for their Asian counterparts.
You've got a lot of time to think when you're alone on the open road, and when you're faced with battles- you don't necessarily second guess your pursuit, but you begin to
question if you're on the right path. An open road wears a different mask when you're facing the brunt of downpours, broken roads, hell raising tour buses, and a battle of mechanical breakdowns- the pursuit of happiness, the real quest for my purpose, the big question- WHY? becomes a little bit distorted. Instead of love in my heart- I'm deflated- I'm left cursing the world, cursing to the goddamn world, wishing for a handful of rocks and steady aim to burst through the window of the next bus that musters even an ounce of wind that smacks my face as it screams by. I'm cursing the earth for the rubble they call roads…the sky for the rain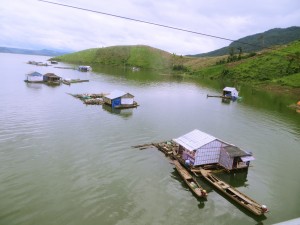 that blinds my sight…the drivers for who'd been handpicked from some asylum… and cursing my bike for failing me time and time again- WHY? Why the hell did I foreclose on my past life? Why am I in the middle of Vietnam screaming at the world- praying to reach the next town- over and over again- praying for a town that has never once registered on my radar, and now this one insignificant, obsolete, deadpan, country town becomes the only focus of my thoughts- I'm sick in thought- if only I make it to Lak…if only I make it to Buon Ma Thout…to…somewhere dry…all will be OK- tomorrow will be another day. Tomorrow…will be another day!
Buon Ma Thout is famous for one thing…NO!! Not that you twisted pervert, you should be cackled in wrought iron from neck to toe and tossed into the sharky Isles of French New Guiana…I'm talking about coffee. They grow coffee. I mean a lot of it. I told you before that I'd been driving through it for the last 200km…picture your front lawn draped in a bosom of caffeinated bushes halfway to your roof…then your backyard as well…but your backyard isn't a 10X10 green getaway…it's a goddamn 50 acre oasis… and so has your far off neighbour. Well bam, I guess this is all what it leads up to, some buzzing epicenter.
We pulled into the first hotel we saw, some fancy thing, white and stocky, maybe 16-20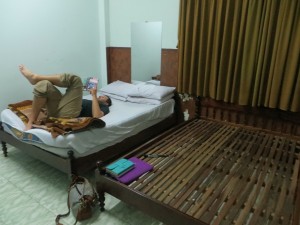 floors high, and a police cruiser escort pulls into the roundabout with an entourage of  jeeps…I don't suppose they have any rooms from 6 to 8 bucks…for the both of us, so we lit out for skid row. Turns out it was two streets back…4 bucks each for an antique smoker's lounge dressed in wood panel, an original matching 1973 Hitachi television…knobs intact, and two mattresses that were more like someone dressed up a sponge, we stacked them on top of each other for the sake of comfort.
Next door we found a restaurant that was famous for this dish called Nem Nuong, I hope you are aware that you will be reading about me eating many a meal throughout our journey together. If that's cool…then all you have to is keep your eyes on the page, and move them in an easy snaking pattern…that's it! I know super easy. So back to the meal.
Step 1. Grab a piece of rice paper. It's looks like, if a ghost was holding a sheet of paper. 
Step 2. Put some greens on it, then a little shredded carrot & papaya, toss a couple portions of grilled pork and a sticky heap of vermicelli, and obviously saving the best for last- this awesome bundle of crunch, its some sort of deep fried rice paper roll. Well you roll it up and dip it in this boss sauce. I never asked for the ingredients so that doesn't really help…then put it in your mouth.
Step 3. Make sounds.
That meal was highlighted by a walk through the night market. We've all had fish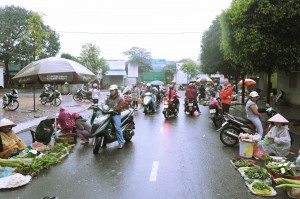 before, but it usually comes on a bun, under a lemon, rolled up in seaweed, or in frozen pieces in your grocery store- not being grabbed out of a tin that spills out onto a filthy street, thrown onto some bloody stump, and whacked unconscious with an iron rod leaving an opaque smack. Then if it's lucky enough to be dead, is then descaled by a cheese grater-esque sadistic looking instrument and gutted from lips to sack, all by a hunched over woman fish-monger dressed in pyjamas. I can actually feel the pain in my bones just writing this.
Yeah, so that was Buon Ma Thout. Well, that and a couple of coffee's. They were pretty good.
I think the second we woke up the big guy upstairs decided to turn on the shower, He must have thought life was pretty good for us…living it up, cruising the countryside on cheap motorcycles, taking in all the views for the price of a $10 room, $5 fill up and a few bowls of rice or soup…and you know what, Nguyen Von God was right. He was right NGUYEN DAMNIT!!! Even through the hardships of facing a day full of rain from the second you hit the road, knowing the whole damn time that its not slowing down…It somehow sucks so much more than starting your trip dry, even if it's only for a minute. Just me?
And the day didn't start off good. About two hours into it Katie crashed. It wasn't her fault the roads and the rain were truly unride-able. And the worst part about driving on foreign roads is that you don't know the sweet spot…you can guess, and you can be right 99% of the time, and then BAM! But these roads were full of potholes and with the intense rainfall, all the holes filled up leaving you guessing their depth…you'd be swerving along with traffic, with your eyes on the motorbike ahead as if expecting him to explode like a misplaced step on a land-mine. BOOM…BAM…BLAMMO!!
Well that ended our trip for the day. I think we made it 50km before we turned around and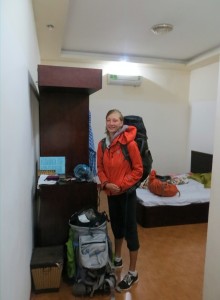 found a windowless room for $10…I think it was a sex hotel, you know rent the room for short or long time business…What kind of man are you? Yeah whatever you say big talker!! Four rooms down from ours  I peered in and saw a bed that could fit 3 Presidents…and a few alibi's.. It rained all through the night. And then the next morning.
It was one of those days where you have to push on. Bite your upper lip and take one for the team. We had about 165km to Pleiku- a town we weren't even really looking forward to, aside from it being our next connecting dot…hey I'm not saying I wasn't looking forward to it, I'm just saying it wasn't our main attraction- it's like listening to the opener…they might sound good, but it's not who you're there for.
We were cruising along, rain in the face sort of deal when Katie went down again. This time it was worse. By the time I got off my bike a neighbour had ran over and was helping her up. Her palms had both been split open, one a lot worse than the other, and she had a sore ankle. Hands are something that hold a lot of value when cruising the countryside via motorcycle…ok yes…pun intended.
We all went over to the neighbours house where him and his daughter went into nurse mode. On her knees she fished out pebbles and gravel with Katie's eyebrow tweezers, while he was running back and forth with ice and bandages. I felt helpless- the two of them were taking such good care of her. They even had a little bottle of antiseptic that fizzed the way Pop Rocks feel in your mouth. As good as she could be we carried on until I ran into a flat tire. So I had it filled with air and carried on. Then I ran into another flat so I  had it patched for $1…then carried on some more.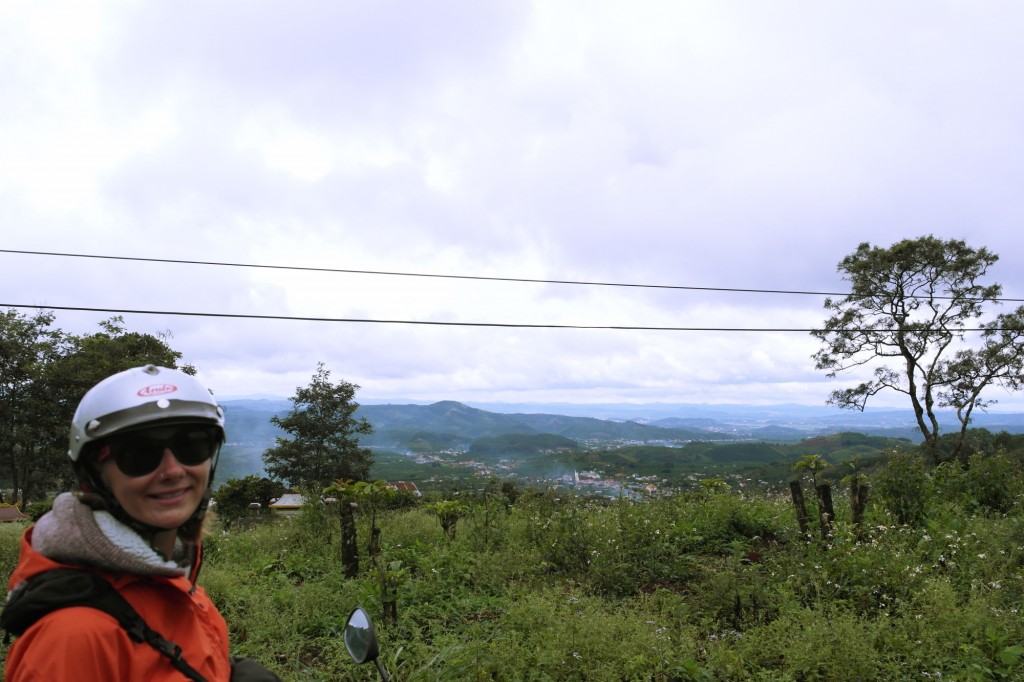 We got to Pleiku some time in the evening. Katie had been a trooper all day, and at night all we were craving was pizza. Surely in a town of 200,000 plus people, one would have pizza. I know some lead ehh? Anyways, I asked the bell clerk, I even drew him a picture, well perhaps it was a triangle with circular pepperoni slices. I mean 100 people out of 101 could have guessed it, and the guy assured me there were 2 in town…and even better they were both around the corner. So Katie hobbled out of bed and we went off into the night…very, very slowly.
As you guessed – there was no pizza. But we kept on asking. First a hotel. They went onto the computer and even drew me a map. It was 3 long blocks down and one over. They didn't serve pizza. So I asked a lady at a stall across the street who didn't speak English. Luckily a man overhead and translated to her. She assured him, to ensure us, that there was one 2 blocks over and 1 block down on the left. There was no pizza there either. So I walked across the street to another hotel. She told us that Pleiku was dry…not a slice in the city. I have to salute all the dreamers out there. One day Pleiku…One day!
Angry and pizza-less we needed a beer so we stopped at a restaurant beside the last hotel. There we met a woman named Anna. A half breed, looked Vietnamese but spoke with an Aussie tongue. Her family owned the restaurant and she was in town for her sisters wedding.  She bought us beers and hailed us a taxi home. Sweet woman.
So we ended up walking 45 minutes for pizza through streets filled with people railed from façade to façade gawking at flailing dragons and furry tigers, all the while dancing to the beat of a monotonous drum. The Moon Festival carries on. Everyone breathing in the birth of good fortune…a new beginning…oh yes, prosperous times await…I wish them all the best…and if nothing else…it was entertaining and brought the people together. A beautiful thing in itself.
We ended up having fried chicken and pinkish rice from a restaurant a minute from our hotel. The owner came over before we had finished. We told him it was delicious…and we weren't kidding. Dinh was a laid back 60 year old with a passion for chicken… haha, that might be true, but we talked about the war instead.
He joined the Americans in the good ol' fight. He got a job fixing warplanes and moved to Pleiku because the base was close. He'd been hit in combat…even while working at the airfield he said he saw action, bombs, fighting, death…shrapnel hit him in the arm and left him out of commission for a year, he said rolling up his sleeve.
"What are your thoughts on the North? Do you have family there?", I pried not getting many chances to speak to a war veteran.
"Yes I have brothers and sisters in the north…they are the same people, but they have different hearts." He said.
Someone pulled up to his storefront like it was a drive thru…someone ran out to grab the order. It was raining and they were closing up. We were their last customers.
"that's so cool…drive-thru dinner" one of us said, or thought together.
A man ran back with the order and slipped it through the window and took the money.
"That's so & so my worker, he's deaf and dumb…but he makes great chicken."
We thanked Dinh and walked home in the rain.