Arriving in Ho Chi Minh City, neither of us knew a whole lot about the history of Vietnam and it was one of our goals to learn more about this country we were immersing ourselves into. We had heard a lot about the War Remnants Museum, and after being in the city about a week, we decided it was time. I had read about how heavy the contents of the museum were, and to go prepared for an emotional beating.
We paid our 15,000VND admission (about 75 cents), parked our newly acquired bikes in the secured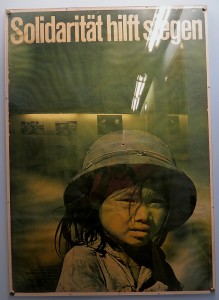 parking (about 3000VND each), and trooped on up. The front entrance on the main floor is covered in propaganda posters from countries all around the world supporting the Vietnamese and pressuring the United States army to evacuate Vietnam. I handed my camera to Louis, as I didn't have the patience to take that many photos, and I didn't think the museum was one I would want detailed in my photo history of Vietnam, it was incredibly upsetting.
After finishing the first floor (which had gotten incredibly packed once it started raining) we walked up to the second, already heavy-footed by the posters, not quite prepared for what was to come. Photos of Americans torturing Vietnamese men, women, and children, statistics about death, imprisonment, torture, bombings, etc, plastered the walls. Cases of bombs, shells, equipment, uniforms, mines, guns, and so on circled the rooms. There were stunning photo exhibits from war photographers who risked their lives (some of whom lost their lives) documenting atrocious and horrifying scenes of violence. Many of the photo placards are written in unintelligible English, but the photos speak for themselves. Some say a picture speaks a thousand words, but these photos asked a lifetime of unanswerable questions, the biggest one in my mind being "Why?".
The room dedicated to statistics and photographs about Agent Orange truly took my breath away. Photographs of Agent Orange victims, from the land to children born generations after the war, were unnerving. There are still people being born in the United States and Vietnam with birth defects from their parents' and grandparents' exposure to Agent Orange during the war. After the war, between 1975 and 2002, there were 42,135 people killed by bombs and explosives that had been leftover from the war and 62,143 people wounded. This is AFTER the war, after the carnage was supposed to stop.
The tankers, fighter jets, and boats outside the museum were interesting to stroll through, but after the lethargic photos, stories, and statistics of the museum, I didn't have much interest in seeing the heavy killing machinery.
Next up on our "history to see" museum list was Reunification Palace, or Independence Palace, depending on who you're talking to. Let me say up front that if you're interested in going here, make sure you get in on a free tour (walk in the front doors & there's a "Tour Desk" – easy peasy!), or nothing makes sense. The tour was about 30 minutes, our tour guide spoke English (mostly), and there are NO signs in this place other than ones in Vietnamese telling you not to enter, and "The lift is only for the old, disabled and pregnant woman". That is one woman in an unfortunate position that really wants to visit the Reunification Palace. Anyway, admission to this big old house that used to be home to the President of South Vietnam during the war is also 15,000VND and although not as mind-blowing as the War Remnants museum, it was worth the 75 cents and 45 minutes we took to tour it.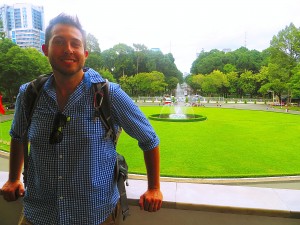 It is a significant part of Vietnam's history as it was this location that the Vietnam war ended at the fall of Saigon on April 30, 1975 when a North Vietnamese army tank tore through the front gates. Without giving you a full history lesson, as Wikipedia has everything you'd want to know, the house was interesting enough and full of "this is where the President met his friends" and "this is where the President played with his children" type of rooms. One of our favourite spots was the winding tunnel of basement hallways and rooms containing war correspondence equipment and Vietnam maps. You could tell it was full of stories and secrets that no one but the people who spent hours and days down there during the war knew.