Pakse – Don Khon Island – Don Det Island (4000 Islands), Laos
November 10 – November 13, 2013
Our idea behind hitting the 4000 Islands was to purely hangout, fill our days with getting lost, reading, and sitting along the river; a lot different from the relaxing we've been getting ourselves up to the past month. This is different, now we're on an island. Two completely different levels of chilling. We took a boat to get here…this is a commitment.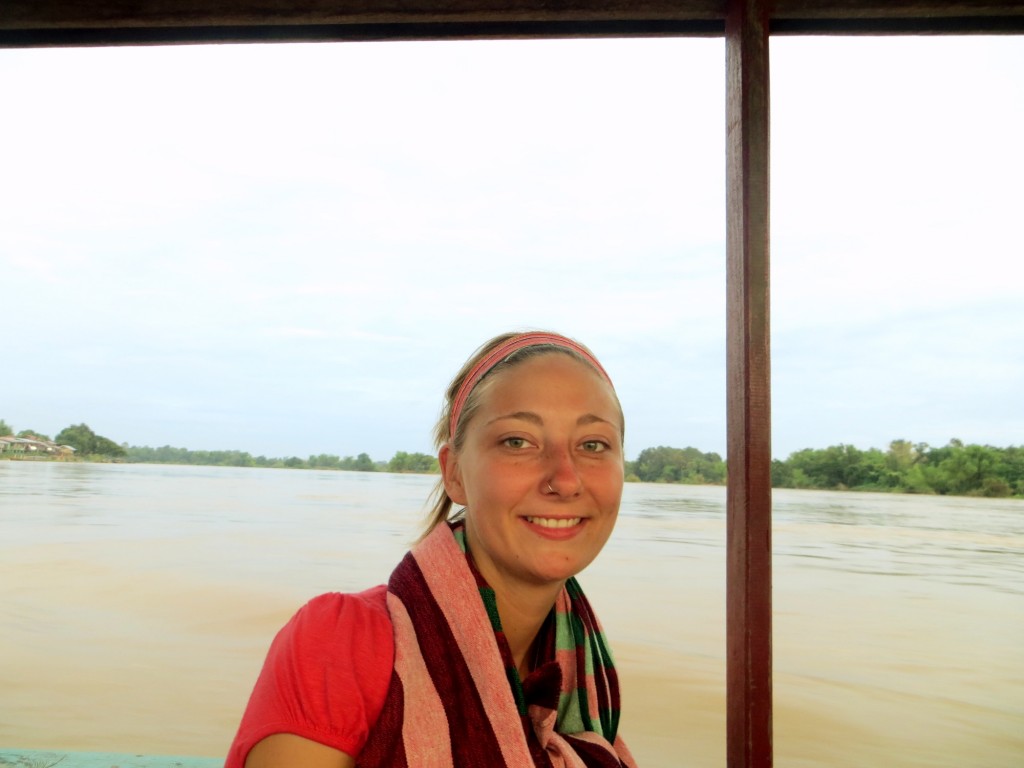 Due to the language barrier, our tuk-tuk hauled us all the way to Don Khon instead of our intended destination Don Khong…silly us. Although we took it for what it was and made it our home. Ohh the troubles of island life. We loaded a long boat with a slough of tourists also looking for a getaway and we snaked past twenty of the 4000 islands, passing Don Det on our way to Don Khon. (Lonely Planet quotes Don Det as being a more 'rock & roll' island.) KT: We were looking to avoid this "rock & roll" – we had enough in Vang Vieng. Peace and relaxation was our ultimate goal ;)
Our boat docked as the sun was going down and the shore along Don Khon was lit up with riverside bungalows and stilted restaurants draped with lanterns and laid out with day beds and Thai pillows. It wasn't even six and the island had a sleepy feel. Seven of us unloaded, climbed the bank, and put our packs on to explore and find a guesthouse.
The first two bungalows we looked at were charging $5 a night, but we held out for one that didn't resemble a castaway shack. We ended up splurging and got a bungalow with an en-suite bathroom, front porch and hammock for $6.50; which is quite handy since hanging out on your front porch is the lifestyle that is in store for the evening.
We sat around all night drinking fruit shakes and eating three dollar thai curries with sticky rice in cartoony day beds with kittens being adorable on our laps and table, and then
bumping into the same couple from the boat over and over again until they curse out "oh no!!! it's the Canadians again" and then we even see them again. In front of our bungalow grew a tree that now sleeps all the roosters in town, all making a branch there home, until one has a nightmare and starts cuckoo-ing wildly in the night, like a miss-set alarm clock.
The next morning we rented bikes and rode to the other side of the island with views of Cambodia and kayaks afloat hoping to catch a sight of the elusive Mekong River
dolphin. We also learned the history of the island and the importance the French held upon its position in their conquest during the Indochina War. I felt rather nostalgic sitting at the banks sipping beers looking out across the river, knowing that 100 years ago many French men did the same with big dreams in their hearts. Not much has evolved at these coordinates in the past 100 years though, and if it wasn't for a few signs and train engine you'd have no idea that a train track once linked these islands past the rocky cascades and waterfalls that prevented their ships from channeling up the Mekong.
With difficulty I tried to drift back 100 years to an era bustling with activity. But I've always found it hard to really imagine myself there. But that was what I was left doing. If it's not trying to transcend myself into a NYC jazz club in the 50′s jiving to the renegade sounds of Miles Davis and John Coltrane, I'm trying to picture myself as a 1920′s street tough suited up with long suspenders standing outside of the fruit market juggling an apple scheming about the day, and always how I would have really whooped it up.
A toss away a gang of kids pass a wicker ball back and forth over a net in teams of two, bopping it with their heads, shoulders and toes, sweating in the sun with their hands cautiously held back. An old wrinkly woman walks by with a mouthful of something awful, red and juicy, constantly at dribble, which is even more cause for alarm because she's grinning over her big haul. In one hand two silver fish hang hooked through their agape mouths & her other hand dangles the instrument used to catch these edible victims. She has paraded the whole town over trying to sell her catch, although so far her attempts have been fruitless.
All this while a  school lets out and a sea of uniformed children start running about, but
when I look closer I see that they are collecting garbage, while their teacher in the background sets a small pile of it ablaze. The kids keep running around collecting more and throwing it all in the fire until the harbour smells like burning plastic, which is just toxic and not fun. And here Katie and I are relaxing over a beer, much like the French must have who oversaw this project 100 years ago. And I feel oddly in touch with the beauty in today, gazing out onto Cambodia, like all the others who have stood here before.
On the bike ride back to town we had managed to locate the waterfall which we were first in search of. The same waterfall that caused the French to build the train track to the north.
In the rushing waters, a handful of Lao men were checking a slough of traps they had set up to catch fish that battled through the currents. Long bamboo shoots were aligned like alleyways that curved up and out of the water to coop their catch. This all within crashing rapids near the base of a falls. When they docked their boat they came back with a minuscule haul, a few mere morsels for their gallant efforts, while one fish appeared as though it had already been munched on.
We ended up staying on Don Khon one more night, doing nothing more than this & that. In the morning we filled up on chocolate banana crepes, picked up our laundry and strapped our packs to our backs and started walking. We shuffled across all 158 meters
and 13 arches of the French bridge that connected Khon to Det and then trundled the whole island heading north along one rocky shadeless path as it's labeled in the Lonely Planet. Hell, it wasn't too bad – gorgeous really, even weighted down by our packs. We passed a glowing field being harvested by a few ladies smeared in sewn fabric from toenail to eyelid, just working away as life goes, chomping away with razored machetes at fields of rice. I couldn't see their faces, but a stereo grooved and if I had to bet, I'd say they had smiles on their faces. We came across a pack of smokes along the dirt road with two cigarettes stretched out begging to be smoked, this omen came just when our conversation led to smoking and lung cancer.  It was a test. We passed-being that we aren't smokers. Our high came to an end when we met this downer named Donno.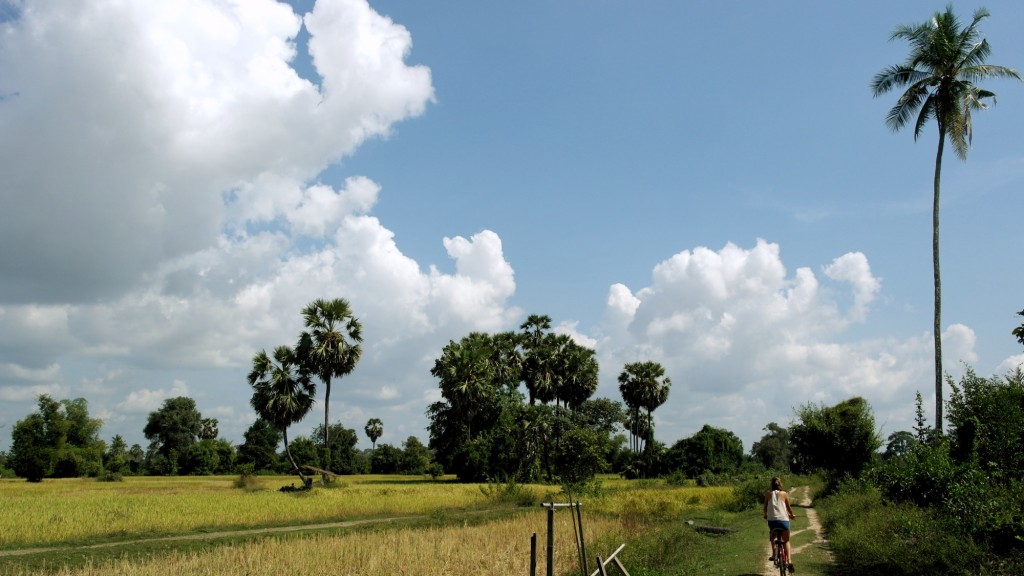 TBC…
Check out our next blog to ironically read: to the woman who wasted 15 minutes of our time.